What is California Known For? (25 Famous Things & Places)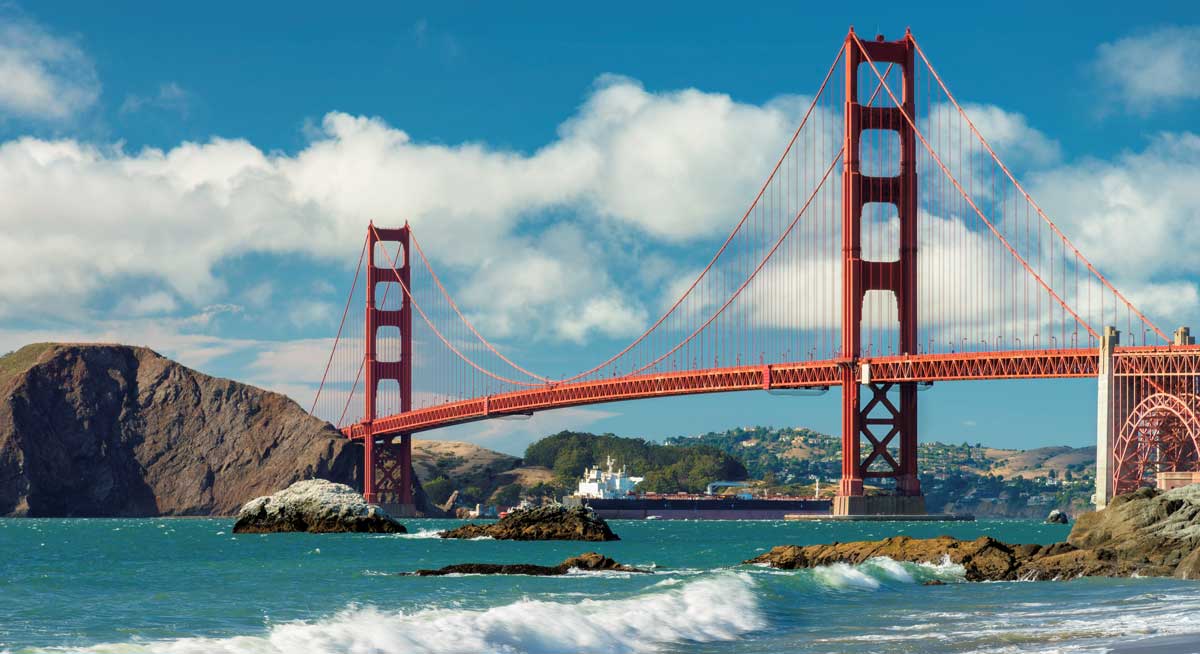 What is California known for?
California is known for its Mediterranean climate, natural wonders, famous cities, and wines. It is also known for its major economic and cultural influence.
California. The mere mention of the golden state carries a golden glow about it. You say it, and people think of beautiful beaches, perfect weather, glamorous celebrities, and much more. In addition to all that, there is much more to explore in the 31st state.
In this post, we'll take a look at just some of the many things that have put California on the map. Here are 25 things that California is famous for:
Advertising Disclosure: What States is a for profit reference website, supported by advertisements. Thank you for supporting our mission to make geography fun for all!
25 Things California is Known & Famous For
Stunning Beaches

One of the first things that comes to most people's minds at the mention of California is its many idyllic beaches. Spanning most of America's west coast, the California coastline is filled with numerous beaches perfect for sunbathing, beach volleyball, or surfing.
Hawaii is known for being the birthplace of surfing. But the sport gained fame in California, partly because California's beaches were much easier to get to than Hawaii's for most people.
Mediterranean Climate
Besides the beaches, much of the inland of the state also enjoys warm, pleasant weather year-round. The comfortable climate draws many people to live, or at least vacation in California, one of the most popular places in America's Sun Belt region. The summers throughout California can be hot, but beaches, lakes, and shady forests are never more than a few hours away.
Yosemite National Park
Did you know that California has more national parks than any other state? Yep! And none of them is more famous than Yosemite National Park.
In fact, Yosemite National Park is one of the most famous of all America's national parks. Here one finds such legendary heights as El Captian and Half Dome, as well as gorgeous waterfalls, towering Sequoia forests, and diverse wildlife. Yosemite is the most visited of California's national parks and it is easy to see why!
Joshua Tree National Park
Named for the twisty, spiny "trees" (actually members of the agave family) that cover the landscape, this seemingly inhospitable park abounds with opportunities for adventure.
For many people, the easiest option entails a day visit to see the famous Joshua trees. For nature lovers and outdoor enthusiasts, though, a treasure trove of hiking trails, camping sites, and fascinating rock formations await exploration!
Death Valley National Park
Don't let the name fool you, Death Valley National Park is quite inviting. While it does hold the record for highest recorded temperature (134 F on July 10, 1913), the winters are much more accommodating, hovering in the 60s and 70s in the daytime.
Inside the valley, one can discover rolling sand dunes and otherworldly rock formations. Around the valley, numerous vistas open on epic views of this rugged wilderness.
Sequoia National Park
For those interested in something a little less extreme, but no less majestic than Death Valley, this park cannot be beat. The waterless desert gives way to lushly forested mountains and numerous alpine lakes, doubtlessly a welcome site after the desert.
Here one finds Sequoia trees for which the park is named. Although very similar in appearance, sequoias and giant redwoods are actually two different species of tree.
King Canyon National Park
Located adjacent to Sequoia National Park, this park shares many of the characteristics of its neighbor, but has more peaks, canyons, and waterfalls.
The two parks are often referred to together, as though they were one. Either way, this part of California deserves days of exploration from anyone who loves the outdoors.
Redwood National Park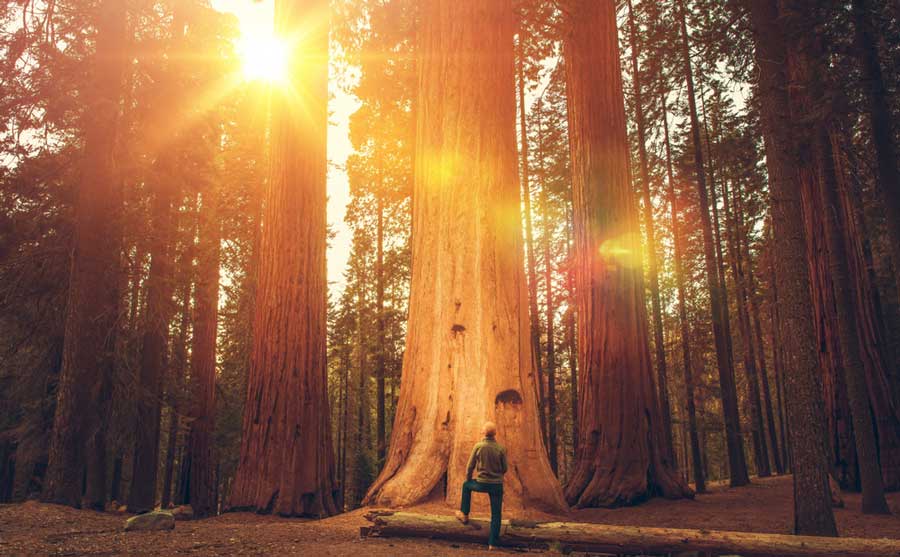 Never one to be outdone by Southern California, Northern California rivals the mighty Sequoia trees with its equally majestic giant redwoods. Although it may not boast the lofty mountains of Sequoia and King Canyon Parks, it does offer visitors miles of stunning coastline.
❓ Trivia Time: According to the National Park Service, redwood trees are the tallest trees, but sequoias are the largest, being shorter, but thicker in volume.
California's State Parks
In addition to its many famous national parks, California also has numerous beautiful state parks, 279 to be precise! Some of the more famous are:
Emerald Bay State Park on the shores of Lake Tahoe
Jedediah Smith Redwoods State Park, adjacent to Redwood National Park
Castle Crags State Park near Redding
Crystal Cove State Park on the Pacific Ocean coast between Laguna Beach and Corona Del Mar
Sierra Nevada Mountains
California truly is a paradise for nature lovers; it has beaches, forests, and even snow-clad mountains! The Sierra Nevadas provide Californians and visitors alike with an opportunity to ascend into lofty mountain landscapes or beat the heat with a skiing trip. Here one also finds Mount Whitney, the Lower 48's tallest peak, towering at an impressive 14,505'.
Lake Tahoe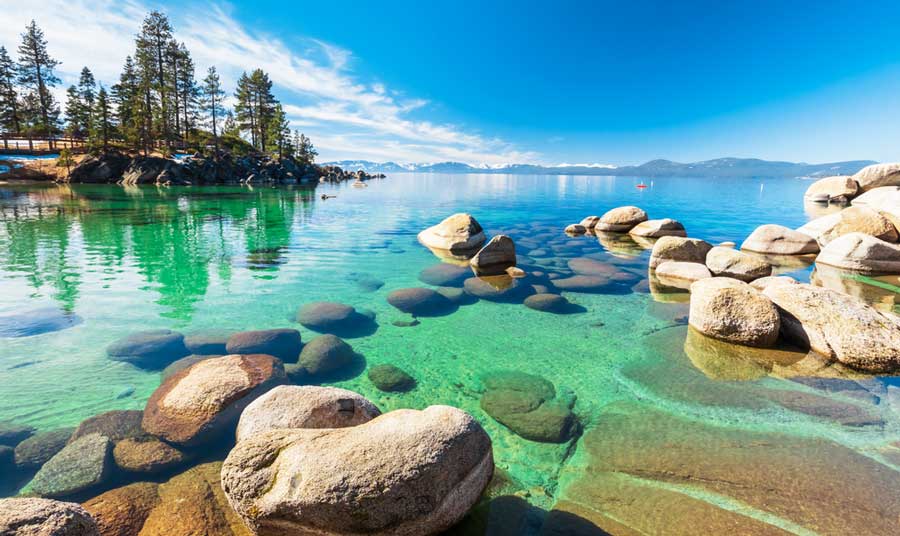 One of the most famous sites in the Sierra Nevadas is the pristine Lake Tahoe. Home to ski resorts, hiking trails, waterfalls, and more, this alpine lake is a popular tourist destination for those with a love of the outdoors. One also finds the famous Vikingsholm "castle" nestled snugly between the shores of the lake and the surrounding forest.
The Central Valley
Coming down from the mountains into the more temperate classic California landscape, the Central Valley sits like a treasure chest full of riches waiting to be discovered. Here one finds California's wine country, the headquarters of many major tech companies, and a climate ideal for agriculture.
The Mojave Desert
In addition to all the idyllic areas, California has its more extreme climate zones. One of the most famous is the Mojave Desert. Here one finds both the Joshua Tree and Death Valley National Parks as well as many other natural wonders such as Red Rock Canyon and Lake Mead.
Half Moon Bay
California is famous for its coastline, and Half Moon Bay is one of the jewels in that crown. This uniquely-shaped bay has drawn tourists and nature lovers for years.
The cozy small town located here serves as a refreshing getaway from the hubbub of California's big cities. One can find redwood forests nearby and maybe even sight gray whales traveling their migratory path along the coast.
Hollywood & the Entertainment Industry
California is known for its role in the world of entertainment. Hollywood, located in the south of Los Angeles, is without a doubt, the most famous center for film and celebrity culture.
Next to the Golden Gate Bridge, the Hollywood sign is probably one of the most famous California landmarks. Many major studios, Warner Bros. and Disney are located in the San Fernando Valley to the north of L.A.
❓ Fun Fact: Just in case you were wondering, you can't legally own a monkey as a house pet in California!
Los Angeles
California's largest city, Los Angeles has only New York City as a rival in population and fame. L.A. is home to the Los Angeles Lakers, Los Angeles Angels, Los Angeles Dodgers, and many other professional teams. It also has its share of amazing beaches. It also wins a little infamy for its smog and heavy traffic, but to many residents, it's a price worth paying for the prestige of living in this famous city.
San Francisco
Next to Los Angeles, San Francisco is easily one of the most famous of California's cities. San Fran's most famous landmarks include the Golden Gate Bridge, the island prison of Alcatraz, and more. The fog rolling up from San Francisco Bay is another thing that makes this city famous.
San Francisco is also regarded by many as one of America's most beautiful cities with rows of tall, narrow houses cozily lined up along its many steep hills. San Francisco has also gained much fame in recent years thanks to the Golden State Warriors.
Sacramento
The state capital Sacramento may lack the glamor and prestige of other California cities, but it has a rich history of its own. The city served as a major hub during the gold rush and now serves as a major hub for California's agricultural wealth to be shipped to the rest of the country.
❓ Trivia Time: What States does the Ohio River Run Through? (Bet you can't guess them all!)
San Diego
The southernmost of California's major cities, San Diego is by no means the least of them. Here one finds more sunny SoCal beaches, a year-round mild climate, and rich maritime history. San Diego houses a major naval base as well as the famous USS Midway, now functioning as a museum. Baseball fans also know this city for the San Diego Padres.
The Big Sur
The Big Sur is the name given to a long stretch of central California coastline, sparsely populated by humans, but abounding in natural beauty. Here one finds rugged cliffs plunging down to the ocean below, hidden beaches, and the narrow, winding Route 1 snaking its way down the coast.
Monterey Bay
It wouldn't be too much of a stretch to say that any coastline in California is famous. Monterey Bay supports this claim well. Situated just south of San Francisco, it may not be as wild and rugged as the Big Sur, but offers a more cultivated west coast charm. Santa Cruz and other communities can be found here, as well as a wide variety of marine mammals of the Pacific Coast.
Wine
California is known for its wines as well as its scenery, cities, and other industries. Of course, Napa Valley is one of the most famous places for wine in California. Recent years have seen the Sonoma Valley and other regions emerge onto the wider wine scene of the world, offering worthy competition to established wineries in Europe.
❓ Trivia Time: Do you know all the US state abbreviations? (We're guessing not!)
Trend-Setting
Without a doubt, California carries a lot of weight in the cultural sphere. It was one of the major hubs of the counterculture movement in the 1960s and has gone on to become nearly synonymous with progressive politics. Aside from the more contentious world of politics, California also has a big say in more domestic
Music Festivals
With a population of nearly 40 million people, and a considerable history of cultural and counter-cultural influence, it's no wonder that there are many music festivals throughout California. No matter your tastes, you're sure to find something that will give you a chance to dance to your favorite tunes. Coachella and Stagecoach are just two of the many music festivals awaiting eager fans in California.
The Bear Flag Revolt
We all know Texas likes to brag about its stint as a sovereign nation, but the Lone Star state isn't alone in that claim.
For 25 short days in June 1846, a small force rebelled against Mexican rule in the area around San Francisco and the Sonoma Valley, establishing the California Republic. The rebels' flag featuring a bear and star would later develop into the current state flag. They called it the Bear Flag Revolt.
👉 Read Next: What is Your State Known For?
FAQs about California's Famous Things
What region of the country does California belong to?
California is generally considered to be part of the West, or west coast, though some include it in the Southwest region.
When did the gold rush begin?
The California gold rush began in January 1848.
Where is Silicon Valley?
Silicon Valley is the nickname given to the greater San Francisco Bay/San Jose area where many major tech companies have their headquarters.
***
I hope I've answered your question: "what is California known for?"
This is just the tip of the iceberg of what California is known for. No matter what your interest, you're sure to find something you'll love about the Golden State!