What States Are Commonwealths? (Explainer)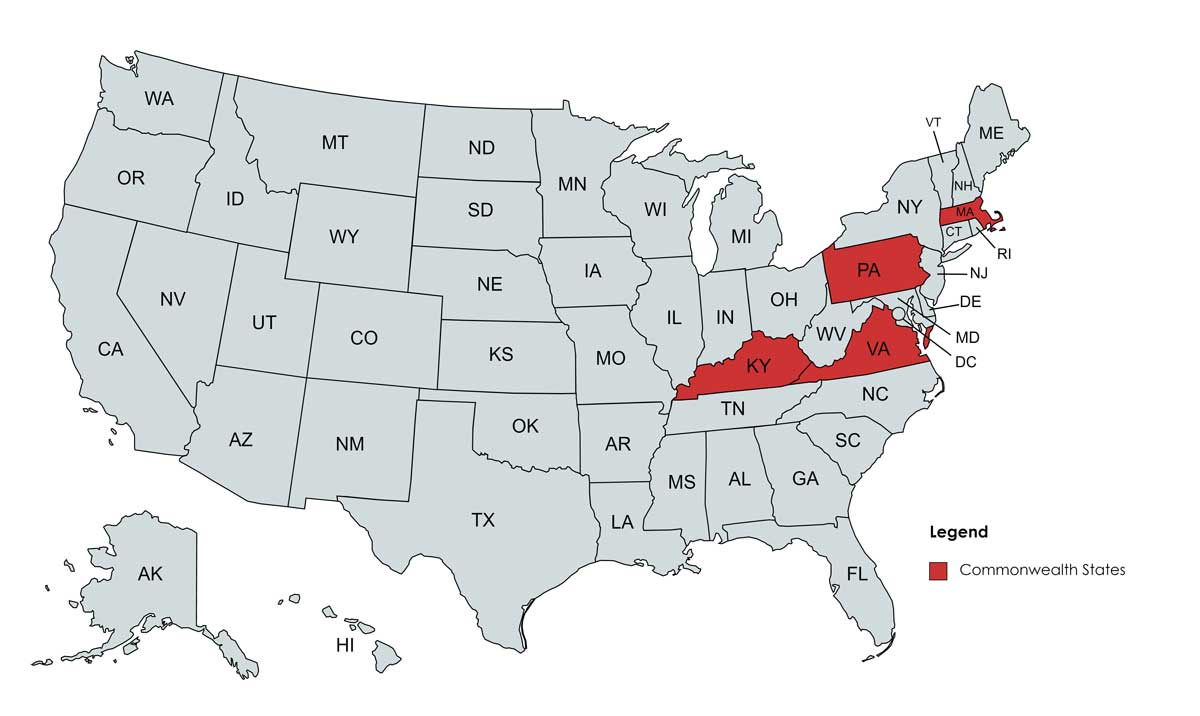 The states of Kentucky, Massachusetts, Pennsylvania, and Virginia are commonwealths.
Have you ever come across a state that calls itself a "commonwealth" and wondered what it means? Most of the time, we just call them states.
Their official names and constitutions refer to them as commonwealths, though. What's the difference? In this article, we'll take a look at both the term commonwealth and the four states that are called commonwealths.
Advertising Disclosure: What States is a for profit reference website, supported by advertisements. Thank you for supporting our mission to make geography fun for all!
What is a Commonwealth?
Merriam-Webster defines the term commonwealth as a political unit established for the common good. Also, a commonwealth is administered by the common consent of the people. Nowadays, "commonwealth" and "republic" are frequently used interchangeably. The term is also applied to states, nations, and groups of nations.
As Wikipedia points out, the word "commonwealth" is a traditional English term that renders the Latin respublica into English. Res means "well-being" and publica means "people" or "public." In early modern English "wealth" meant more than "lots of money." It had a broader sense of "well-being."
Wikipedia goes on to explain that in 14th-century England, the term commonwealth meant "the common good," but more in an abstract sense. By the 17th century, the traditional English term "commonwealth" acquired a broader sense. By then it meant any democratic or republican form of government.
What States are Commonwealths?
Kentucky
The Commonwealth of Kentucky dates back to America's first westward expansion. Early America's most famous pioneer, Daniel Boone explored its rolling hills and valleys. America's most famous president, Abraham Lincoln, was born here. Ironically, the president of the Confederate States of America, Jefferson Davis, was born here, too.
A traveler here can enjoy its many caves, forests, and rivers. Kentucky's hearty local cuisine makes for a refreshing treat after a day of exploration. Kentucky is also home to America's most famous horse-racing event, the Kentucky Derby.
Kentucky began as part of Virginia but separated in the early 1790s. The new state chose to keep the title of "commonwealth" in the state constitution. To find out more about this great place, check out our article, "What is Kentucky Known For?"
Massachusetts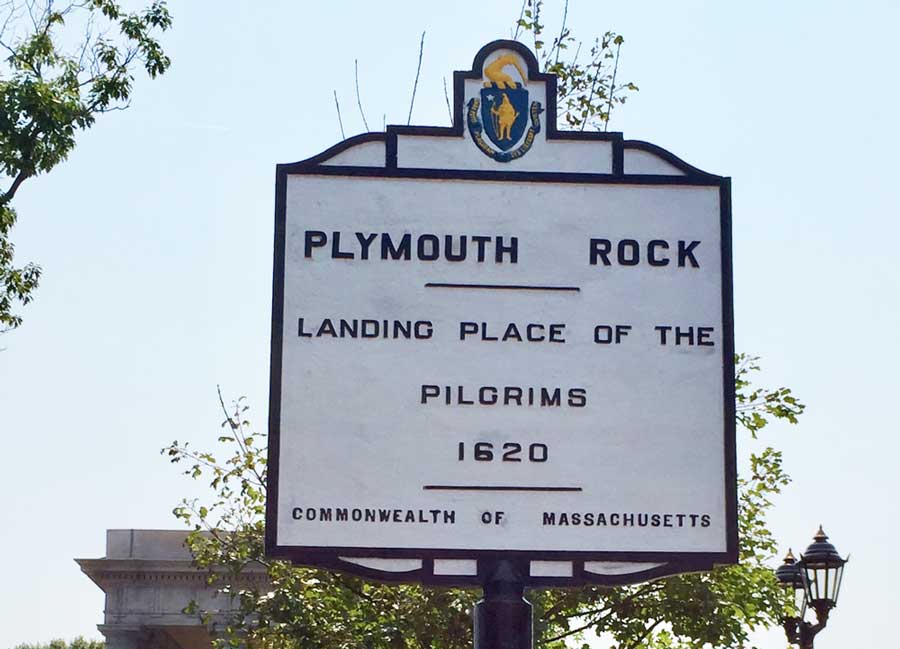 For many, Massachusetts is the quintessential New England state. It saw some of the first European colonies in America. Many significant events in the American Revolution, such as the Boston Tea Party, happened here. It's also home to several prestigious universities, such as Harvard and MIT.
Puritan Pilgrims from England settled here, seeking religious freedom. Upon arrival, they set up a political community founded on their (at the time) progressive religious and political beliefs. Before 1780, Massachusetts' official designation was "The State of Massachusetts Bay." The new Constitution, adopted in 1780, employed the term "Commonwealth of Massachusetts."
❓ Trivia Time: Besides being a commonwealth, what is Massachusetts known for?
Pennsylvania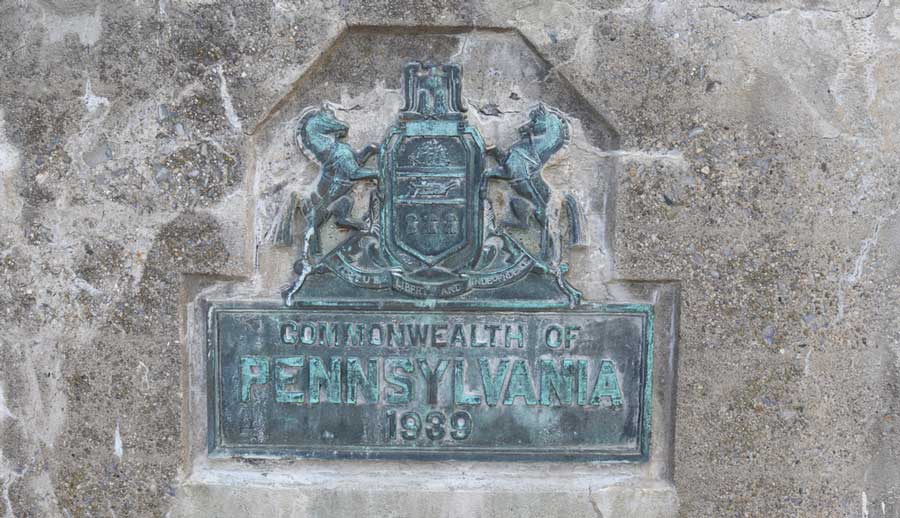 Pennsylvania is known for its rolling hills, pro sports teams, and rich history. Founded by William Penn as a haven for religious freedom, Pennsylvania became a favorable place for democratic intellectual trends of the day. The city of Philadelphia served as a major intellectual center of early American political thought.
In Philadelphia, the United States Constitution and the Declaration of Independence were written. It even served as the nation's capital for several years while Washington, D.C. was under construction. Pennsylvania's state Constitution refers to the state as "The Commonwealth of Pennsylvania." This remains the official name of Pennsylvania to this day.
Virginia
Along with the other states previously described, Virginia dates back to the beginning of America. Virginia contributed some of the key Founding Fathers of our nation such as George Washington and Thomas Jefferson. Virginia is known for its natural beauty, especially the Shenandoah Valley.
The Library of Virginia offers a history of Virginia's use of the term commonwealth. Virginia first became known as a commonwealth when Oliver Cromwell abolished royal authority, establishing the Commonwealth of England (1649-1660). He was ousted from power in 1660, and the term commonwealth was not used again until 1776 and the American Revolution.
❗ Fun Fact: Sometimes Virginia plays both sides of the state/commonwealth question: It has a Virginia State University and a Virginia Commonwealth University as well.
FAQs About Commonwealth States
What does it mean when a state is a commonwealth?
A commonwealth is any government where everyone has a say. It also means a loose grouping of self-governing nations with a common loyalty or culture. On the practical level, the word commonwealth and the word state mean the same thing.
What is the legal difference between a state and a commonwealth?
The difference is only in the name. There is no legal distinction or different meaning between the term "state" and the term "commonwealth." This distinction only appears in legal documentation such as official state names or court cases, i.e. "The commonwealth vs. so-and-so."
Why do 4 states call themselves commonwealths?
These states used the term "commonwealth" in their constitution. Political writers in the 17th century used this term as an umbrella term. It meant any independent state or organized political community governed by the people. 
Which territories are commonwealths?
The Northern Mariana Islands and Puerto Rico are commonwealths. Citizens of the Northern Mariana Islands and Puerto Rico have legal status as American citizens. As territories, though, they do not have a say in federal decisions such as presidential elections.
What is an example of an international commonwealth?
The "Commonwealth of Nations," or "British Commonwealth," is composed of former colonies and territories of the British Empire. Each nation (such as Canada, Australia, etc.) is self-governing. This organized political community is dedicated to maintaining good diplomatic relations and common cultural ties. 
***
Now you know more about the commonwealth states. Check out our article on the commonwealth territory of Puerto Rico: "What is Puerto Rico Known For?"
(Cover Photo: mapcharts.net)