What is Arkansas Known For? (22 Famous Things & Fun Facts)

What is Arkansas known for?
Arkansas is known for its natural beauty, college football, and civil rights history. Arkansas is known also for being the home of Wal-Mart, Johnny Cash, and its Native American heritage.
If you read on to number 21, you'll see that "hidden gem" is not just a literary device. Intrigued? Read on to learn about the many things Arkansas is known for.
Advertising Disclosure: What States is a for profit reference website, supported by advertisements. Thank you for supporting our mission to make geography fun for all!
22 Things Arkansas is Known for
1. Ozark Mountains

Between the forested slopes of these mountains, countless streams and rivers run, and natural springs gush from hidden depths. The Ozark Mountains are also known for the many caves and caverns lying hidden underneath them.
The name Ozarks derives from the French words aux arcs, meaning, "with bows." This was the name given by early French explorers to the region where the Quapaw (Bow) Indians lived.
2. Arkansas Razorbacks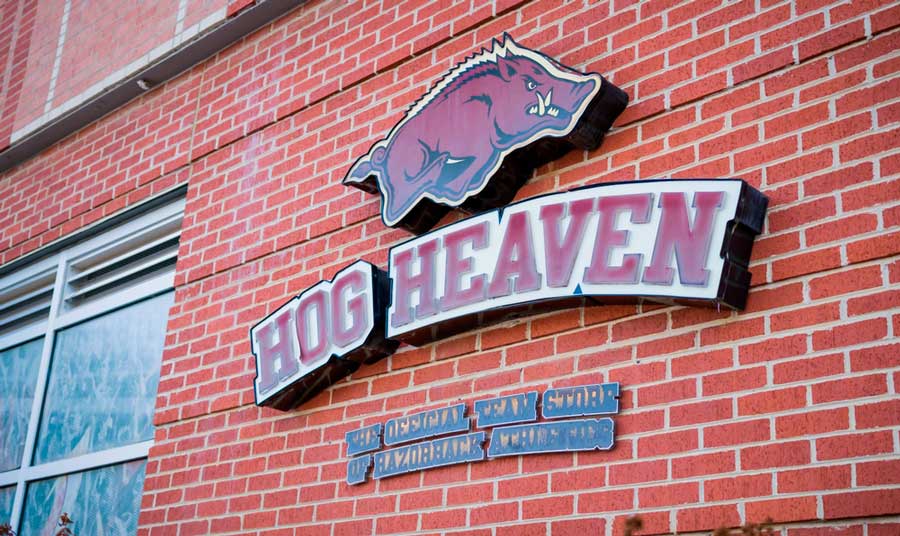 Arkansas prides itself on the University of Arkansas (Fayetteville) Razorbacks football team with an enthusiasm to rival many, if not most, professional teams.
Crowds of avid Razorbacks fans will fill the air with the trademark "pig sooie" call at games. Numerous businesses and establishments in Fayetteville incorporate 'Razorback" into their name, from pizza parlors to moving companies, and more.
3. Johnny Cash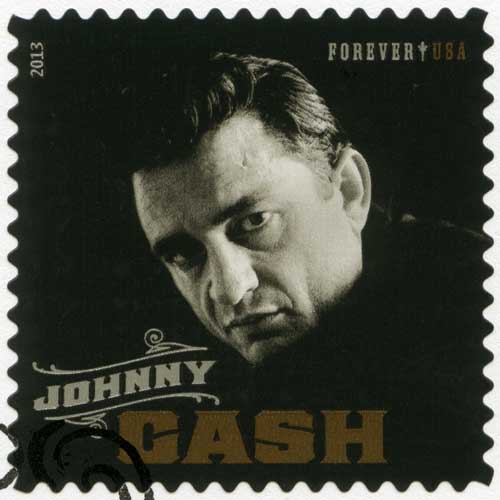 Arkansas prides itself on being the home of Johnny Cash. "The Man in Black," with his baritone voice and often thought-provoking songs rose from humble beginnings to become an American music legend. His childhood home, now a museum, preserves the memory of his legacy.
Johnny Cash is definitely one of the most famous people Arkansas is known for.
4. The Folk Music Capital of the World
The town of Mountain View, Arkansas is known for its strong folk music traditions. In April, the Ozark Folk Festival is held in this town, and throughout the year, musicians will gather on the courthouse steps to play some tunes. There are also several other festivals held throughout the year, each accompanied by music.
5. Wal-Mart
Sam Walton opened his first Wal-Mart store on July 2, 1962, in Rogers, Arkansas. Before this, he had successfully run a small chain of general stores known as Walton's. A disagreement with his backers prompted him to venture out on his own, founding what would later become one of the biggest retailers in America.
6. Extreme Weather
Though not technically in America's "Tornado Alley," Arkansas does get between 30 and 40 twisters per year. Other forms of inclement weather include rainstorms, hailstorms, and even ice storms.
For all their fury, ice storms can sometimes leave a beautiful sight in their wake, coating trees in a layer of ice, as though under some icy enchantment.
7. Native American Heritage
The state owes its name to the Quapaw tribe, called the "Akansa" by neighboring Algonquin tribes. The Cherokee passed through Arkansas on the "Trail of Tears" following their expulsion from their homeland in southeastern America in 1838.
Dee Brown, who wrote the famous chronicle of Native American history "Bury My Heart at Wounded Knee," grew up in Arkansas,
8. Little Rock, Arkansas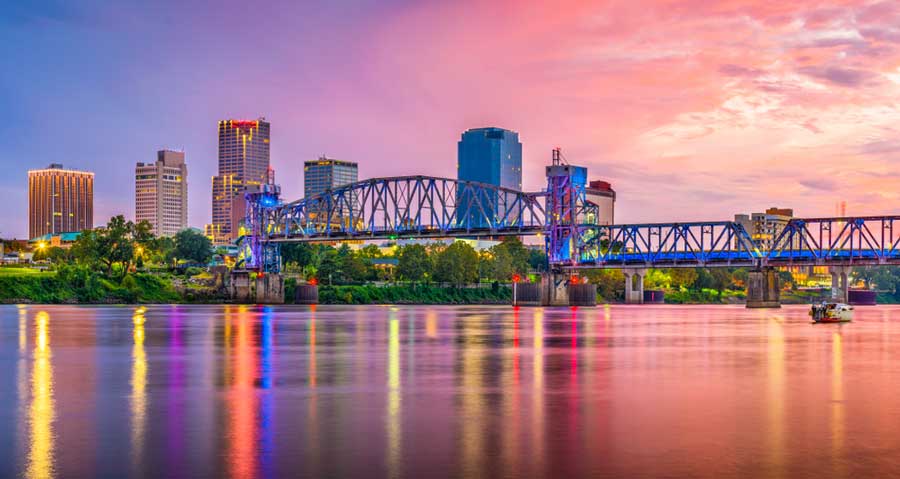 This city in central Arkansas is both the largest city and the capital of the state. Outside of Arkansas, it's probably best known as the home of America's 42nd President, Bill Clinton. Arkansas' capital city also played an important role in the Civil Rights movement.
9. The Little Rock Nine
In September of 1957, nine African-American students — known as The Little Rock Nine — became the first African-American students to enter Central High School in Little Rock. Three years earlier, the Supreme Court ruled to desegregate schools. The state governor had other plans, though. He called in the Arkansas National Guard to the school entrance, presumably for the nine students' safety.
The nine students faced resistance from the National Guard as well as locals upon entering the school. The resistance was so vehement, that school officials sent the nine home, fearing for their lives. Upon hearing of this incident, President Dwight Eisenhower ordered federal troops to accompany the students.
Despite the presence of the Army, the students still faced much hostility. Nonetheless, a bold leap forward had been made by these brave students. A memorial to them now stands outside the Arkansas state capitol building.
10. Buffalo National River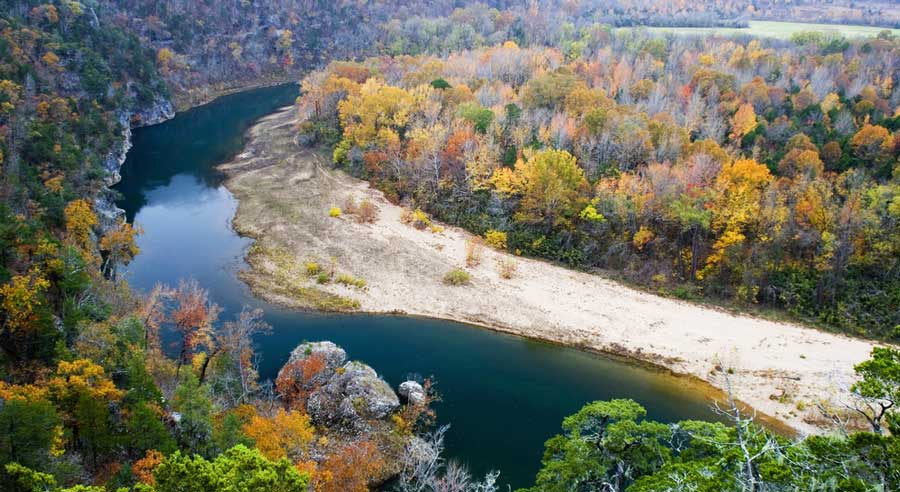 Arkansas is known as "The Natural State" for its pristine natural beauty. A voyage down this northern Arkansas River more than justifies this title.
This river was the first to be designated as a National River and is one of only a few rivers in the Lower 48 states that remain undammed. It flows for 135 miles, passing majestic bluffs and forested valleys, with the occasional rapids punctuating the otherwise idyllic meandering of the river.
11. The Civil War
A lesser known chapter, yet still an important one, in Arkansas history is its role in the American Civil War. Siding with the Confederacy, Arkansas' main role was to guard the Mississippi River, a vital artery for transporting troops and supplies.
Several battles were fought on Arkansas soil, such as the Battle of Pea Ridge and the Battle of Pine Bluff. In the wake of the war, Arkansas was readmitted to the Union on June 22, 1868.
12. Agriculture
Rich soil and temperate climate make Arkansas perfect for farming. The state's main crops are rice, cotton, and soybeans. Poultry farming also plays a major part in the Arkansas economy, especially with food-giant Tyson Foods being headquartered in the town of Springdale in northwest Arkansas.
13. Fried Foods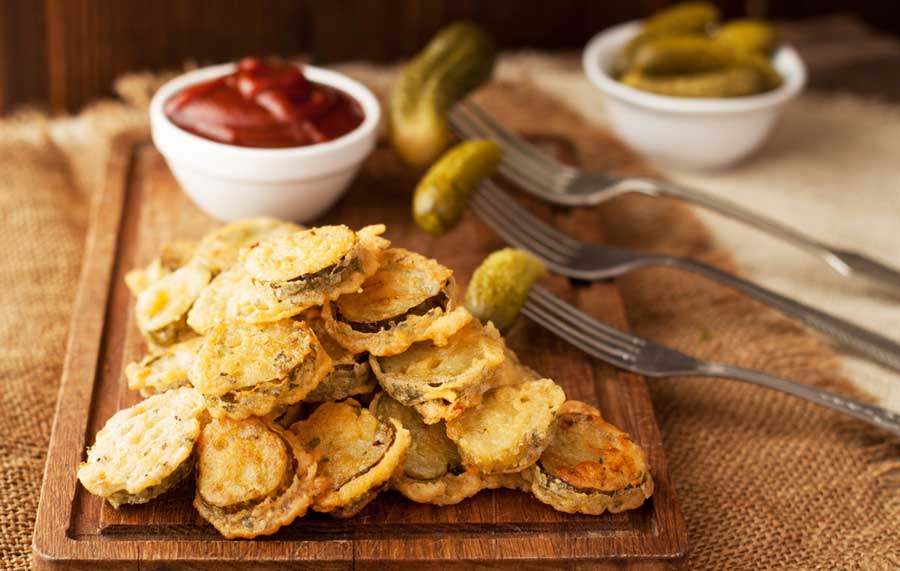 Being good Southerners, Arkansans love hearty fried food. Sometimes, this means frying things people outside the South might not think to fry. Fried catfish is understandable.
Chicken-fried steak is different, but undeniably tasty. Fried pickles, though? Arkansans pride themselves on this one-of-a-kind dish, created by Bernell "Fatman" Austin in Atkins, Arkansas back in 1963.
14. The World Cheese Dip Championship
But wait, it gets better. In addition to its more historical and political attractions, Little Rock, Arkansas is also the proud home of the World Cheese Dip Championship. Each year in October, crowds gather as contestants vie for the coveted title of best cheese dip.
Arkansas boasts that it invented this classic American comfort food. In 1935, so the story goes, a Little Rock restaurateur concocted a golden brown condiment that would go on to become a staple of America's snack times. Texans, however, contest that their queso dip predates this tale by a few decades.
15. The World Championship Duck Calling Contest
Another auspicious, but delightfully rustic tournament takes place in Arkansas– a world championship for duck calling. The contest takes place in the town of Stuttgart, Arkansas in the fall during duck hunting season.
Although called the "World Championship," contestants generally hail from America. The contest is open to Canadians, though, so it is, technically, international.
16. Fort Smith, Arkansas
Founded in 1817, this town in western Arkansas served as a frontier outpost and fur-trading center as America expanded westward. In its early days, Fort Smith was every bit as wild as the more famous wild west towns of the American southwest states.
At least until Judge Isaac Parker, known as "The Hanging Judge" came onto the scene and laid down the law, helping turn this once wild frontier town into a more circumspect city.
17. Hot Springs National Park
Arkansas is famous for this National Park in its central Garland county. At 143℉, the natural hot springs are too hot for bathing!
Thankfully, two bathhouses on the grounds temper the heat to a more accommodating temperature. The park overlooks the town of Hot Springs, Arkansas where one can ascend the Hot Springs Mountain Tower for an eagle's eye view of the surrounding countryside.
18. Ouachita Mountains
The town of Hot Springs serves as a great hub for exploring this mountain range, which unlike the Rockies and the Appalachians, runs from east to west instead of north to south.
Nature lovers will find hiking trails, scenic vistas, and diverse wildlife all across this mountain range.
The forested slopes of the mountains become even more beautiful in autumn when the trees turn to vibrant hues of red, orange, and gold.
👉 Read Next: What is Each of the 50 States Famous For?
19. Mount Magazine State Park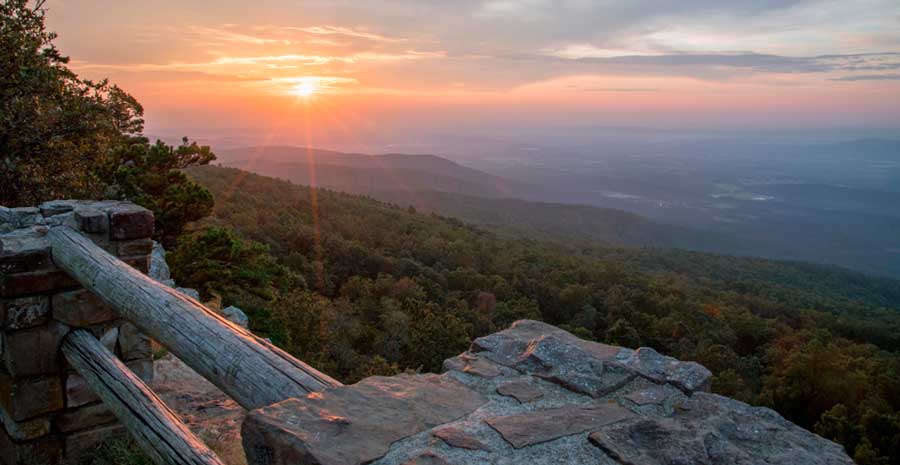 Standing at 2753', Mount Magazine is the highest point in both the Ouachita range and all of Arkansas. Atop the peak, a luxurious lodge offers accommodations for overnight visitors to this Arkansas state park. For those who'd rather rough it, numerous campgrounds can be found throughout the park.
👉 Read Next: What is Kentucky Known For?
20. Natural Resources
Another thing Arkansas is known for is its mineral wealth. In 1906, a farmer in Pike County discovered a diamond in his fields. This triggered a short-lived "diamond rush" which faded when the area proved less profitable than speculations had forecasted. Natural gas proved to be a more reliable resource.
Two sites, one in western Arkansas and one in southern Arkansas, provide a steady stream of this valuable resource to this day.
👉 Fun Fact: Mount Ida, Arkansas is known as the quartz crystal capital of the world! In all the world, only Brazil comes close to matching the quantity and quality of the quartz found in Mount Ida.
21. Crater of Diamonds State Park
This state park stands on the site of the original diamond discovery of 1906. It bears the distinction of being the only public diamond mine, where, for $7, visitors can dig for the gemstones. Despite initial success, the site proved unsustainable for industrial diamond mining. The owners opted to open it to tourists, which proved far more profitable.
👉 Read Next: What is Alabama Famous For?
22. Crystal Bridges Museum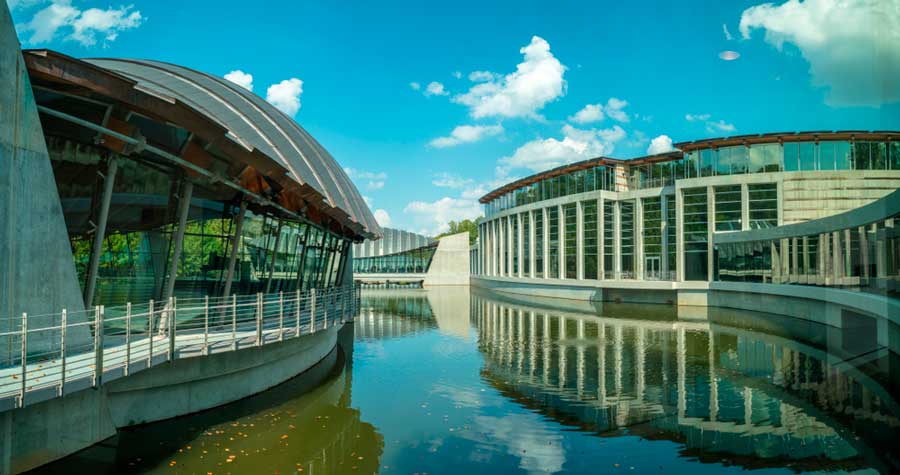 The Crystal Bridges Museum in Bentonville, Arkansas houses a diverse collection of American art from the past five centuries. Works from famous contemporary artists such as Norman Rockwell and Andy Warhol are on display, as well as artifacts from the different tribes of Native Americans who lived in the region.
The museum also has various works by contemporary Native American artists whose works combine traditional motifs and modern sensibilities. It's a great place to explore more historical things Arkansas is known for.
👉 Read Next: What is Colorado Famous For?
FAQs Famous Arkansas Things
Is Arkansas part of the Deep South?
Although it is undeniably a Southern state, Arkansas is generally not considered part of the Deep South. It does, however, depend on whom you ask.
Is Arkansas part of the Bible Belt?
Yes, Arkansas is part of the Bible Belt, as well as several other of America's "belt" regions.
👉 Read Next: 32 Famous Things Louisiana is Known For
***
Whether you're looking for an outdoor escape, a unique perspective on American history, or a visit to a famous diamond mine, Arkansas is the place for you.
Now you no longer have to wonder "what is Arkansas known for?"!