What is Alabama Known For? (22 Famous Things, People & Places)
Wondering "what is Alabama known for?"
Alabama is known for southern hospitality, the Civil Rights movement, college football, and beautiful Gulf Coast beaches. Alabama is known also for its production of peanuts, and its role in the American space program.
Ever wonder what made Alabama such a sweet home for Lynyrd Skynyrd? In this article, we will take a look at some of the many things that make this southern state remarkable and well worth a visit. Whether you love nature, history, or good company, Alabama has plenty to offer.
Advertising Disclosure: What States is a for profit reference website, supported by advertisements. Thank you for supporting our mission to make geography fun for all!
22 Things Alabama is Known and Famous For
1. Southern Hospitality
Many residents of the South pride themselves on their hospitality. A visitor from elsewhere in the United States may be taken back at first to hear themselves unironically referred to as "sir" or "ma'am." If invited to an Alabaman home, chances are good that you will find a rich, generous meal and friendly conversation.
2. Tuskegee University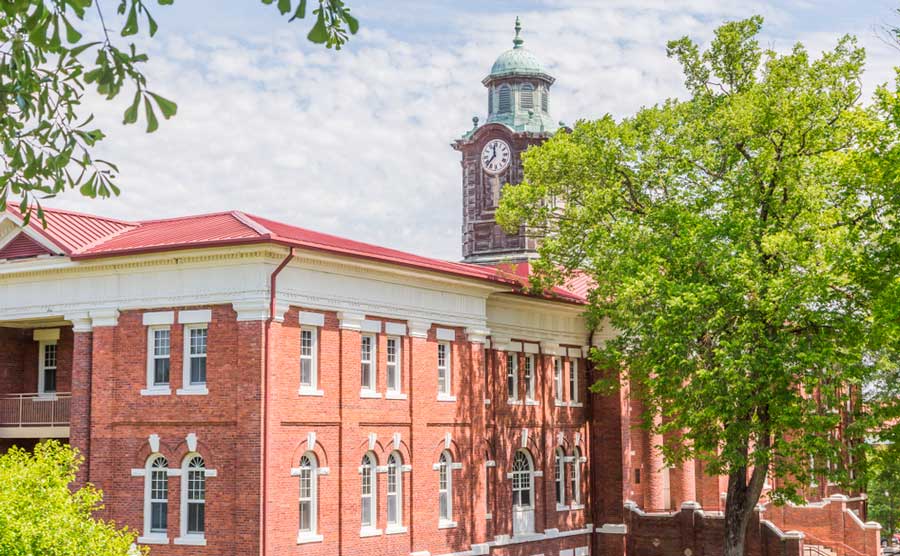 Founded on July 4, 1881, Tuskegee University was one of the nation's first universities for African-Americans. Booker T. Washington did much to establish and develop the university during his tenure as president from 1881 to his death in 1915.
Another famous figure from this university is George Washington Carver. He gained fame for discovering over 300 different products, ranging from culinary to industrial in nature, derived from peanuts. Tuskegee is also the home of the famous Tuskegee Airmen, the first African-American military aviators, who served in World War II.
3. Peanuts
Aside from the numerous different uses discovered by Dr. Carver, peanuts have been a major staple of Alabama's economy. The town of Dothan, Alabama bears the title "Peanut Capital of the World," and with good reason. According to alfafarmers.org, around half of all the peanut production in America comes from farms within a 100-mile radius of Dothan.
4. The Deep South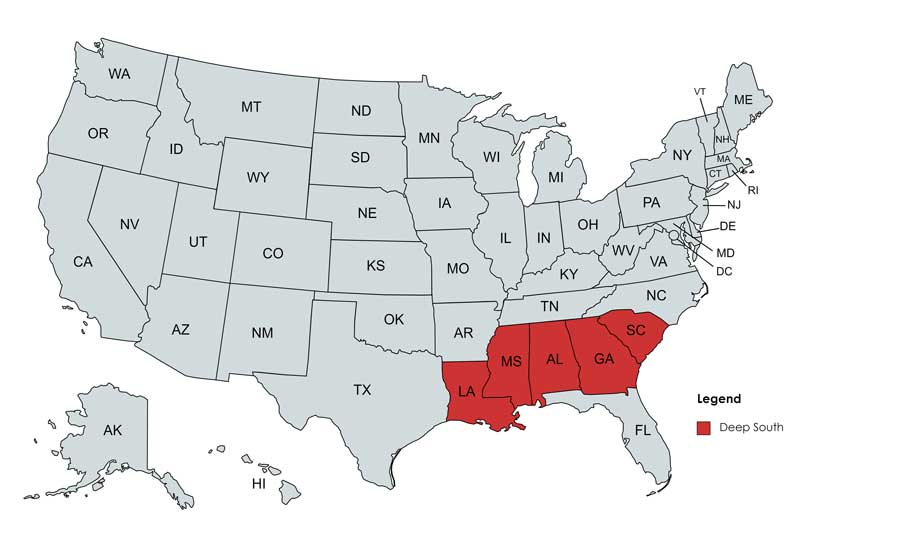 Within the South itself, there is what's known as the "Deep South." This term generally refers to the southeastern United States where the sense of Southern identity and culture is the strongest. Other states that identify as part of this region include Georgia, South Carolina, Mississippi, and Louisiana. Other nearby states, such as Texas, may or may not reckon themselves as part of this group. It depends on who you ask.
5. College Football
Very often in the southern United States, college football edges out professional football in popularity. Alabama is no exception to this trend. The most famous college team, without a doubt, is the Alabama Crimson Tide, hailing from the University of Alabama Tuscaloosa.
There are several other popular teams in the state, too. Perhaps the most notable among them is the Auburn University Tigers, who share an intrastate rivalry with the Crimson Tide.
❓ Trivia Time: Alabama is the only state to have an alcoholic drink, Conecuh Ridge Whiskey, as its official drink.
6. Rosa Parks
Alabama is known for many famous incidents in the Civil Rights movement. It was in Montgomery, Alabama that Rosa Parks refused to comply with contemporary segregation rules. Her protest sparked the Montgomery Bus Boycott, and gave momentum to the Civil Rights movement as a whole. Her legacy is preserved to this day in the Rosa Parks Museum.
7. Martin Luther King Jr.
Alabama is famous also for Martin Luther King Jr. and his efforts with the Civil Rights movement there. Much of his most famous work was accomplished in Alabama, including the non-violent protest march from Selma to the Montgomery capitol building. While temporarily incarcerated in Birmingham, he wrote his famous "Letters from Birmingham Jail."
8. Bloody Sunday
On a sadder note, Alabama also witnessed the Bloody Sunday march. A peaceful march of 600 people met with violent resistance after marching across the Edmund Pettus Bridge in Selma. Although many marchers were injured, thankfully no one died in this incident.
9. Birmingham, Alabama
In addition to its connections with the Civil Rights movement, there's much to see in Birmingham. Its nickname "The Magic City" comes from its rapid growth in the late 1800s. When all the necessary elements for producing iron were discovered in the local soil, a sleepy farmland quickly became a major industrial center.
Today, visitors to Birmingham can visit sites associated with both the Civil Rights movement and the city's industrial past. Birmingham also has several scenic parks and the especially lush Birmingham Botanical Gardens to visit.
❓ Trivia Time: Though not part of the 13 original colonies, two battles in the American Revolution were fought in Alabama! They took place in 1780 and 1781 in Mobile, Alabama.
10. The Gulf Coast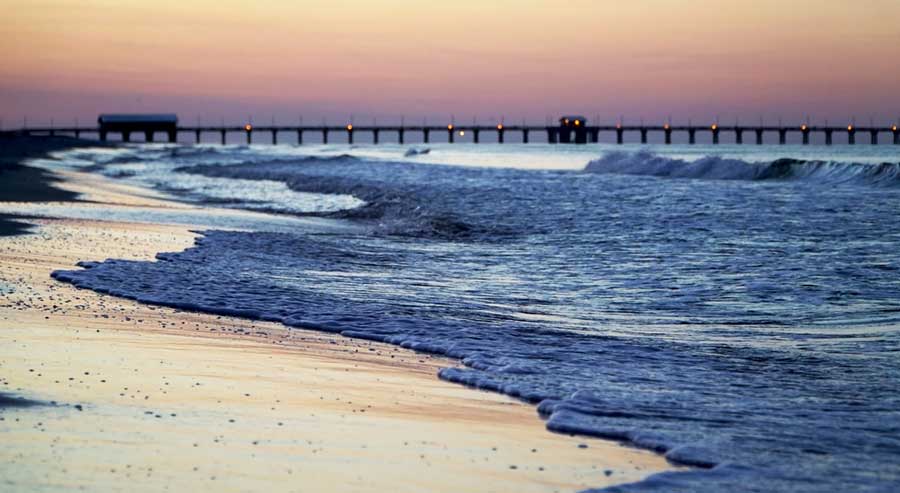 Despite having a relatively short coastline, Alabama is home to beautiful white sand beaches. Alabama's Gulf Coast, especially the town of Gulf Shores, offers visitors a great day at the beach and numerous attractions such as golf courses, a zoo, and a nearby wildlife refuge.
Also worthy of note is the town of Dauphin Island, a small, yet inviting beach town on the island of the same name. It offers visitors a more laid-back alternative to the sometimes bustling town of Gulf Shores, but either place is definitely a great destination.
11. The USS Alabama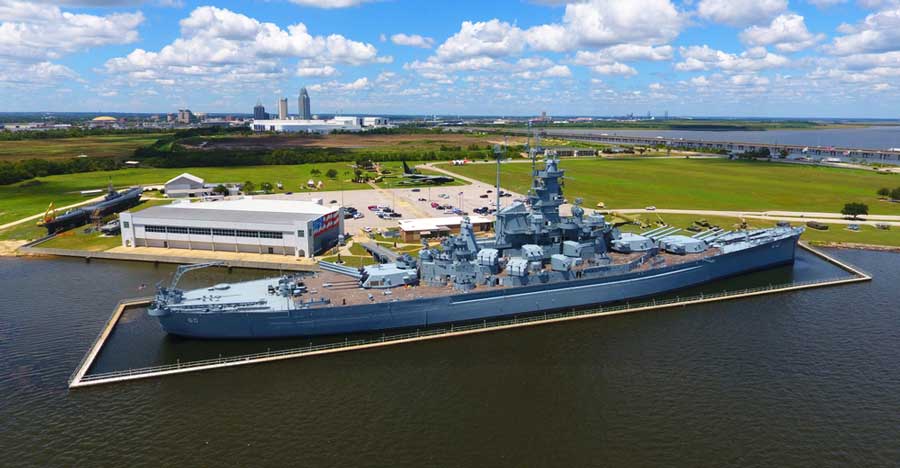 Visitors to the Mobile Bay coastline in search of a more historical experience will not be disappointed. This World War II-era battleship played a pivotal role in the Pacific Theater, assisting in the process of taking back various islands from Imperial Japanese forces. Although since retired from military service, it now serves as a museum and national historic landmark.
12. State Nicknames
Alabama has several nicknames, though none of them are official. It has been called "The Cotton State" because of its central location in the Cotton Belt, America's historical cotton production area and one of the country's belt regions. It is also called "The Heart of Dixie" for its proud Southern heritage.
Another nickname for Alabama is "The Yellowhammer State." The name Yellowhammer State comes from the uniforms of the Alabama troops in the Civil War. Their uniforms had bright yellow trim. This drew a parallel with the Yellowhammer woodpecker (also known as the Northern Flicker woodpecker) which has bright yellow feathers under its wings and tail.
13. Changing Capitals
The capital city of Alabama is an interesting subject. At first, the town of St. Stephens served as the territorial capital. In 1819, upon becoming statehood, Huntsville served as the state capital. Alabama held its first constitutional convention as a state here.
Huntsville was merely a temporary capital, though, because one year later, Cahaba, Alabama became the capital. In 1826, in order to quell political strife, the Alabama Legislature moved the capital to Tuscaloosa. Finally, in 1846, the capital moved to Montgomery, where it has stayed to this day–at least so far….
14. State Parks
Alabama has several state parks, each with its own unique beauty. Magnolia Springs State Park is famous for its springs which gush out 7 million gallons of water a day! Visitors can fish at Magnolia Springs, but swimming is discouraged as the waters are also inhabited by alligators.
Gulf State Park, near the town of Gulf Shores, offers visitors white sandy beaches, alligator-free swimming, and fishing. There are other activities such as a golf course and marshlands and pine forests further inland.
Oak Mountain State Park, in north central Alabama, has plenty of hiking, camping, and horseback riding opportunities. It is also a great place to see fall colors in Alabama.
15. Musical Heritage
Muscle Shoals, Alabama is famous for Fame Studios, where many well-known musicians have recorded their songs. Artists such as Aretha Franklin, The Rolling Stones, Lynyrd Skynyrd, and Bob Dylan came to Muscle Shoals to record music.
Besides Fame Studios, the music scene in Alabama has seen developments in blues, soul, country, jazz, and more. The Appalachian Mountains reach their southernmost point in Alabama, and so traditional Appalachian folk music, such as bluegrass, has also been a part of Alabama's history.
16. Appalachian Mountains
Although precise definitions vary, the Appalachians go through the state of Maine in the north all the way to Alabama in the south. The highest point in the state of Alabama is found in this southernmost reach of eastern America's most famous mountain range. Cheaha Mountain stands at 2413' above sea level and offers visitors scenic vistas as well as a restaurant and accommodations.
17. First Electric Trolley System
On April 15, 1886, Montgomery, Alabama became the first city to have a city-wide system of electric streetcars. The world's first electric trolley had actually begun service five years earlier in Germany, but Alabama had the first city-wide network of these vehicles.
18. Rivers
Alabama has its share of rivers and one of the most important in Alabama's history was the Alabama River. Fed by several other rivers, it cuts diagonally down the state to the Gulf shores. It served as a major artery for trade until traffic on roads and railways surpassed it.
Another notable river in Alabama is the Tennessee River. It flows into Alabama in the northeastern corner of the state, loops down through the northern part of the state, then exits Alabama in its northwestern corner.
❓ Trivia Time: What States Does the Mississippi River Go Through? (You probably can't name them all!)
19. Marshall Space Flight Center
NASA's Marshall Space Flight Center in Huntsville, Alabama played a major role in America's space program. This facility conducted much of the research and development for the rockets that would help carry space shuttles into space.
Civilians can visit the adjacent U.S. Space & Rocket Center (America's largest space museum) to learn more about the history of Alabama's role in the space program. The U.S. Space & Rocket Center is also home to Space Camp, where students can gain hands-on experience in various fields related to space travel.
20. Huntsville, Alabama
Huntsville, known as "Rocket City" and "Rocket Capital of the World" has more to it than rockets and space travel. In recent years, Huntsville has become a popular place to live, even for those not directly involved in the space industry. As such, and as the largest city in Alabama, it has a growing food and craft beer scene.
With a population of approximately 400,000 (as of 2022) in the greater Huntsville area, it's still fairly small and cozy compared to other American cities. For many who reside there, it is the perfect place for modern sophistication and traditional Southern hospitality to meet.
21. Harper Lee
Harper Lee, author of one of America's most beloved novels, To Kill a Mockingbird, was born and raised in Monroeville, Alabama. Her most famous work depicts Southern society in her time, seen through the eyes of a child. The novel gained fame for its sensitive approach to such contentious issues as racism and discrimination.
22. Talladega National Forest
This forest is one of the best places to take in Alabama's natural beauty. Here one can climb the southernmost of the Appalachians, wander along wooded trails, or follow the course of the several rivers that wind their way through the forest. Cheaha Mountain, the tallest mountain in the state, is found within the bounds of this National Forest as well.
👉 Read Next: What Are the States Known For?
FAQs about Famous Alabama Things
What is the state abbreviation for Alabama?
Is there Mardi Gras in Alabama?
Alabama has Mardi Gras, and is even the site of the oldest Mardi Gras festivities in America. This dates back to 1703 when Mobile, Alabama was the capital of the French Louisiana territory in America.
🤠 Read Next: What is Texas Famous For?
***
Now you have your answer to the question "what is Alabama known for." I hope this list of famous Alabama things, people, and places has been interesting to you.
Southerners will often say "Y'all come back now" as a farewell. With so many amazing things to do and see in Alabama, it would be hard not to take them up on that offer!