What is New Mexico Known For? (21 Famous Things, People & Places)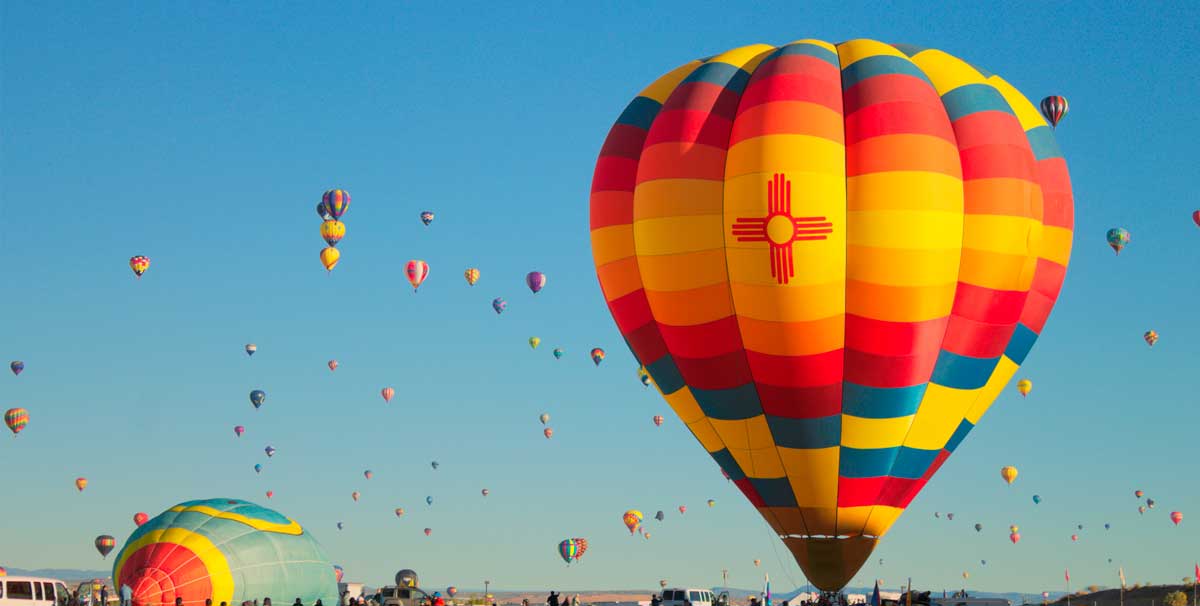 What is New Mexico known for?
New Mexico is famous for its rich history which includes Native American, Hispanic, and Wild West elements. New Mexico is known for the atomic bomb and the Roswell Incident. New Mexico is known also for its natural beauty and the hot air balloon festival that takes place in Albuquerque.
New Mexico is a remarkable place. Where else in America can you find a site with over 24,000 stone carvings left by ancient people? Where can you float into the sky with an armada of over 500 hot air balloons? Where else can you delve into an elaborate network of 120 caves full of otherworldly rock formations? If any of these questions pique your interest, read on to find out what makes New Mexico famous!
Advertising Disclosure: What States is a for profit reference website, supported by advertisements. Thank you for supporting our mission to make geography fun for all!
What is New Mexico Known For? 21 Famous Things!
1. Santa Fe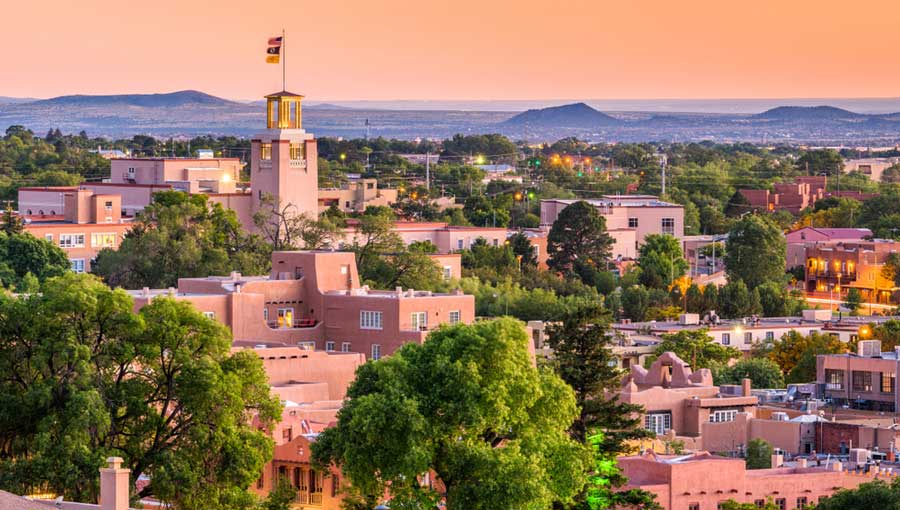 New Mexico's capital city is the oldest capital city in the United States. Originally settled in 1607 by Spanish conquistadors, Santa Fe began as a tiny settlement. In 1610, it was made the capital of the province of New Mexico.
Today Santa Fe is known for its historical buildings as well as new buildings built in the Pueblo Revival style and the Territorial Revival style. These two schools of architecture give the city a classic Southwest feeling. Santa Fe is also known for its art scene.
❓ Trivia Time: What are the southwest states?
2. Albuquerque

Albuquerque is the state's largest city, with a population of over 560,000 in the city itself. Albuquerque is a major hub for technology and media companies. It also has a thriving restaurant scene featuring local New Mexican and international cuisine.
Each year in October, Albuquerque hosts a hot air balloon fiesta–the Albuquerque International Balloon Fiesta. At this festival, over 500 hot air balloons take to the sky!
3. Roswell
Albuquerque is famous for hot air balloons going up into the sky. This tiny town, however, is famous for something coming out of the sky. In 1947, in what later became known as the Roswell incident, a military balloon crash-landed outside of Corona, New Mexico. Decades later, conspiracy theories began to circulate that an alien spacecraft had crashed.
Although the town of Corona was closer to the site of the crash, Roswell became more associated with the incident. Today, one of Roswell's main tourist attractions is the International UFO Museum.
❗ Fun Fact: New Mexico's neighbor Nevada is known for its own site of conspiracy theories and strange occurrences, the infamous Area 51.
4. Carlsbad Caverns National Park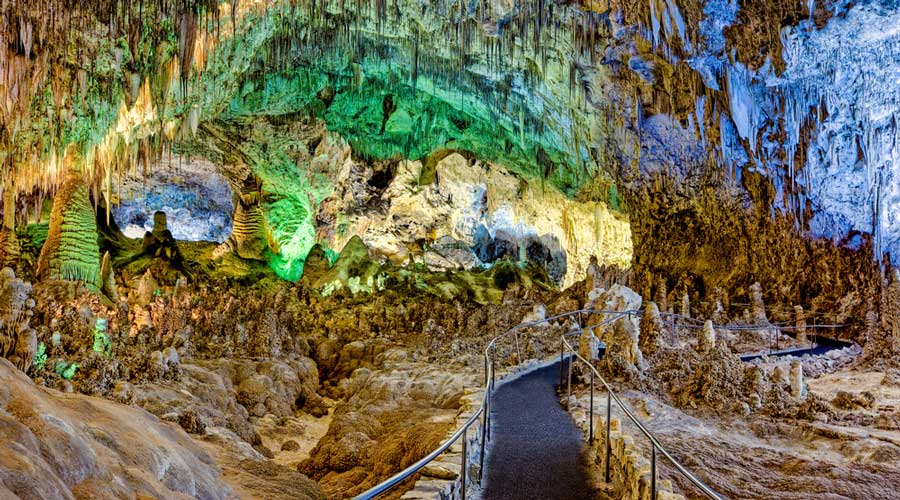 This national park is known for its numerous caverns and the haunting rock formations inside them. It is the most visited attraction in New Mexico, drawing hundreds of thousands of visitors each year.
The park also has several above-ground attractions such as hiking trails and picnic sites. A wide variety of local wildlife calls the grounds (and underground) of the park home, including 17 species of bats!
❓ Trivia Time: Which US State Has the Most Caves?
5. White Sands National Park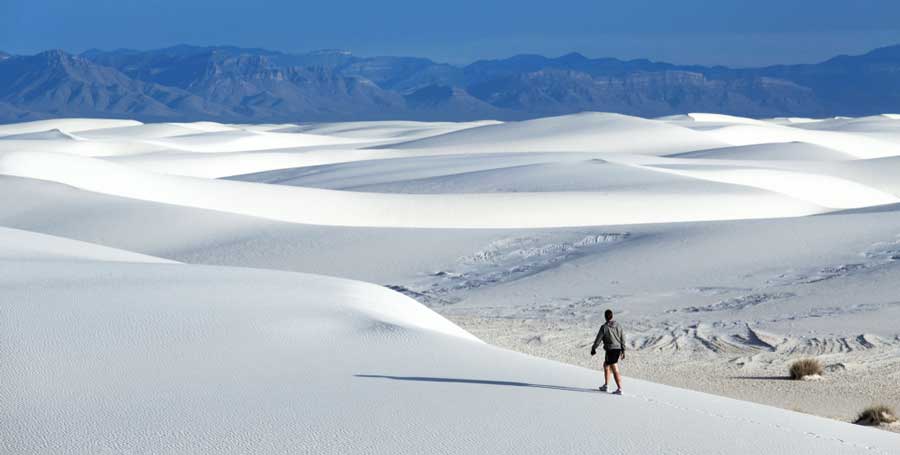 New Mexico also has an above-ground otherworldly site–the White Sands National Park. At this park, the sands have a white color because they are made from pulverized gypsum crystals. You may often hear this park referred to as White Sands National Monument; the site only gained the status of national park in 2019.
The site also saw controversy when it applied to be added to the list of UNESCO World Heritage Sites. UNESCO rejected the proposal because of the adjacent military site, the White Sands Missile Range. This site also had the claim to fame, or, perhaps, infamy, of being the test site for the first atomic bomb on July 16, 1945.
6. Native American Tribes
Another thing New Mexico is known for is the tribes of Native Americans that have called it home for centuries.
Some of the most famous tribes include the Taos Pueblo (and other sub-tribes of the Pueblo people), the Hopi, the Apache, and the Navajo. One unique site in New Mexico is the town of Taos Pueblo, recognized as a UNESCO World Heritage Site. It is considered to be one of the oldest continuously inhabited towns in North America.
7. Gila Wilderness
The Gila Wilderness in the southwestern part of the state has the distinction of being the world's first officially designated wilderness area, being recognized as such on June 3, 1924. As an official wilderness area, all motorized traffic and even bicycles are prohibited.
Camping and hiking are allowed with a permit. One of the most famous attractions here are the Gila Cliff Dwellings. These buildings served as temporary shelters for the nomadic people that once inhabited the area.
8. Taos, New Mexico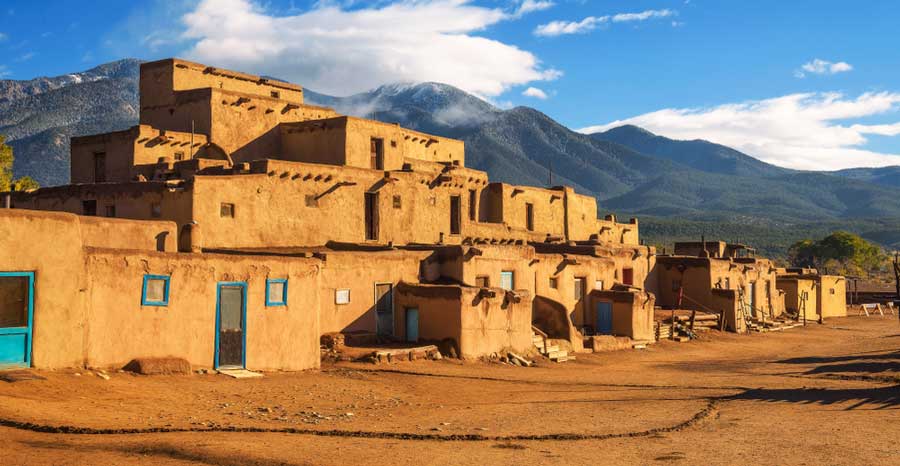 The town of Taos is located just south of the famous Taos Pueblo site. The town has a population of just over 5,000 but serves as a hub for exploring the region.
Hiking and camping are popular activities, as are kayaking and rafting down local rivers. Hot springs abound in the area and, in the winter, the Taos ski valley offers some of the best winter recreation in New Mexico. The famous leader Geronimo was born in what was then New Mexico territory, but now in Mexico.
9. Spanish Heritage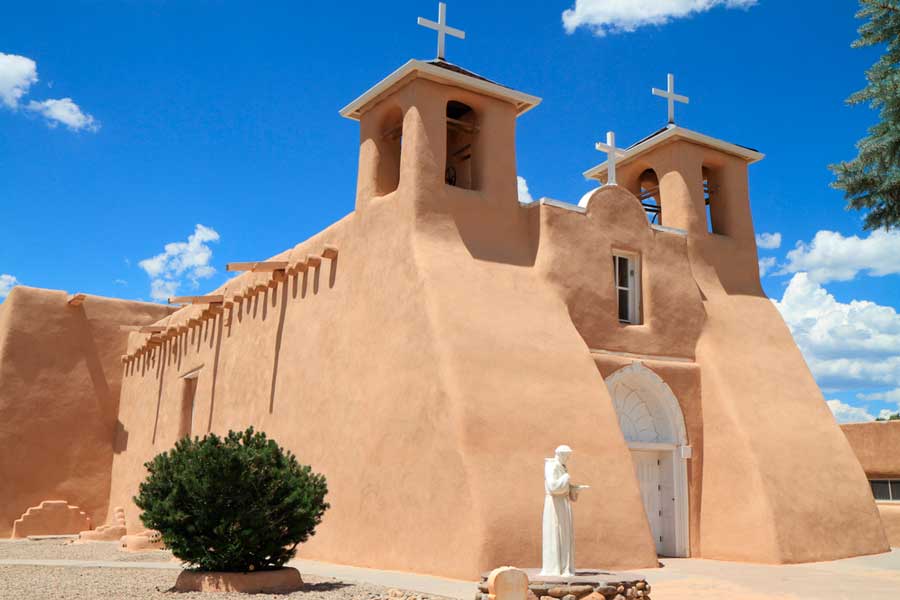 In addition to its Native American cultures, New Mexico has a rich Hispanic heritage. The most obvious example is, of course, the state's name, as well as many city names.
One also finds a unique array of architectural styles, such as Spanish Baroque cathedrals, or humble mission churches which resemble the local Native Pueblo style. The Spaniards also brought grapevines with them and established New Mexico as a wine country within their colony, a tradition that lives on to this day.
10. The Wild West
Settlers from the United States also played a major role in New Mexico's history. After the Mexican-American War (1846-1848), Mexico ceded much of its northern territory to the United States, including much of present-day New Mexico.
Before the war, the Santa Fe Trail served as a route for both Mexican and American traders. The Santa Fe Trail also served as an invasion route for the American Army of the West in the Mexican-American War. Today, the National Park Service preserves the legacies of this westward route at stations along the length of the trail.
❓ Trivia Time: There's another state famous for its frontier trail. Read more about it in our article "What is Oregon Known For?".
11. The Rio Grande
Although better known for forming the border between Texas and Mexico, the Rio Grande also runs through New Mexico. The river's headwaters begin in Colorado from where it flows through the entire length of New Mexico before continuing on to Texas.
Along the way, the Rio Grande irrigates farmlands and, in northern New Mexico, offers whitewater rafting opportunities in spring and summer.
12. The Four Corners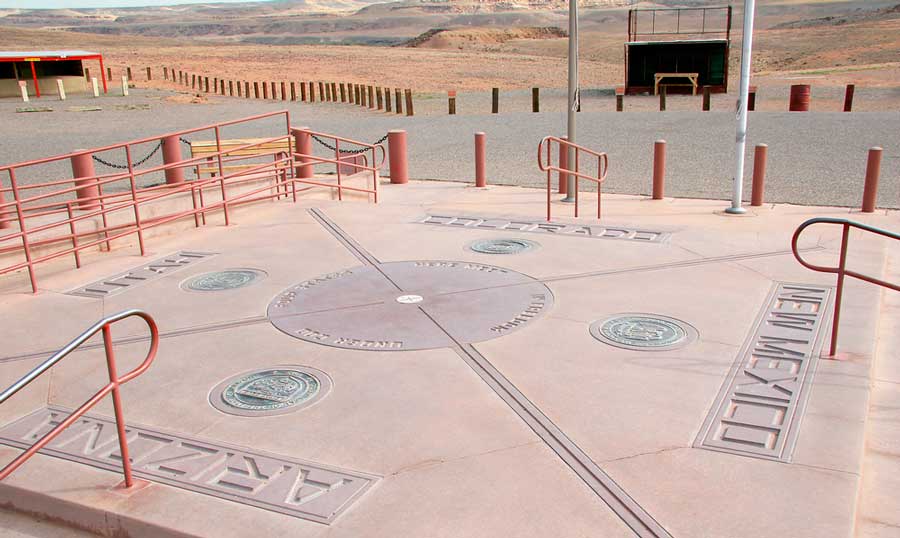 New Mexico is known for being one of the four states that comprise the Four Corners. Northwest New Mexico shares a border with Arizona to the west, Colorado to the north, and Utah to the northwest. All four states converge at this point. A monument stands on this quadripoint, allowing visitors the chance to stand in four different states at once.
❓ Trivia Time: The southwest is famous for its quadripoint, but what are the tri-states?
13. Petroglyph National Monument
This national monument near Albuquerque boasts a collection of over 24,000 petroglyphs! Members of the ancient Pueblo tribes carved a variety of symbols, some of which date to 3000 years ago!
More recent petroglyphs date from 1300-1600 AD, approximately. There are also carvings made by Spanish settlers depicting objects such as crosses which would have been unknown to pre-contact tribes.
14. Bandelier National Monument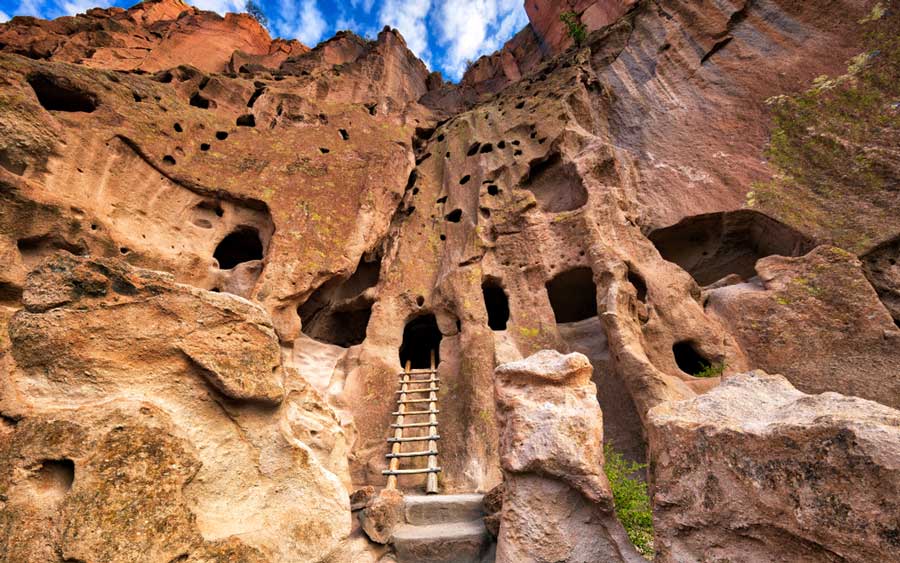 The Bandelier National Monument features natural and manmade wonders from ages past. Natural wonders include the Pajarito Plateau and the alpine forest of Cerro Grande. Man-made wonders include the extensive cliff-dwellings of the ancient Pueblo peoples as well as the pictographs they left at the Painted Cave site.
15. Los Alamos National Laboratory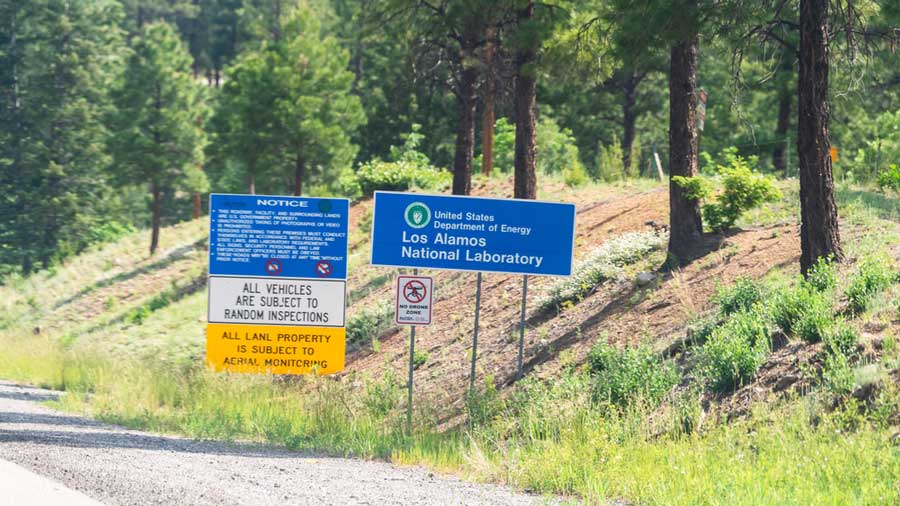 One of New Mexico's modern monuments is this research center in northern New Mexico. Los Alamos National Laboratory is best known for its research on the first atomic bomb, but after World War II, began researching more peaceful uses for nuclear technology as well. Other fields of study at this laboratory include nanotechnology, supercomputers, and medicine.
16. Sandia National Laboratories
New Mexico is also home to this cutting-edge research company. Headquartered in Albuquerque, Sandia National Laboratories, also known simply as Sandia, made national security the main focus of its research. One of the lab's notable achievements was in the early development of supercomputers in the 1990s.
17. New Mexico State University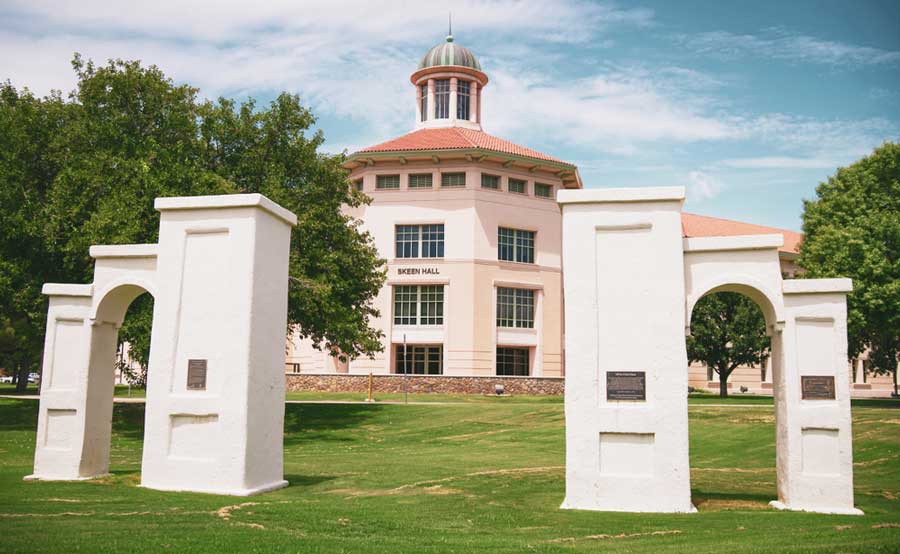 One of New Mexico's leading universities is New Mexico State University in the city of Las Cruces. The university is known for its legal and agricultural studies. In fact, the university's sports team name, the Aggies, derives from the agricultural reputation of the school.
18. Shiprock

This rock formation rising out of the surrounding plain is one of the most recognizable features of New Mexico's vast collection of natural wonders. It held a significant place in Navajo lore and religion and served as a navigational landmark for later American settlers moving westward.
19. The Rocky Mountains
Speaking of high places, New Mexico is also the southernmost point of the Rocky Mountains. New Mexico's Jemez and Sangre de Cristo Mountain Ranges are counted as the southern terminus of America's most famous mountain range.
❓ Trivia Time: Besides New Mexico, what states are the Rocky Mountains in?
20. New Mexico's Most Famous Personalities
Many celebrities that we know and (mostly, depending on who you ask) love are New Mexicans, having been born or lived in New Mexico.
These include George R.R. Martin, Jeff Bezos, Conrad Hilton (founder of Hilton hotels), Neil Patrick Harris, and Demi Moore. Other famous personages from or residing in New Mexico include Freddie Prinze Jr., Val Kilmer, and John Denver (who, ironically, is famous for his songs about other states).
21. The Land of Enchantment
As you can see from the previous entries in this article, this nickname is well-deserved. No other place in America, or, for that matter, the world has the same combination of natural wonders and unique history and culture as New Mexico. And what could be more enchanting than riding in a hot air balloon during a desert sunset?
👉 Read Next: What is Each of the 50 States Famous For?
FAQs About Famous New Mexico Things
What makes New Mexico special?
A unique combination of natural beauty and different cultures makes New Mexico special.
What foods are famous in New Mexico?
Green chile cheeseburgers and the breakfast burrito are famous New Mexico foods.
***
Now you don't have to wonder "what is New Mexico known for" anymore!
Now that you know a little more about New Mexico, why not delve into the depths of Carlsbad Caverns or float into the skies at the International Balloon Fiesta? Of course, those are just two of the many fascinating things waiting to be discovered in the Land of Enchantment.