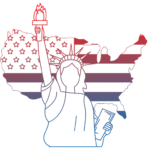 What States is a reference website that answers your questions about U.S. geography and history. At What States, we're on a mission to make geography and history fun again. Our team of writers are dedicated to uncovering the fascinating and complicated stories behind each of the 50 United States. We hope our guides make you just a little more informed — and that you have some fun along the way. Please note that we are for profit and supported by advertisements, which allows us to bring you our content.
Meet Our Team
---
Meg O'Connor
Freelance Writer
Meg O'Connor is a geologist and freelance writer living outside New Orleans, Louisiana. Originally from New England, Meg has lived all over the United States and never turns down the chance for an adventure. She has worked at a dude ranch in Wyoming, hunted dinosaur fossils with paleontologists in Alaska, and sailed through the Suez Canal on an oceanographic research trip. A hydrologist by trade and a writer by craft, Meg spends her days making specialized maps and modeling river floods. In her free time, she enjoys running, hiking, playing chess, and creative writing. You can find her on Muck Rack or Instagram.
---
Katie Lusnia
Freelance Writer
Katie Lusnia has been a fan of geography since grade school when she won her school's Geography Bee. After working as a zookeeper, her interest expanded into animal territories and how human population growth and movement affect habitats. You can find her on Instagram, where she shares stories about exploring her home state of Florida.
---
Matthew Reppond
Freelance Writer
Matthew Reppond is a freelance writer, born and raised in Kodiak, Alaska, currently residing in Arizona. Having grown up on an island in Alaska, he is quite at home among mountains, forests, fjords, and all manner of geographical features. In 8th grade, he won his school's Geography Bee, and his love of this subject has always been closely intertwined with his passion for history. Matthew graduated John Brown University in 2007 with a Bachelor's in History and Associate's in English. Having traveled extensively throughout the USA, Canada, and Europe, he has developed a keen interest in studying how geography and climate have shaped the cultures and civilizations that lived in them.
---