What is Arizona Known For? (15 Famous Things & Fun Facts)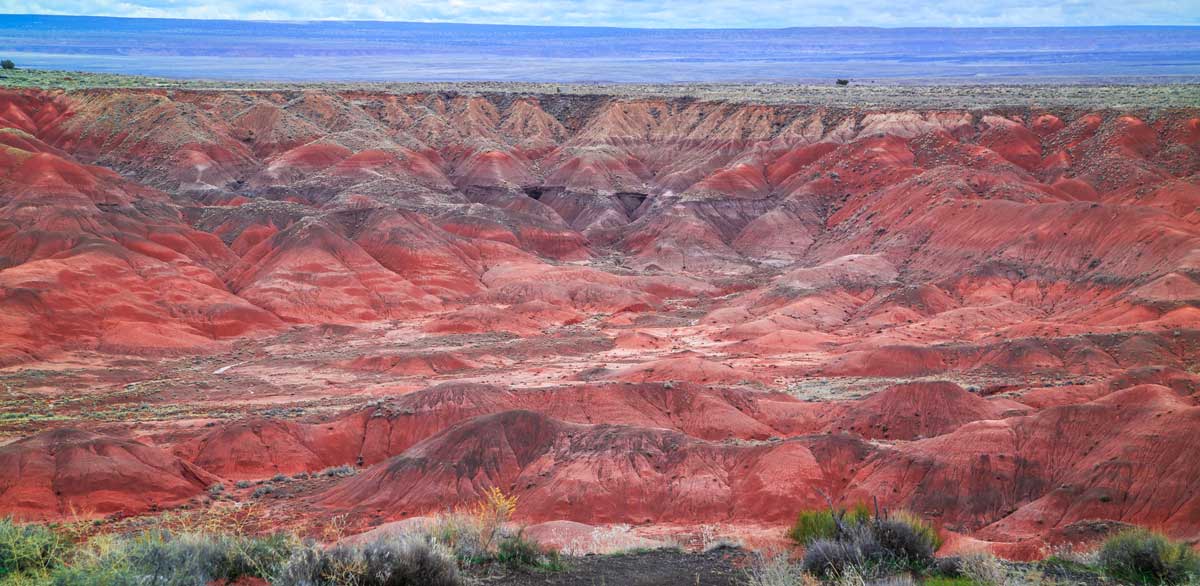 What is Arizona known for?
Arizona is known for its natural wonders, its desert climate, Native American heritage, and famous cities. Other things that make Arizona famous are its distinctive flora and fauna, and wild west legacy.
Arizona is famous for being the home of one of America's most famous landmarks–the Grand Canyon. As a resident of Arizona, I know that there is a ton more to the state than its most popular tourist destination. Read on to learn more about what makes the Copper State so great.
Advertising Disclosure: What States is a for profit reference website, supported by advertisements. Thank you for supporting our mission to make geography fun for all!
15 Famous Things Arizona is Known For
1. The Grand Canyon National Park
America's most visited National Park, the Grand Canyon is a place like no other on earth. Over the eons, the Colorado River carved this canyon out of the Colorado Plateau in northern Arizona, winding its way down to the sea.
From the Native Americans who first dwelt here to modern tourists from around the world, the Grand Canyon has been an endless source of wonder.
Numerous hiking trails lead down into the canyon and along the bottom of the canyon. Most visitors come to the south rim, which is the easiest to access. There is no bridge anywhere across the canyon, though. The only ways to get to the north rim are down through the canyon or a long drive around it.
2. Native American Heritage
Several Native American tribes have called this southwestern state home for millennia, but the Hopi and the Navajo Nation are perhaps the most well-known.
The Navajo became especially famous for their role as code-talkers in the Pacific Theater in World War II. Their unique language was unlike anything the Japanese had ever heard before, and they were never able to crack the code.
Modern-day visitors to the Navajo Nation can see such natural wonders as Antelope Canyon, Monument Valley, Canyon De Chelly, and more. Roadside shops also sell local, traditional crafts. An especially popular item is Native American jewelry made from turquoise.
❗ Trivia Time: Although Arizona's most famous nickname is "The Grand Canyon State," it is also called "The Copper State" for its abundance of that mineral.
3. Hot Weather
Even though most people think that all of Arizona has a desert climate, this is not true. Most places in the state do see hot or very hot summers. However, the higher elevations of the state (such as Flagstaff) cool off much faster and even get snow in the winter.
First-time visitors to Arizona may be surprised to find pine forests in Arizona's highlands. In fact, Arizona has six national forests! Those visitors may be even more surprised to visit the lowlands and find, in places, lush vegetation, especially in springtime before the intense heat of the summers.
4. Phoenix, Arizona

The largest city in Arizona, as well as the state capital, Phoenix has seen much growth in recent years. It is the most populous state capital in America, with a population of 1.5 million. That number only goes up if nearby cities, such as Chandler, Scottsdale, and others, are included in the count.
The city is one of the most popular tourist destinations in the state after the stunning rock formations and landscapes. The city is home to several professional sports teams, countless restaurants, and even several golf courses!
5. Gila Monsters
This desert-dwelling lizard lives primarily in western and southern Arizona. It can be found in northern Mexico and a few regions in neighboring states, but the highest concentration of the creature in America is in Arizona.
Although they are poisonous, they are rarely encountered by humans. They tend to be docile, but will become aggressive if provoked, so, if you happen to see one, it's best to leave it be.
6. Wild West Heritage
Arizona has a generous share of wild west heritage. The town of Tombstone, immortalized by the showdown at the O.K. Corral, sits just over an hour's drive southeast of Tucson. The breathtaking rock formations of Monument Valley, near the border with Utah, have been featured in numerous Westerns.
One can also find museums, and even the occasional ghost town, throughout the state preserving various aspects of Arizona's frontier days. Many a mining town sprang up throughout Arizona in search of precious metals. To this day, copper mining forms a significant part of the state's economy
7. Route 66
America's most famous highway runs through over 400 miles of Arizona. Although Route 66 was officially decommissioned, the roads are still there for anyone to drive on — and Arizona is one of the states Route 66 passes through.
Initially, Route 66 helped facilitate agricultural shipments.
In later years, as more Americans had personal cars, as well as more leisure time, it played a major role in America's love of road trips. Route 66 also runs just south of the Grand Canyon, making it easier for more and more Americans to come see this natural phenomenon
8. The Painted Desert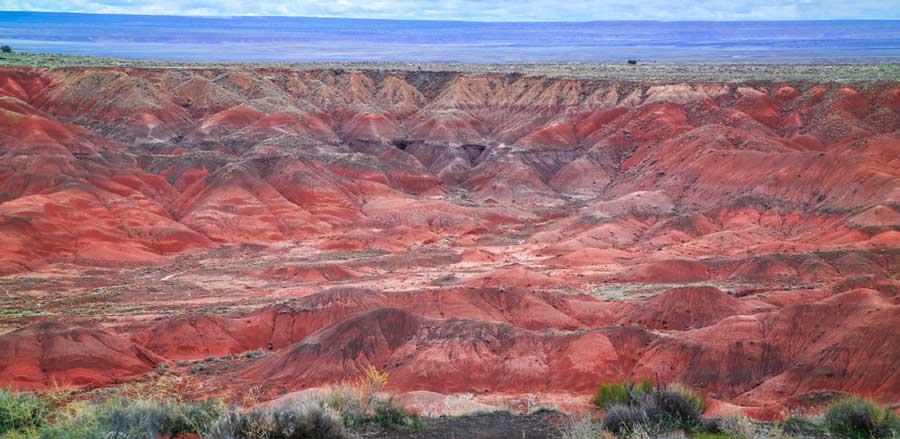 Another of Arizona's many attractions is the Painted Desert. Stretching east from the Grand Canyon for 150 miles, this desert has a unique natural beauty. Vibrantly colored cliffs, canyons, and rock formations abound, and in some places, one can see distinct layers, each in a varying hue of red, white, and other earth tones.
❗ Fun Fact: Arizona is home to the largest skydiving center in the world! Located in the town of Eloy, Skydive Arizona greets thrill seekers with a fleet of more than a dozen planes, as well as an indoor skydiving center for those who'd rather ease into the experience.
9. The Hoover Dam
One of America's greatest feats of engineering, the Hoover Dam stands in the course of the Colorado River. It was built in order to provide water and hydroelectric power for the surrounding area, as well as to control the seasonal flooding of the river.
The dam spans the state line between Arizona and Nevada, with the nearest major city, Las Vegas, being about a 45-minute drive away.
The reservoir formed by Hoover Dam, Lake Mead, offers visitors a refreshing break from the heat. In addition to swimming, one can rent boats or jet skis for a more adventurous outing.
10. Glen Canyon and Lake Powell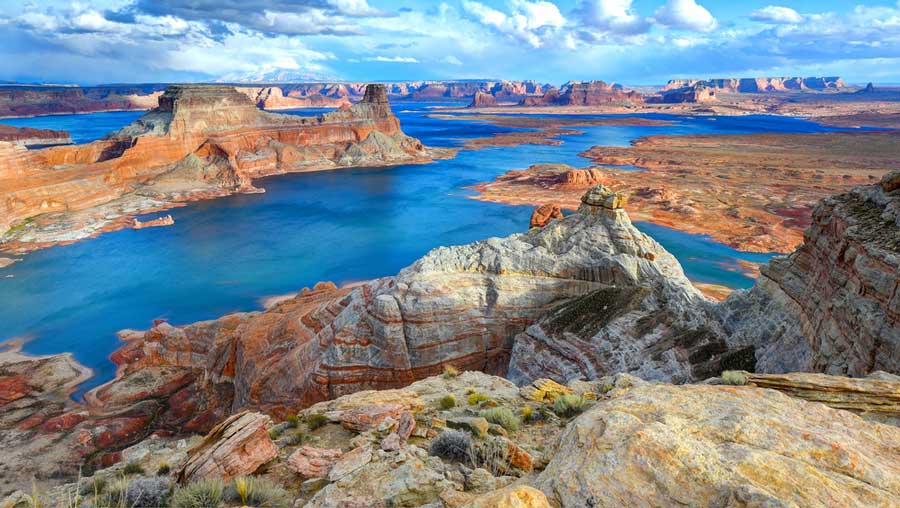 Northeastern Arizona also has a dam and recreational area, which, while not as huge as Hoover Dam, is still well worth a visit.
One can find the same aquatic activities here as at Lake Mead, but many people consider Lake Powell better for sightseeing. Glen Canyon and Lake Powell sit right on the border with southern Utah, which also has a wealth of unique rock formations.
11. Lake Havasu
Another of Arizona's famous lakes, Lake Havasu sits astride the border with California. It is part of what locals jokingly call "Arizona's West Coast." A small city of the same name sits on the shores of the lake, and offers visitors and locals alike a wide array of activities.
While significantly smaller than the two previously mentioned lakes, it works as a sort of happy median between them. The area is not as heavily settled as that around Hoover Dam, but is not as remote as Lake Powell. So, for people looking for a more laid-back, yet still accessible aquatic experience, Lake Havasu is hard to beat.
12. Saguaro National Park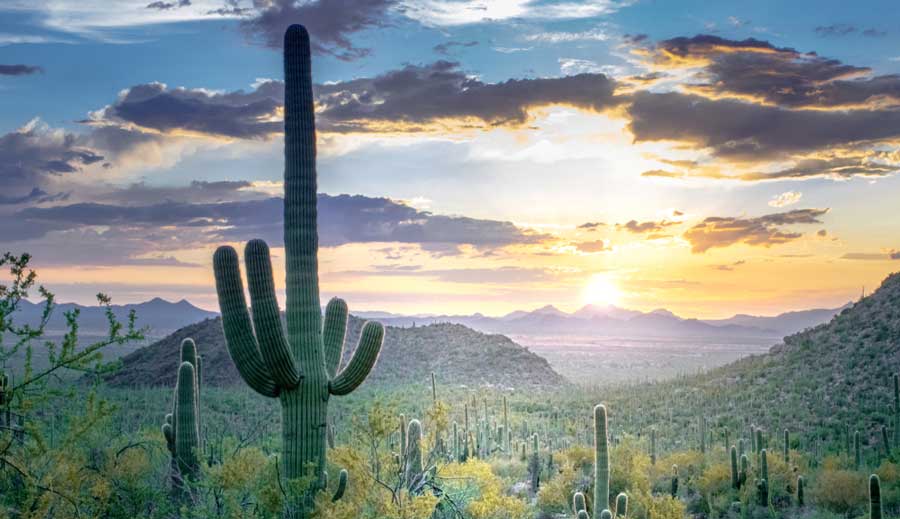 After the Grand Canyon, what comes to most people's minds at the mention of Arizona is the cactus. There are several different species of cactus, but the most famous is the giant saguaro cactus.
These are found throughout the Sonoran Desert, but Saguaro National Park outside Tucson is one of the best places to see them.
The park is split into two different sections, each located on either side of the city. The western section has a veritable "forest" of saguaros. The eastern section, on the other hand, boasts a "sky island," an isolated mountain with an extremely different environment from the surrounding lowlands.
13. Petrified Forest National Park
On the subject of unique forests, Arizona is famous for the petrified forest in its northeast. The process of petrification gradually turned trees into fossilized stone through a lack of oxygen and an abundance of minerals in the soil.
This process is quite rare, and so, naturally, the specimens are protected by law from any would-be souvenir hunters. There is even a rumor that the petrified rocks are cursed and anyone who manages to sneak one out of the natural park begins to suffer bad luck.
👉 Read Next: What is Each State in the USA Famous For?
14. Sunsets
Few states can match Arizona for sunsets. The Arizona State Parks & Trails site explains that Arizona's especially beautiful sunsets come from a process called scattering.
In short, the abundant dust particles in the air refract the light more, enhancing the colors of the sunset. It may seem counterintuitive at first, you'd think more dust would interfere. Either way, no one can deny the beauty of an Arizona sunset.
❗ Fun Fact: Arizona's state flag is a sunset in which the 13 red and yellow rays represent America's original colonies. The copper star represents both the setting sun and the state's history of copper mining.
15. Flagstaff, Arizona
Situated at 6,909', Flagstaff enjoys significantly cooler weather than the more populous cities in the state. The cooler climate makes it a haven for outdoor enthusiasts, especially in winter when skiing, snowboarding, and other snow-related sports are possible.
With a population of less than 80,000, it is also significantly less crowded and bustling than Phoenix, Tucson, and the various cities in their greater metropolitan areas.
Flagstaff is also 30 miles away from the Grand Falls, a large natural waterfall system. Interestingly enough, these falls (185') are actually slightly taller than the mighty Niagara Falls (180').
🗺️ Read Next: What is the State of California Known For?
What Arizona is Known For – FAQs
Does Arizona have its own kind of hot dog?
The Sonoran hot dog (sometimes called an Arizona hot dog) is a uniquely Arizonan take on an American classic. In addition to the more traditional mustard, the hot dog is topped with mayo, bacon, refried beans, onions, tomatoes, and green salsa.
Arizona is landlocked; how did it get a ship (The USS Arizona) named after it?
The USS Arizona got its name thanks to US Navy ship-naming conventions and the efforts of Leander Mix, mayor of Nogales, AZ. The US Navy names its battleships after states, and, while the ship was under construction from 1913-1915, Leander Mix of Nogales suggested it be named for his state. His suggestion gained popularity, and the Navy chose to name it the 48th state.
🏰 Read Next: What is Florida Known For?
***
Now you don't have to wonder "what is Arizona known for" anymore!

As you can see, Arizona is famous for some truly remarkable things. Anyone looking for natural beauty and fascinating history will not be disappointed in visiting the state. If the summer heat seems too much, then, by all means, come in autumn, winter, or early spring and see what the 48th state has to offer!