What is Hawaii Known For? (21 Famous Things, People & Places)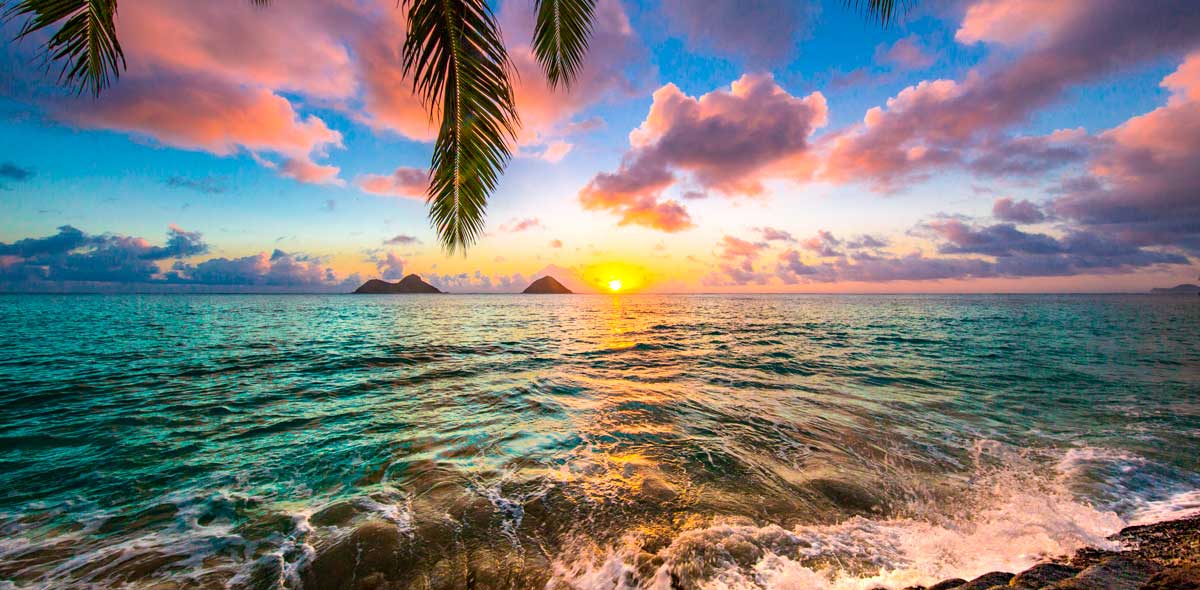 What is Hawaii known for?
Hawaii is known for its tropical climate, stunning beaches, volcanoes, national parks, and the Pearl Harbor attack. It's also known for its native Hawaiian culture, including such things as the hula dance, luaus, and surfing.
Surfing, sunshine, pineapples, and poke bowls. A proud ancient culture that ruled itself as a sovereign nation before becoming a state. Sounds interesting? These are just a few of the things Hawaii is famous for. Read on to learn more about the fascinating 50th state!
Advertising Disclosure: What States is a for profit reference website, supported by advertisements. Thank you for supporting our mission to make geography fun for all!
21 Things Hawaii is Known for
1. Beautiful Beaches
Hawaii is legendary for its stunning beaches. One of the most famous beaches in Hawaii is Waikiki Beach. Waikiki Beach is one of the most easily accessible for those visiting Hawaii, being located in the capital city of Honolulu. Numerous beaches can be found all across the Hawaiian archipelago, so if crowds are not your thing, you still have plenty of options.
2. Kaihalulu Beach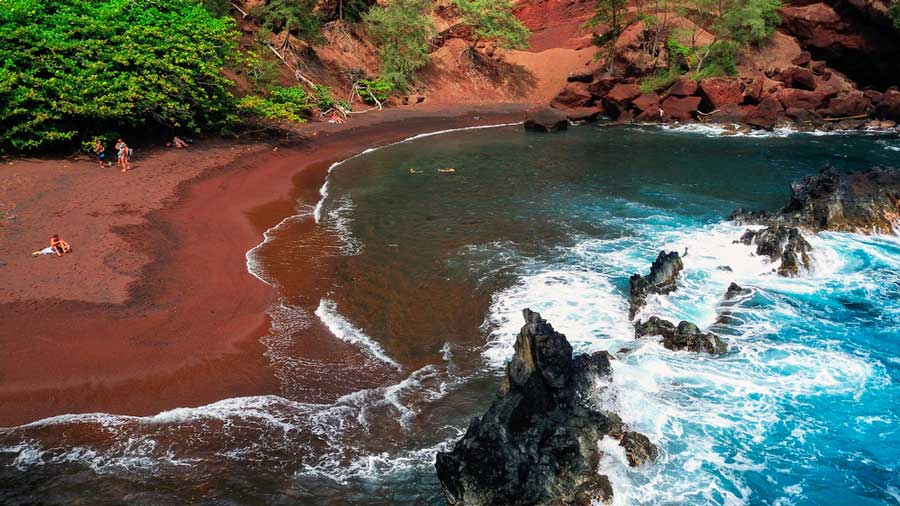 One of the most unique beaches in Hawaii is Maui's Kaihalulu Beach. You can only find red-sand beaches in a handful of places throughout the world, and Hawaii is the only state to have one. The sands get their red hue from their high iron content.
3. Tropical Climate
While the beaches may be one of the main draws for many people, the interiors of the islands are just as nice! Rain forests filled with palm trees, tropical fruit trees, and many other plants and animals can be found throughout the state.
Certain regions of the island feature slight variations, such as the mountaintops being classified as polar. One also finds drier regions, but temperatures throughout the state generally do not change by more than a few degrees.
4. Volcanoes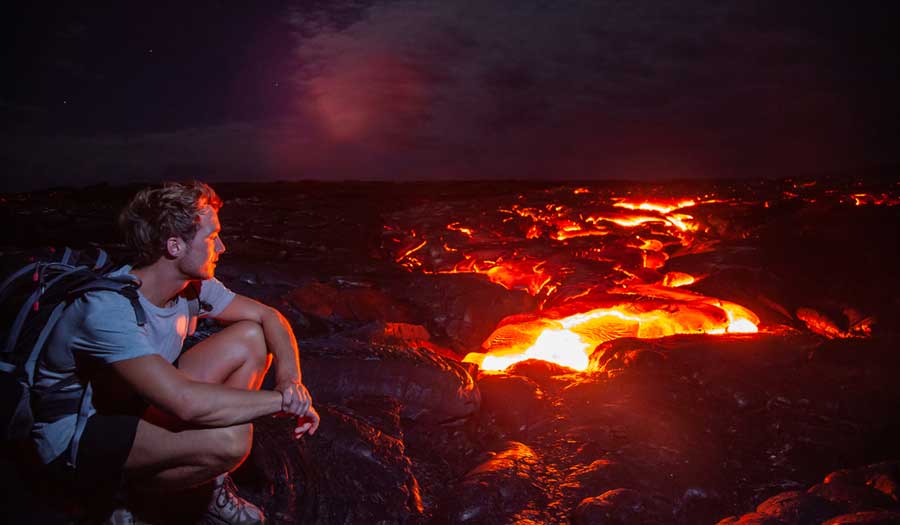 Without volcanoes, there'd be no Hawaii. Six volcanoes remain active throughout the state. One can even get an up-close look at (minor) eruptions and lava flows at a truly unique National Park. The Hawaii Volcanoes National Park, along with Yellowstone, is one of the country's most geothermally fascinating national parks.
Mauna Kea, a dormant volcano and the tallest mountain in the Aloha State, towers above the surrounding landscape of the "Big Island." You can ski and snowboard here, so if you've had your fill of surfing or the beaches are too crowded, the slopes are ready and waiting!
❗ Trivia Time: An active volcano is one that is currently erupting or considered "likely to erupt" according to the predictions of geologists.
5. World's Largest Volcano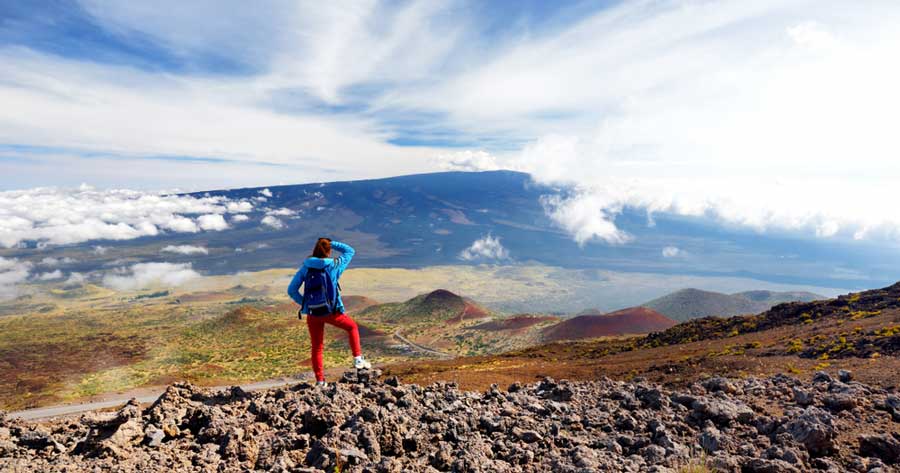 Hawaii's most famous volcano, Mauna Loa, is also the world's largest volcano. It stands over 13,000' above sea level, and its long, broad slopes seem to disguise its size by their gradual rise. Quite appropriately, the name "Mauna Loa" means "long mountain" in Hawaiian.
6. Pearl Harbor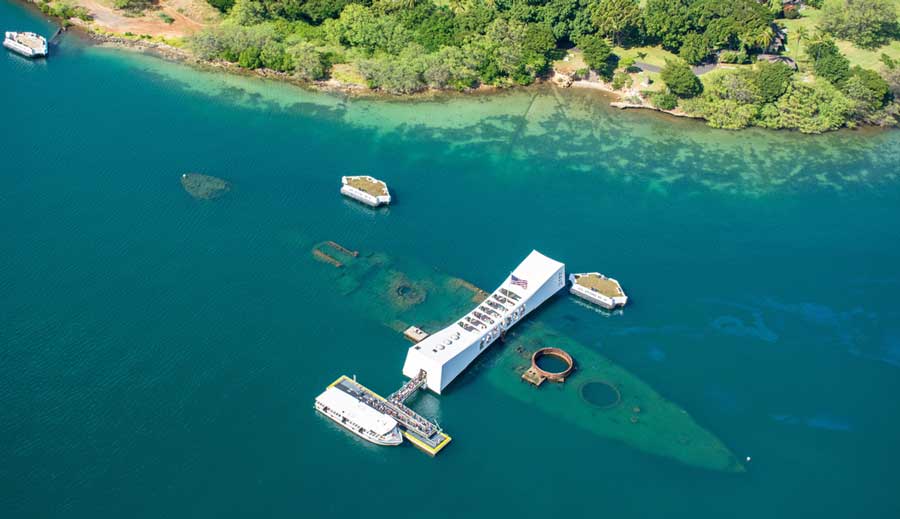 Probably no other event in Hawaiian history is as well-known as the attack on Pearl Harbor. Visitors to Pearl Harbor can view the wreckage of the USS Arizona, which was one of the two ships lost, together with the USS Oklahoma, on that day. If you're curious as to why a naval ship was named for a landlocked desert state, read our guide to what Arizona is known for.
7. Surfing
Although surfing may have originated in Polynesia, Hawaii is where the broader world first discovered this tradition. The North Shore on the island of Oahu is considered by many to have the best waves in the state.
The people of ancient Hawaii didn't just surf for fun, though. Surfing formed an important part of Hawaiian culture and religion, with the best surfers being held in high regard in society. Hawaii may have been the place most outsiders first saw surfing, but California is known for making modern surfing more accessible to the wider world.
8. Hawaiian Cuisine
What better way to wrap up a day of surfing and soaking up the sun than with some hearty Hawaiian food? Although poke bowls and macadamia nuts may be the most famous exports, there is much more to discover.
Immigration to Hawaii brought many food traditions from around the world together, creating a fusion of flavors unique to Hawaii. One such mouthwatering Hawaiian dish is Hawaiian steak. Hawaii is famous for marinating the classic American rib-eye steak in pineapple juice, tamari soy sauce, brown sugar, garlic, and ginger.
9. Hawaiian Music
Much like food, music in Hawaii is known for both native and fusion elements. Hawaiian music is famous for its mellow, upbeat sound. The song "Aloha Oe " needs little introduction, being recognizable worldwide as Hawaiian. Hawaiian singer Israel Kamakawiwo'ole is best known for his cover of "Somewhere Over the Rainbow."
Interestingly enough, the ukulele is another example of Hawaiian "fusion." The Athens Library relates in an article on the history of the ukulele that in the 1850s, many Portuguese immigrants came to Hawaii to work on the local sugar plantations.
They brought with them a small, guitar-like instrument called a braguinha. The native Hawaiians loved the instrument, and, with a few changes, the braguinha became the uke that we know today.
10. The Hawaiian Language
Another thing that makes Hawaii famous is the Hawaiian language. Hawaii is famous for its melodic language which relies more heavily on vowel sounds than most other languages. In fact, the Hawaiian alphabet consists of five vowels and only eight consonants!
11. Endemic Species
Isolated places often house unique species of plants and animals. According to some sources, over 10,000 of these species call Hawaii their home!
To name just a few animals, there are the Hawaiian crow, the Hawaiian monk seal, and the Hawaiian hoary bat. Over 3000 different endemic plants grow in Hawaii, but insects take the title with over 8000 species found only in the 50th state!
12. Hawaiian History
Over 1500 years ago, Polynesia settlers discovered Hawaii, an isolated archipelago in the vast Pacific Ocean. Hawaiian culture developed for the next twelve centuries, and only in the early 1800s would the islands be united under a single native monarch, King Kamehameha I.
Despite initially cultivating relations with the British, Hawaii would eventually be annexed by the United States in 1897. In 1959, it gained statehood, becoming the 50th state. Although Texas is known for its brief independence, it is not alone in having been a sovereign nation.
13. The Only Royal Palace in America
The legacy of Hawaii's monarchs is remembered at the Iolani Palace in downtown Honolulu. In 1874, King Kalakaua tore down an older building on the site and within a few years, the magnificent structure that now stands on the site was completed. The palace served as the home of Hawaii's rulers until the annexation by the United States.
14. The Merrie Monarch Festival
Another testimony to the memory of King Kalakaua is the festival held in his honor. King David Kalakaua was known for his lively character and devotion to preserving Hawaiian traditions and customs. Every year, Hawaii hosts this lively festival full of traditional Hawaiian songs, dances, and other festivities.
15. Hula Dancing
Hula dancing is much more than just a dance. It's one of the most important aspects of Hawaiian culture.
The movements of the hula dance all hold symbolic meanings. Stories could be told, whether myths, historical accounts, or more. At celebrations such as weddings, blessings would be wished through the dance for the couple. So, next time you see hula dancing, know that there is much more than just a dance going on!
16. Aloha Shirts
Another thing that Hawaii is famous for is the aloha shirt. Smithsonian Magazine offers a fascinating history of these most famous Hawaiian souvenirs. In short, it seems they came about in the 1920s or 1930s when Japanese women began to use fabrics meant for kimonos to make men's shirts.
In the early decades of the 1900s Hawaii acquired a near-mythical status to most Americans. The hardships of World War I and the Great Depression made the thought of a tropical paradise deeply appealing. The now-commonplace shirts were a status symbol as only the rich could afford to travel to Hawaii.
The years following World War II saw the mass production of the shirts, with nearly everyone having at least one, and the aloha shirt became inseparably associated with Hawaii.
17. Papahānaumokuākea Marine National Monument
Don't let the long name intimidate you! Tricky as it is to say, it's much easier than getting to this remote wildlife preserve. While most people think only of the eight main Hawaiian islands, there are far more than that, stretching far into the Pacific. These outermost islands were designated as a protected habitat for Hawaii's diverse sea life.
18. Tropical Fruits
One of the things Hawaii is known for is the variety of tropical fruits grown there. Pineapples and coconuts are the most famous of all, and the Dole Food Company, now internationally famous, began in 1899 in Hawaii. Fans of tropical fruit can visit the Dole Plantation, originally a fruit stand and now a fruit-themed museum and attraction.
Lesser known, but equally delicious fruits can be found in Hawaii, such as strawberry guava, lychees, and passionfruit. Although Hawaii produces substantial amounts of many different tropical fruits, only the passion fruit is native to Hawaii.
19. Diamond Head State Monument
Formed by an ancient volcanic explosion, this crater is one of Hawaii's most widely recognized landmarks. Steep hiking trails lead to the summit of the ridge surrounding the crater, where bunkers and other remnants of early 1900s coastal defenses still stand. During the winter, the summit also serves as a lookout point for migrating humpback whales.
20. Luaus
The traditional Hawaiian party, the luau began long ago as a festive celebration of an important event. Along with delicious food, Hawaiian music and hula dances will be found at nearly every luau. Although it may seem like luaus are chiefly private events, many of them throughout the state are open to the public.
21. Barack Obama
Another of the things Hawaii is known for is being the birthplace of America's 44th President, Barack Obama. Although Hawaii was his birthplace, the state of Illinois is known for being the place where he began his political career.
👉 Read Next: What is Each US State Known For?
FAQs About Famous Hawaii Things
What famous people are from Hawaii?
Famous people from Hawaii include former US President Barack Obama, singer Bruno Mars, and Hollywood stars Nicole Kidman and Jason Mamoa.
Is Honolulu located on the Big Island (Hawaii Island)?
Honolulu is located on the island of Oahu, and not Hawaii Island (often referred to as the Big Island).
***
Now you have an answer to the question: "what is Hawaii known for?"
It's easy to see why Hawaii is such a popular place to visit and to live. We hope this article has given you a taste of the feast that is Hawaii!