List of State Abbreviations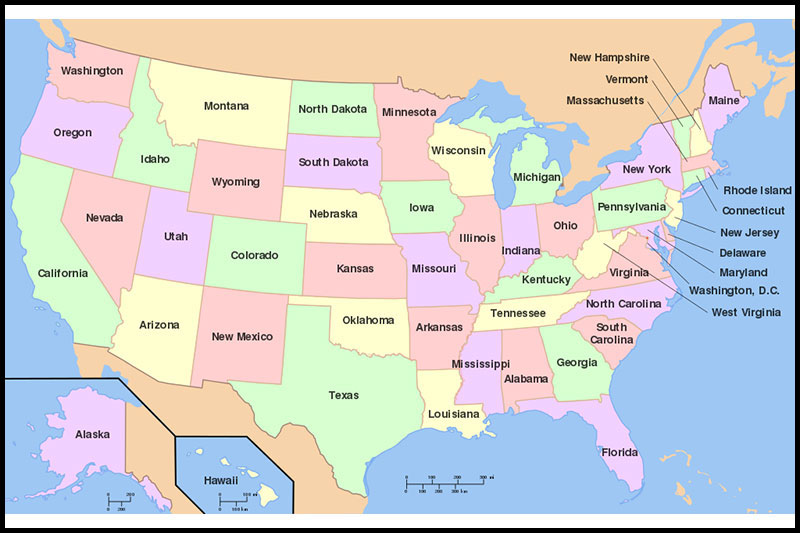 As you know, there are 50 states in the United States of America. Many times the state abbreviations are simply the first and last letter of that state such as California – CA or Maryland – MD, these are fairly easy to remember.
Other times the 2 letters that make up the state abbreviation such as Michigan – MI, Mississippi – MS don't work this way making it hard to remember the state abbreviation for all of the states.
Advertising Disclosure: What States is a for profit reference website, supported by advertisements. Thank you for supporting our mission to make geography fun for all!
If the state is 2 words like North Dakota, West Virginia, Rhode Island, or New Hampshire, it's always the first letter of each word.
One thing they always have in common is the first letter is the first letter of the state. As I mentioned, with the one word states, the second letter is not always the last as you can see from the list of state abbreviations below.
Use this handy list of U.S. state abbreviations to quickly find the abbreviation for all 50 states!
U. S. state abbreviations in alphabetical order
AL – Alabama
AK – Alaska
AZ – Arizona
AR – Arkansas
CA – California
CO – Colorado
CT – Connecticut
DE – Delaware
FL – Florida
GA – Georgia
HI – Hawaii
ID – Idaho
IL – Illinois
IN – Indiana
IA – Iowa
KS – Kansas
KY – Kentucky
LA – Louisiana
ME – Maine
MD – Maryland
MA – Massachusetts
MI – Michigan
MN – Minnesota
MS – Mississippi
MO – Missouri
MT – Montana
NE – Nebraska
NV – Nevada
NH – New Hampshire
NJ – New Jersey
NM – New Mexico
NY – New York
NC – North Carolina
ND – North Dakota
OH – Ohio
OK – Oklahoma
OR – Oregon
PA – Pennsylvania
RI – Rhode Island
SC – South Carolina
SD – South Dakota
TN – Tennessee
TX – Texas
UT – Utah
VT – Vermont
VA – Virginia
WA – Washington
WV – West Virginia
WI – Wisconsin
WY – Wyoming
[cboxarea id="cbox-rSTCZWnoZruenfE8″]
🔤 Trivia Time: What Letter is Not in Any State Name?
---