What is Texas Known For? (21 Famous Things & Fun Facts)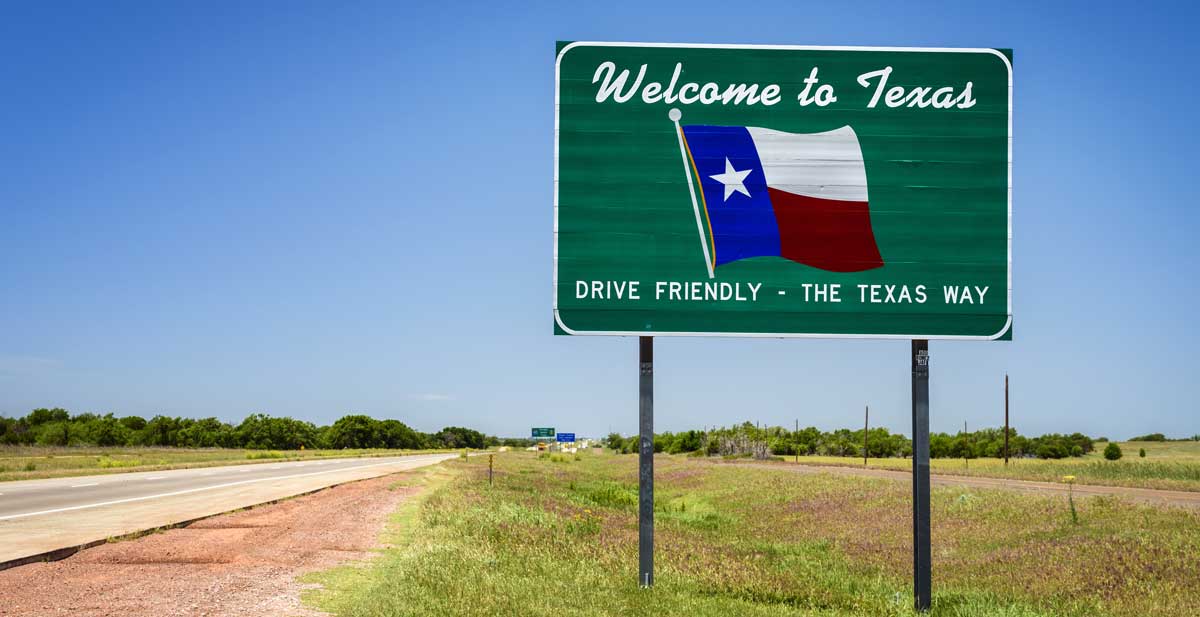 Texas is known for its western/cowboy culture, rich history, brief independence, famous cities, and sports teams. It is also known for its role in the American space program.
Few states embody so many classic American icons as does Texas. Cowboys, barbecue, country music, and a spirit of rugged independence aren't exclusive to Texas, but seem to be especially concentrated in the Lone Star State.
In this article, we take a look at some of the places and things Texas is famous for.
Advertising Disclosure: What States is a for profit reference website, supported by advertisements. Thank you for supporting our mission to make geography fun for all!
21 Famous Things Texas is Known For
1. The Lone Star State
Texans are proud of their state. One of the biggest bolsters to their confidence is the brief period of existing as an independent country. The Texas Revolution (October 2,1835-April 21, 1836) saw a revolt against Mexican rule. Independence continued until December 29th, 1845, when the Republic of Texas became the 28th State.
2. Texas BBQ
What better way to complement traditional country sounds (or any night) than traditional Texas flavors?
Texas is known for its barbecue and good-old-fashion hearty food. Texas barbecue became so popular that now restaurants around the country bear the label "Texas Barbecue" because plain-old barbecue just ain't good enough.
3. The Lone Star Flag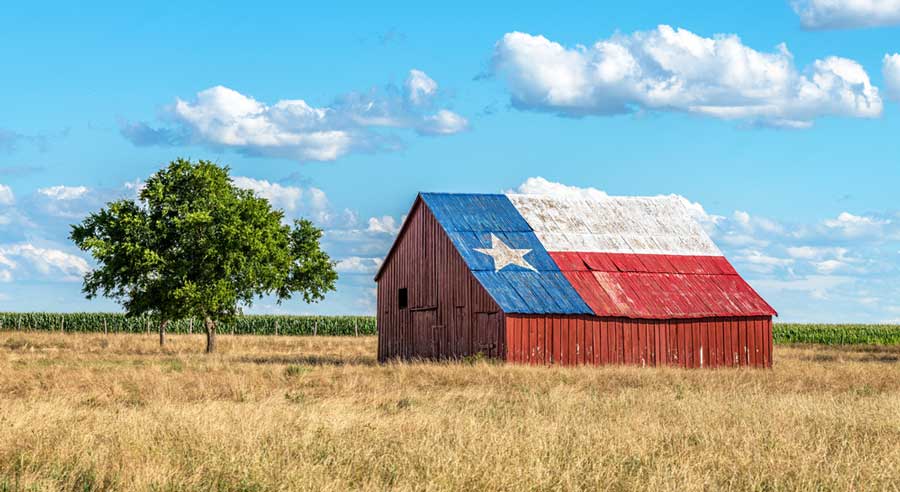 The Lone Star State derives its name from this iconic flag. It first flew over Texas soil in 1839, replacing an earlier flag of the independent state of Texas. The Lone Star Flag continues to represent the people of Texas as the Texas state flag to this day.
4. Country Music
One of the most popular pillars of Texas culture, without a doubt, is country music. Traditional country music and newer variants alike find eager audiences throughout this southern state. This is especially true in Austin, Texas, home of the music television series Austin City Limits.
Austin also holds the title of live music capital of the world! George Jones, Willie Nelson, and Gene Autry are just a few of the country-music legends who came from Texas.
5. The Alamo
Few moments in Texas' struggle for independence have such immortal fame as the Battle of the Alamo (February 23, 1836 – March 6, 1836). The Alamo itself was an old Spanish mission center; a place that time may have forgotten if not for the battle that was fought there.
A vastly outnumbered force of "Texicans" valiantly resisted the siege laid by Mexican general Santa Anna's forces, being led by such legendary heroes as Jim Bowie and Davy Crockett.
6. San Jacinto Monument
Not long after their defeat at the Alamo, the Texan freedom fighters turned the tide of war at the Battle of San Jacinto (April 21, 1836) outside what would later become the city of Houston. After this battle, Santa Anna could never muster enough military power to reconquer Texas.
One hundred years later, construction began on a towering obelisk topped by a single star. Work was completed in 1939, and the monument was dedicated on April 21 of that year. It also houses a museum dedicated to this turning point in Texas history.
❓ Trivia Time: At 567.31' tall, the San Jacinto Monument is the world's tallest monument column in the world.
7. Texas Spirit
Many Texans take great pride in their state's brief sovereignty and its rugged frontier spirit. For many years, Texas's status as the largest state in the Union led proud Texans to boast, "Everything's bigger in Texas." When 1959 rolled around, Alaska had a little something to say about that, and the two states have since shared a friendly rivalry.
8. Bluebonnet Flowers
A common misconception exists that the official flower of Texas is the "Yellow Rose of Texas," after the famous country-western song of the same name.
The actual Texas state flower, however, is the bluebonnet. Adorning the fields of south Texas, these violet-hued flowers actually come in five distinct subspecies but are collectively identified as the state flower.
9. Tex-Mex Food
In addition to barbecue, Texas also boasts its own school of Mexican cuisine. Many familiar staples of what most people regard as Mexican food (nachos, steak fajitas) actually originated in Texas. Tex-Mex, more so than other regions, relies on chili powder, cumin, beef, and plenty of cheese.
10. West Texas Mountains
While much of east Texas is flat or hilly, the western part of the state tends to be more mountainous. Several mountain ranges run through west Texas, giving it that classic Southwestern look, like something straight out of a western movie.
11. Cattle
One can't talk about Texas history without mentioning cowboys and the cattle they herded. To this day, the cattle industry forms a major part of the Texas economy.
The Houston Livestock Show and Rodeo is the world's largest livestock show. Texas is known for the Texas longhorn cattle, a specific breed of cattle first brought over by the Spanish conquistadors.
❗ Fun Fact: The Texas Longhorn deserves its name. The horns of this cow can grow up to 8 feet in length!
12. Oil
The cowboy may have started the ball rolling for the Texas economy, but oil took it to all new levels. Most of the state's inland oil lies beneath West Texas, Central Texas, and East Texas.
With a long coastline on the oil-rich Gulf Coast region, there are many offshore rigs pumping the black gold, also known as Texas Tea. Texas gained its status as a major petroleum producer in the Texas Oil Boom of the early 1900s.
13. San Antonio
The Alamo buildings stand to this day, now housing a museum dedicated to the heroic last stand of the Texan freedom fighters. The city has many other fine examples of Spanish architecture and Hispanic heritage throughout its environs.
This city in south-central Texas, together with Austin and the twin cities of Dallas-Fort Worth, forms the "Texas Triangle." This term refers to how these cities have spread out, almost interconnected to become one massive city.
14. Dallas-Fort Worth
Originally two separate cities, urban growth linked the two together, so that they are now inseparable. Downtown Dallas offers numerous shopping, sightseeing, and dining opportunities. One may fly into these Texan twin cities via Dallas-Fort Worth Airport or the smaller Dallas Love Field Airport.
On a sadder note, Dallas is also the site of the tragic assassination of President John F. Kennedy. A memorial to his memory stands in the West End of downtown Dallas.
15. Big Bend National Park

Texas is famous for its classic western landscapes, and few places embody this as well as Big Bend National Park. Here craggy cliffs, rugged canyons, and winding rivers abound, and one can't help but feel transported back to the Old West. For a classic Old West experience, check out the nearby ghost town of Terlingua, Texas.
In addition to the many great hikes and river treks, those in favor of a more leisurely activity are in luck. Langford Hot Springs (also known as the Boquillas Hot Springs) offers visitors the chance to relax in their luxuriant 105℉ waters.
❓ Trivia Time: What States are Part of the Rust Belt? (We bet you can't guess them all!)
16. El Paso
This west Texas city sits right along the border with Mexico and its many old adobe buildings stand as a reminder of the city's Mexican heritage. As Texas' 6th largest city, there is also a bustling and thoroughly modern downtown area. El Paso's well-deserved nickname "the Sun City" comes from its average of 302 sunny days per year!
17. Professional Sports Teams
Everyone has heard of at least one of Texas's many professional sports teams. Sometimes these Texas-based teams become so popular that many people outside the state borders prefer them to more local teams. A few of the most famous teams are the following:
The Dallas Cowboys
The Dallas Mavericks
The Houston Texans
The Houston Rockets
The Houston Astros
The San Antonio Spurs
The Texas Rangers
18. Austin
Besides the thriving country music scene, Texas' state capital has much to offer residents and visitors alike. Other Texan cities may boast more professional sports teams, the University of Texas at Austin is home to the Texas Longhorns, one of the country's most popular college football teams.
Fans of aquatic sports and recreation will also find much to love in the many nearby lakes, as well as the Texas Colorado River, which flows through the city. Just a heads up, this is not the same river as the Colorado River that flows through the Southwestern states.
19. Houston
With a population of well over 2 million people, Houston is Texas' most populous city. Named for Sam Houston, the first president of the Republic of Texas, this city teems with history and exciting attractions. One can ride with cowboys, walk the beaches at Galveston Bay, or even go skydiving!
After a long day of exploring the city, there is a great food and craft beer scene to enjoy. Traditional Tex-Mex tastes meet many other international influences in Texas' largest city, so you're sure to find something to please your palette.
❗ Fun Fact: The popular soft drink Dr. Pepper was created in Texas!
20. Galveston Island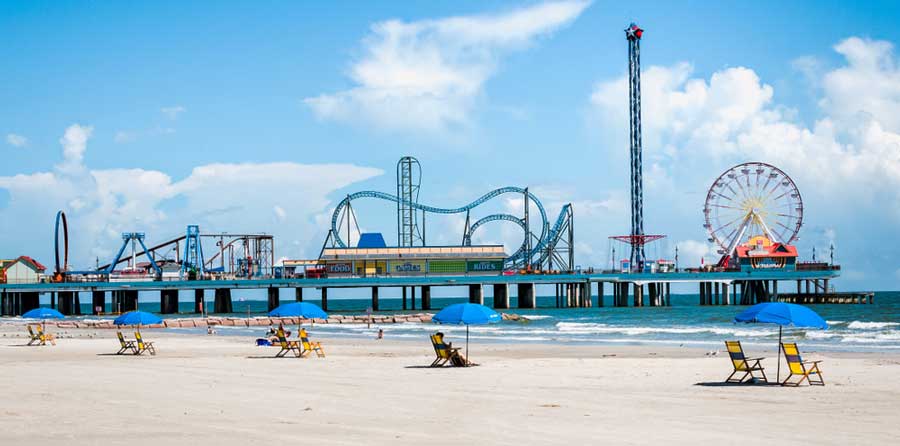 Islands usually aren't the first thing that comes to mind at the mention of Texas. Despite that, Galveston Island, an hour's drive southeast of Houston, offers visitors scenic beaches, fascinating historical buildings, fishing charters, and much more.
This island is one in a long chain of islands stretching down the Texas coast, known as the barrier islands of Texas. These islands shelter the mainland from the more extreme currents and waves of the open ocean in the Gulf of Mexico.
21. Lyndon B. Johnson Space Center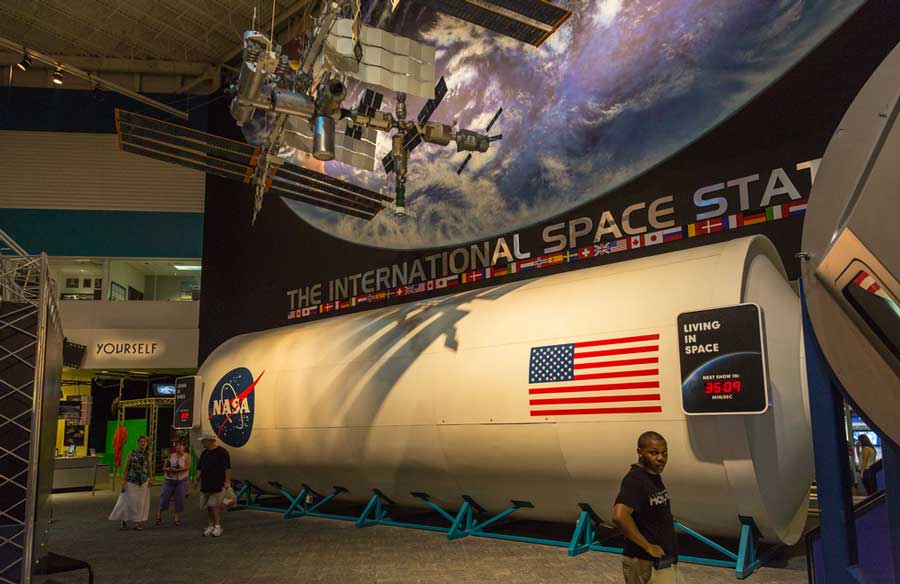 "Houston, we have a problem…." The first thing that comes to mind for most of us when we hear of NASA is the Kennedy Space Center in Florida. Mission control for many of these missions, however, was located in Houston, Texas. According to the official NASA website, Houston offered the best overall site for a dedicated control center for human space missions.
The nearby Space Center Houston museum offers visitors a wide array of space-related exhibitions and artifacts.  NASA also releases exact time and location information for people to see the International Space Station orbiting overhead from Houston.
👉 Read Next: What Are All the States Known For?
FAQs About Famous Texas Things
Is Texas in the Bible Belt?
Texas is generally considered to be part of the Bible Belt. However, some people's definitions may vary, including only the eastern and central parts of the state.
What is the abbreviation for Texas?
Is Texas the only state that used to be a country?
Texas is actually not the only state to have once been its own nation. At least 9 other states enjoyed autonomy before joining the United States.
***
Well, there you have it: 21 things, people, and places that make Texas famous. Hopefully, you're no longer wondering "what is Texas known for?"
There is a ton to do and see in Texas! Whatever your interest, you'll find something to love about the Lone Star State.