What Colorado is Known For (17 Things & Interesting Facts)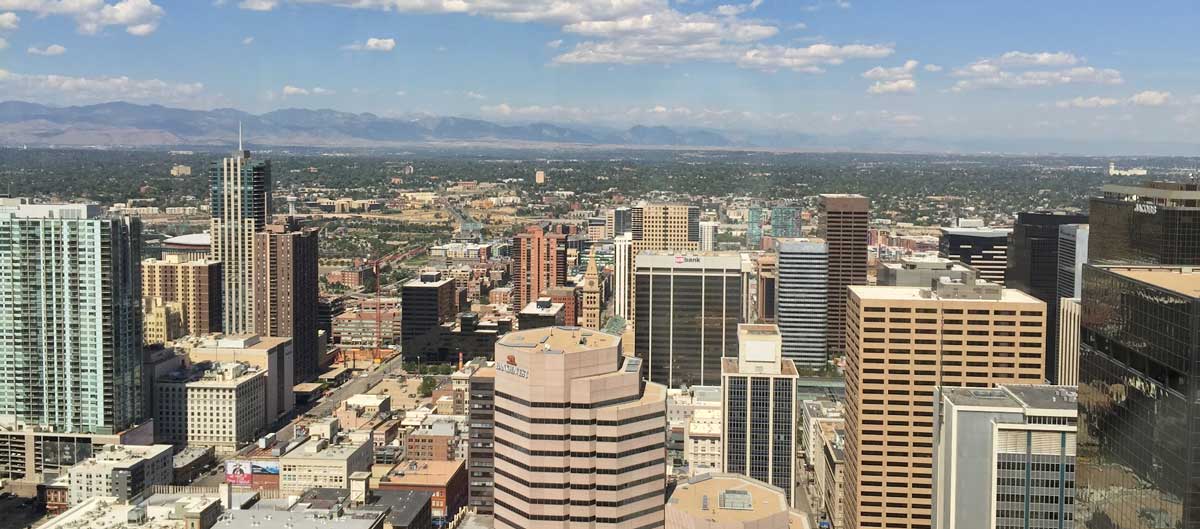 What is Colorado known for?
Colorado is known for the Rocky Mountains, its high elevation, stunning natural beauty, and many ski resorts. With endless opportunities for outdoor activities, friendly locals, and plenty of room, many people consider Colorado to be a great place to live.
Do you love the great outdoors? If so, there are few places that you'd love more than Colorado, but that's not all that the state has to offer. Read on to learn about the unmatched natural beauty and fascinating history of the 38th state.
Here are 17 things, people, and places that Colorado is famous for.
Advertising Disclosure: What States is a for profit reference website, supported by advertisements. Thank you for supporting our mission to make geography fun for all!
17 Things Colorado is Known For
1. The Rocky Mountains
In the same way that mention of California evokes thoughts of idyllic beaches, speaking of Colorado brings to mind these massive, majestic mountains. The Rocky Mountains offer visitors and locals alike an unlimited array of hiking trails, camping sites, ski slopes, and breathtaking views.
These mountains are also home to a wide array of mountain wildlife. Mountain goats, elk, mountain lions, and more all call the Rockies home. The Continental Divide runs along the Rockies, channeling snow melt and rainfall into many of America's major rivers.
2. Rocky Mountain National Park
The Rocky Mountains run the entire length of the state from north to south, but one part in the north was designated as a national park.
Rocky Mountain National Park contains gorgeous alpine likes, frosty alpine tundra, and, of course, lofty mountain peaks. Hiking trails abound here, as they do throughout the state, and one can easily spend days exploring the sights of this national park.
3. The Wild West
Many people came to Colorado between 1859 and 1861 in search of gold, and modern visitors in search of old west towns will easily find a motherlode of them in Colorado.
One could also take a ride on the Silverton Narrow-Gauge Railroad for an authentic taste of rail travel from days gone by. Like much of the rest of the southwestern United States, Colorado has a long history of cowboys and their herds. To this day, cattle-ranching plays a major part in the economy of the 38th state.
4. Outdoorsman's Paradise
Besides skiing, there are tons of outdoor recreation opportunities to be enjoyed. Mountain biking, hiking, horseback riding, and rock climbing are just a few outdoor sports widely enjoyed in this state.
One can easily find great day-hikes throughout the state, and the Colorado Trail offers long-distance hikers an unforgettable experience.
5. Hot Springs
What better way to unwind after a long day on the trail than by soaking in one of Colorado's many hot springs? According to the Colorado Geological Survey, there are 93 known "thermal areas." This number includes both natural and artificially altered hot springs.
The town of Glenwood Springs is an especially popular place for hot spring enthusiasts. Besides hot springs, though, there is a ton to see and do here. One can kayak through Glenwood Canyon, spelunk through the Glenwood Caverns, ski at a nearby resort, and much more!
6. The Centennial State
Colorado derives its nickname "The Centennial State" from its gaining statehood on the 100th anniversary of the signing of the Declaration of Independence. For residents of the territory, gaining the rights of a state was a welcome gift. Likewise, no one can deny that a place so full of natural beauty was a great birthday gift for the United States.
❗ Fun Fact: Although most people associate the Declaration of Independence with July 4th, 1776, the document was actually signed on August 2nd of that year. Colorado became a state on August 1, 1876.
7. Popular Ski Resorts
A ski lift in Breckenridge in the off season
The most famous American skiing havens are found in Colorado. Aspen, Breckenridge, Vail, Steamboat Springs. Here experts and beginners alike can spend the day hitting the slopes and unwind at a luxuriant lodge in the evening.
Surprisingly, New York State actually holds the record for most ski resorts with 51 in total, surpassing Colorado by a long shot. However, proud Coloradoans may likely counter this claim by insisting on quality over quantity.
8. Beer
Beer tasters in a Breckenridge brewery
Although Colorado's gold rush may have faded into the past, these days Colorado is famous for its liquid gold. The city of Fort Collins in the north-central region of the state bears the title "Craft Beer Capital of Colorado," producing 70% of the state's beer! It is also the home of Anheuser-Busch, which produces Budweiser.
One of Budweiser's competitors, Coors, has also made Colorado famous for beer. The town in which it is brewed couldn't have a more appropriate name for the craft–Golden, Colorado.
9. Great Sand Dunes National Park
One of the many hidden surprises of Colorado is its sand dunes. Huge sand dunes (the tallest in North America) find themselves in unusual surroundings. Instead of the arid desert that one usually associated with sand dunes, there are forests, rivers, and even marshy wetlands in the surrounding area!
This widely varied terrain in the Great Sand Dunes National Park serves as a kind of symbol for Colorado's natural beauty. Mostly alpine, and yet remarkably diverse, Colorado is hard to beat for outdoor adventure.
10. Professional Sports Teams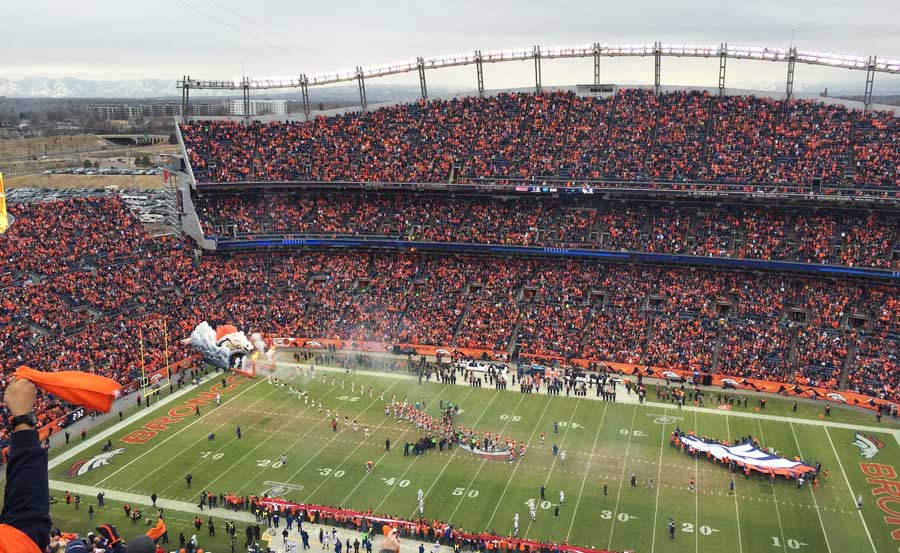 Colorado is no stranger to the professional sports scene. The Denver Broncos, especially during the career of John Elway, made Colorado famous for football.
Colorado baseball fans flock to Colorado Rockies games, and hockey fans follow the Colorado Avalanche. For basketball, the Denver Nuggets may not be one of the biggest names in the game at the moment, but still draw a good crowd of local supporters.
11. Forests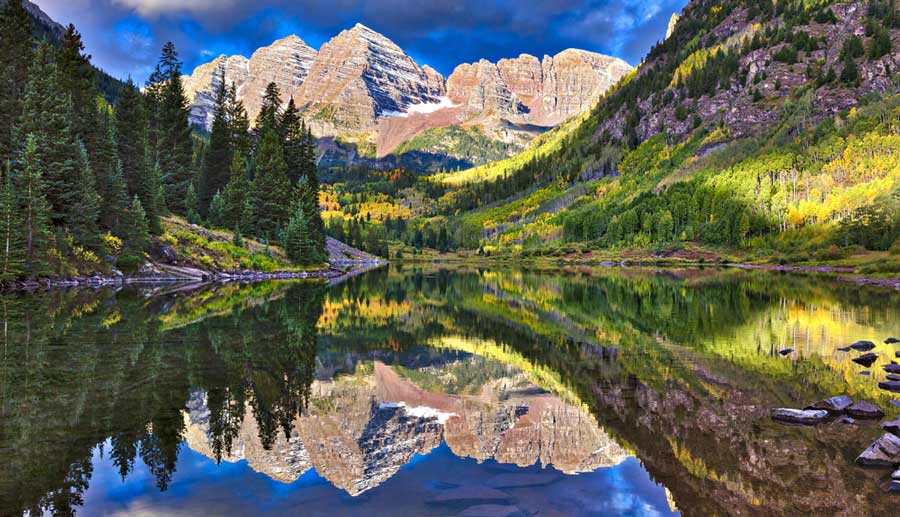 With a total of 11 National Forests, there is no shortage of arboreal adventures to be had in Colorado. They include more than just wooded areas, though. In their territory, one can also find winding rivers, pristine lakes, flower-covered alpine meadows, and snow-capped peaks. According to the National Forest Foundation, the Maroon Bells-White River National Forest holds the title of most photographed place in Colorado!
12. Pikes Peak
Colorado is famous for its mountains, and one of the most famous of these is Pikes Peak. It is the farthest east of the taller peaks of the Rockies. Its location made it a famous landmark for many settlers moving east in the 1800s.
Pikes Peak also edges out its taller cousins by being the only peak over 14,000' feet accessible by automobile! Automotive alpinists are cautioned to be aware of the weather though. The peak is classified as a polar climate and bad weather can descend rapidly making driving dangerous.
13. The Mile High City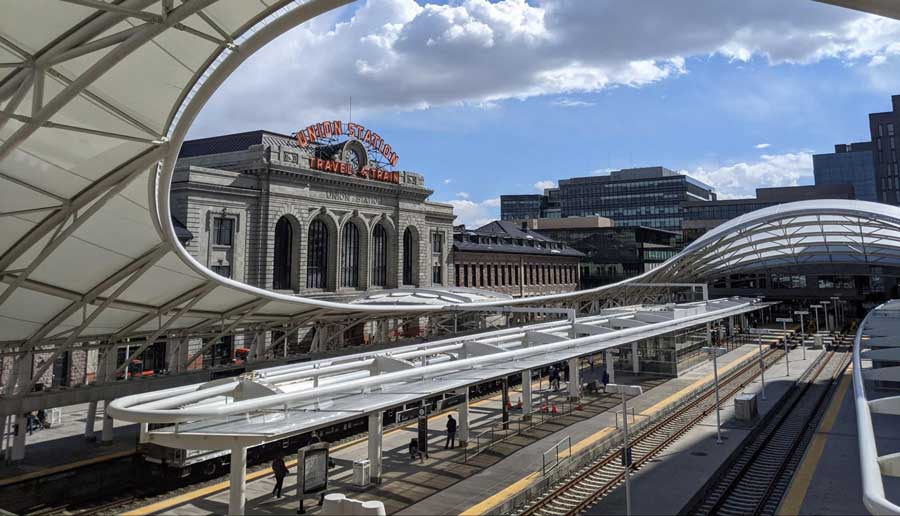 Denver, Colorado earned this nickname from its elevation being exactly one mile high. It is also the largest city in the state with a population of just over 715,000 and also Colorado's most popular tourist destination.
Colfax Avenue, one of Denver's many attractions, is the longest commercial street in America. The Denver Art Museum draws (pun intended!) crowds of visitors throughout the year. Many people will also fly into Denver International Airport before continuing on to one of many famous American ski resorts.
❗ Fun Fact: Colorado holds the record for highest settlement in the United States with the town of Alma sitting at an impressive 10,353' above sea level!
14. Mesa Verde National Park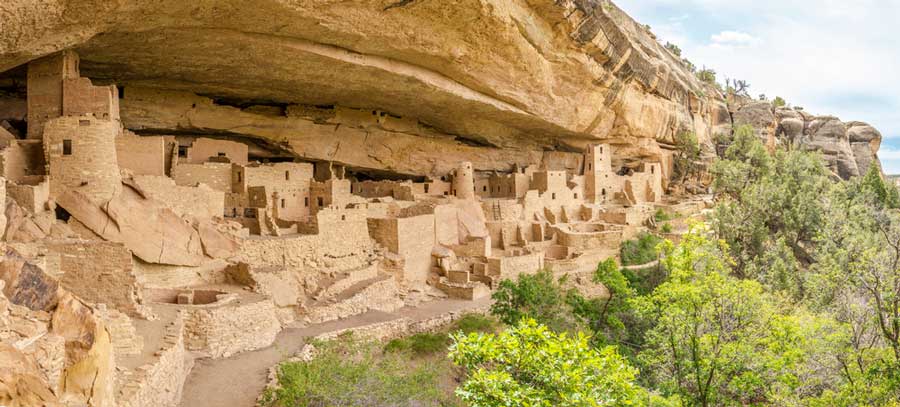 Located in southwest Colorado, the Mesa Verde National Park offers visitors a unique glimpse into Colorado's Native American heritage. Here the adobe cliff dwellings of the ancient Pueblo people are preserved. The park also offers visitors remarkable star gazing opportunities.
As with many places in Colorado, one can find an abundance of wildlife, but the area of the park also hosts several endemic (not found anywhere else) species of fish, amphibians, and plants.
15. Colorado Springs
After Denver, Colorado Springs is the largest and most famous city in Colorado. Some of the most famous attractions of this city include the remarkable rock formations at the Garden of the Gods, the United States Airforce Academy, the United States Olympic Training Center, and the nearby Pikes Peak.
👉 Read Next: What is Each State in the USA Known For?
16. Black Canyon of the Gunnison National Park
This canyon in southwestern Colorado may not be as famous as the Grand Canyon of Arizona, but is no less fascinating in its own way. A casual observer may remark that the rocks here aren't really black in hue. The name, however, comes from the fact that the canyon is so deep and narrow, that some places receive just over half an hour of sunlight a day!
❗ Trivia Time: Together with Arizona, New Mexico, and Utah, Colorado composes the famous Four Corners region of the USA.
17. The Colorado River
Most people tend to associate the Colorado River with the stretch that flows through Arizona. However, the northerly reaches of this river also offer many spectacular sights. In total, it spans 1450 miles, passing through eleven national parks and monuments, seven states, and two countries. It may be the sixth longest river in the United States, but certainly ranks number one for scenic beauty!
👉 Read Next: Things Arizona is Known and Famous For
FAQs About Famous Colorado Things
Where does the name Colorado come from?
Colorado gets its name from the Spanish words de color rojo, or, the color red, for the red-hued soil near the Colorado River. In time, the name began to be applied to the rest of the state.
What is the abbreviation for Colorado?
How many mountains in Colorado are over 14,000'?
There are 58 peaks over 14,000' tall in Colorado. Locals have given these lofty mountains the affectionate nickname "fourteeners."
🚜 Read Next: What is Kansas Famous For?
***
These are just a few of the many things that Colorado is known for. As great as reading about them is, nothing can beat experiencing them for yourself. If you're not already living there, why not book that next trip to the Centennial State?