What is Montana Known For? (30 Things, People & Places
What is Montana known for?
Montana is known for its stunning natural beauty, Yellowstone National Park, Glacier National Park, and abundant natural resources. Montana is known also for its rich frontier history, Native American tribes, and diverse wildlife.
There's simply nowhere else in the United States like Montana. Yes, that seems like a mighty big claim. Yes, there are similarities with other western states, but few of them are quite as epic as Montana.
If you want to experience a unique taste of the northern side of the American west, visiting Montana absolutely must be on your list. Or, at the very least, read this article to see what makes Montana "The Last Great Place."
Advertising Disclosure: What States is a for profit reference website, supported by advertisements. Thank you for supporting our mission to make geography fun for all!
30 Famous Things Montana is Known For
1. Big Sky Country
Anyone who's been to Montana can confirm that the sky does indeed seem bigger in Montana.
Much of the state's geography, especially in the eastern part of the state, is vast rolling plains. In the state's western half, the plains are often surrounded by mountains, so you are never far from epic views in the Big Sky Country.
2. Lewis and Clark
Even if you're driving down one of the state's highways, the big sky and grand landscapes make you feel like you are back in the pioneer days.
America's most famous pioneers, Lewis and Clark, traveled throughout the state, following the course of the Missouri River on their westward trek toward the Pacific Ocean. Today, visitors to Montana can retrace their voyage on the Lewis and Clark National Historic Trail.
3. The Missouri River

America's longest river begins in a humble spring in southern Montana. From there it flows through Montana, North Dakota, and South Dakota before forming the state line between Nebraska and Iowa. Finally, it flows between Kansas and Missouri, cutting through the state that bears its name before joining the Mississippi River.
4. The Rocky Mountains
Northwest Montana differs from much of the state, trading broad panoramas for narrow mountain valleys, but it is still remarkably beautiful.
Numerous smaller mountain ranges, such as the Salmon River Mountains and the Sawtooth Mountain Range combine, being generally grouped as part of The Rocky Mountains in this part of the state.
Montana's name means "mountain," and it certainly fits the state well.
5. Kootenai National Forest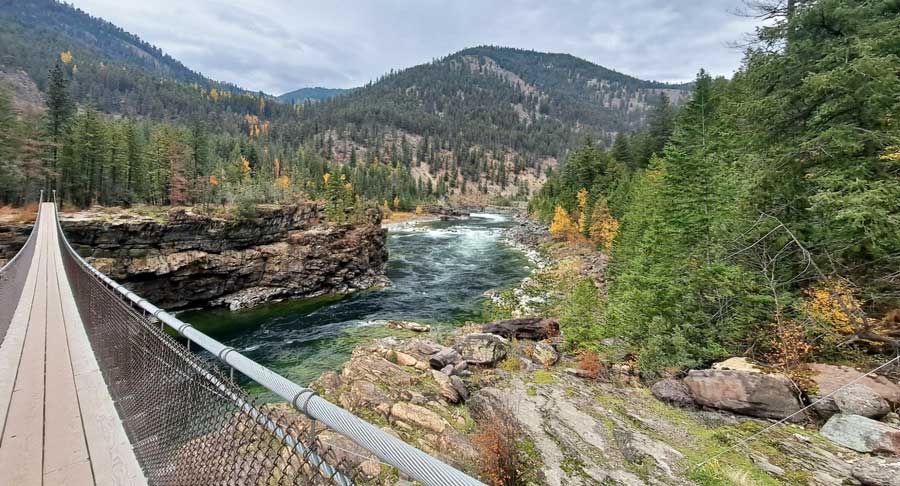 Besides the Rocky Mountains, northwest Montana is home to the spectacular Kootenai National Forest, home of narrow river valleys, roaring waterfalls, and serene woodlands. One of the most popular attractions in this region is Kootenai Falls. The falls are easily accessible by hiking trails along the Kootenai River.
6. The Continental Divide
Another feature of Montana's western mountains is the Continental Divide. To the west of this line, the water flows from the mountains down to the Pacific Ocean, while to the east, it flows to the Atlantic. Hikers can follow the Continental Divide Trail for either day hikes or several-day treks.
7. Little Bighorn Battlefield National Monument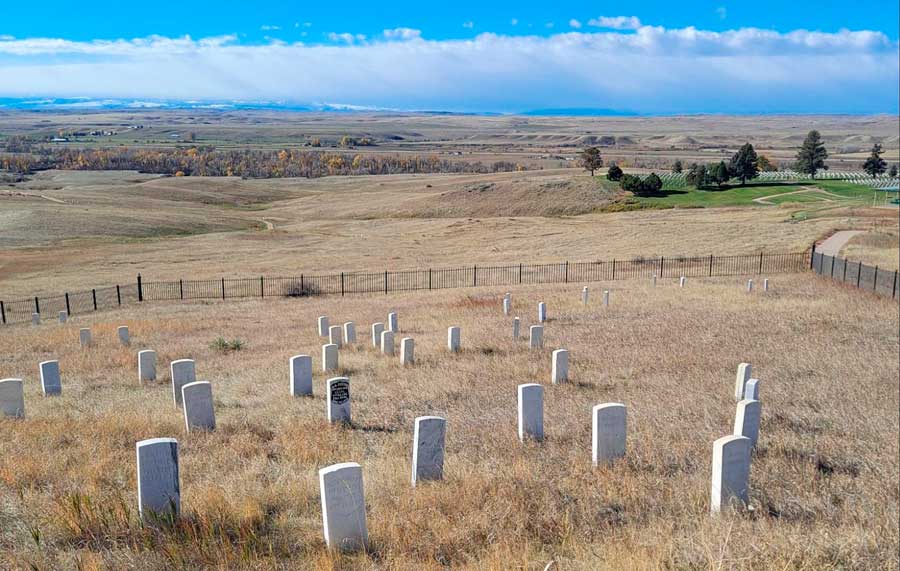 One of the most famous major battles in America's westward expansion was fought in Montana. Also known as Custer's Last Stand, the battle of Little Bighorn saw the defeat of US forces at the hands of a coalition of Native American tribes led by Chief Sitting Bull and Crazy Horse.
Today, the site of this battle is one of the major landmarks in Montana; grave markers indicate the places where US soldiers were believed to have fallen in combat.
8. Sparse Population
One thing that most people think of when they hear about Montana is how "empty" it is, at least in terms of population. With a population of just over a million and a total area of 145,552.43 square miles, the figures come out to 6.86 people per square mile!
There's plenty of room for everyone, and only a cynic would call Montana's landscapes "empty." Sure, the eastern part of the state may take a little more getting used to, but if you love elbow room, it's hard to beat Montana.
9. Skiing
Montana's mountains make for some excellent skiing, with resorts such as Big Sky Resort and Whitefish Mountain Resort offering slopes for experts and beginners alike.
With an area of 6000 acres, Big Sky Resort certainly lives up to its name. It is also conveniently close to Yellowstone Park. Whitefish Mountain Resort, on the other hand, is close to Glacier National Park, commanding epic views of the park on clear days.
10. Cold Winters
Winters in Montana can reach extremely low temperatures. The state's topography plays a major role in the plummeting temperatures, and Montana holds the record for the lowest temperature in the Lower 48 states.
On January 20, 1954, Rogers Pass, Montana registered a bone-chilling -69.7℉!
11. Flathead Lake

It's not just the sky that's big in Montana. Montana's Flathead Lake is the largest natural freshwater lake in the western United States, at least by surface area. Lake Tahoe holds a great volume of water, being deeper, but is smaller in surface area.
Several islands rise out of Flathead Lake, the largest of which is Wild Horse Island. Named for the tiny herd of wild horses that roam there, the island has been designated as a state park.
12. The Treasure State
Montana's nickname comes from its wealth of gold and silver. However, one can see that there is no shortage of other kinds of treasure.
Natural beauty abounds throughout the state. A wide array of wildlife inhabits every corner of the state. Several tribes of Native Americans have lived here for ages. More recent times have also seen the legacy of the old west and mining boomtowns. Even the more urbane city-slickers out there will find Montana's seemingly small cities to be surprisingly up-to-date.
13. Rich Deposits of Minerals
Gold and silver may have given Montana its nickname, but the Treasure State has many other mineral treasures as well. It is the United States' only source of platinum and palladium. Talc and garnets are found in Montana as well and copper has played an important role throughout the state's history.
14. Butte
This town in Montana was once a major boomtown for the copper mining industry. Although nowadays the mining metropolis has dwindled down into a sleepy small town, one can learn about its fascinating history at local museums, such as the World Museum of Mining.
One can even go down into old shafts of the copper mines on tours. The vast amounts of mineral wealth led to Butte being dubbed "the Richest Hill on Earth."
Butte is also famous for its Irish heritage. In its heyday, it even had a higher Irish population than such East Coast cities as Boston and New York! Today, the Irish heritage remains strong, with Celtic-themed festivals and celebrations throughout the year, not just on St. Patrick's Day.
❓ Trivia Time: American daredevil Evel Knievel, famous for jumping the Grand Canyon in Arizona and Snake River Canyon in Idaho was born in Butte, Montana
15. Billings
Billings has the largest population of any settlement in Montana, with just over 117,000 people calling it home. Visitors can hike the nearby Rimrocks, learn about the past at the Western Heritage Center, shop and dine in the downtown area, or visit the local zoo.
Although seemingly off the beaten path, this city on the Yellowstone River has been home to such notable personalities as frontierswoman Calamity Jane, aviator Charles Lindbergh, and folk singer Arlo Guthrie.
16. Grizzly Bears
Besides humans, one of the most famous inhabitants of Montana is the grizzly bear. The bears tend to live in the mountains of western and northern Montana, so visitors to this area are encouraged to take all necessary precautions. Though rarely encountered, they can be very aggressive. Out of all the states where these bears are found, Montana has the second highest population (1800-2000).
Only Alaska has more, with a population of around 30,000.
17. Bighorn Sheep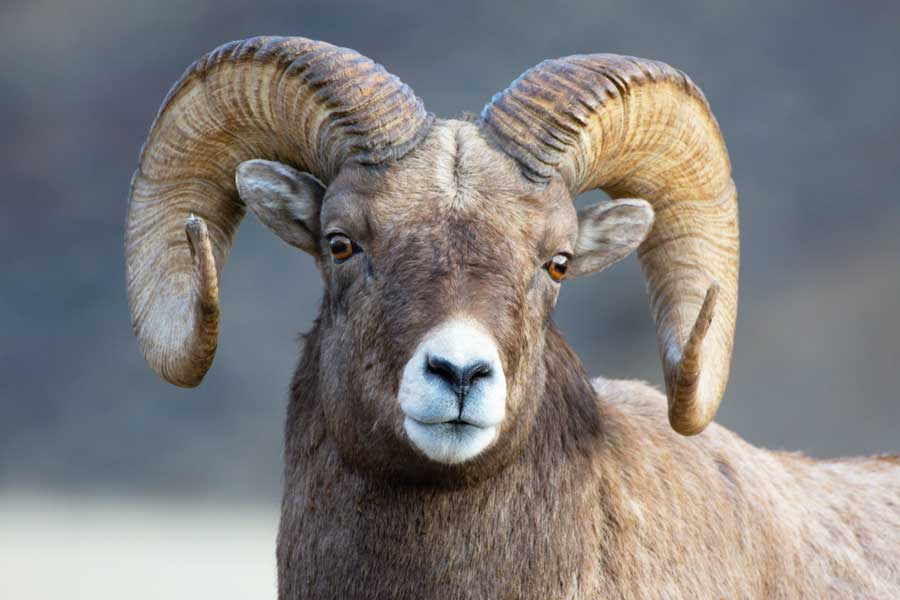 Another denizen of Montana is the Bighorn Sheep. Like grizzly bears, they tend to prefer the mountainous country of western Montana. Due to their relatively low population, hunting these animals is strictly regulated.
18. Bald and Golden Eagles
While America's national bird lives in all the other contiguous United States, the epic landscapes of Montana make their presence all the more majestic. One can also find the more common Golden Eagle in the Treasure State. Both birds tend to favor the forested and mountainous regions in the west, which make for better nesting sites than the rolling plains to the east.
19. The Grizzly and Wolf Discovery Center
This is easily one of the most unique attractions in Montana. Where else can you get such an up-close view of these majestic predators? The center was started back in 1993 as a place for visitors to learn more about grizzlies. Shortly thereafter, a habitat for wolves was added.
20. Yellowstone National Park
Although most of Yellowstone National Park is in the state of Wyoming, Montana does have a small section of Yellowstone Park of its own. The town of West Yellowstone, Montana serves as a gateway to the rest of the park.
Here one finds accommodations and services such as shops and restaurants. The area surrounding the town, even if outside the boundaries of the National Park, is perfect for outdoor adventures of all kinds. Whether you like hiking, horseback riding, or just sitting on the banks of a river and fishing, you won't be disappointed here.
👉 Trivia Time: What is Wyoming Known For (besides Yellowstone!)?
21. Glacier National Park
While Montana may have just a small piece of America's first National Park, it has all of the majestic Glacier National Park to itself. Here one finds rugged alpine beauty, and, of course, glaciers. One of the most remarkable mountains is Triple Divide Peak.
This mountain gets its name from its location on the Continental Divide. The divide is triple because, in addition to the normal east/west division, the water flows north from here, eventually emptying into Hudson Bay.
The pristine Lake McDonald offers abundant opportunities for those who prefer aquatic activities over alpine. One of the most popular attractions, though, is the Going-to-the-Sun Road, which winds its way into the mountains. This route can often be blocked due to snowfall or other adverse weather conditions, but when open, is well worth a visit.
❗ Fun Fact: Glacier Park is one of the few National Parks where you can cross the border into Canada. At the Goat Haunt border crossing you can hike into British Columbia. However, this may be suspended due to current Canadian entry regulations.
22. Great Falls
The city of Great Falls makes for a great stop on the way to or from Glacier National Park. Despite having a population of less than 60,000, there is plenty to do and see.
Museums house art depicting the American West, as well as a wealth of information on Lewis and Clark's voyage through the area. Great Falls also boasts 57 parks and 40 miles of hiking trails along the Missouri River.
23. Missoula

Home to the University of Montana and Missoula College, Missoula is one of the trendier towns in the Treasure State. Outdoor activities of all kinds are close at hand, as are chic restaurants and cafes. Missoula is also home to Jeanette Rankin, the first woman to serve in the US Congress.
Missoula is also known for the Clark Fork River. The fishing here is good and the river brought national attention to Missoula after being featured in the film "A River Runs Through It."
24. Native American Heritage
Montana has been the home of many tribes of Native Americans since time immemorial. Some of the more well-known tribes include the Assiniboine, Blackfeet, Cree, Crow, Northern Cheyenne, and Sioux. The use of "hau" as a greeting originally occurs in the Assiniboine and Sioux languages, although, unfortunately, it would go on to become a cliched stereotypical greeting in later, non-Native media and literature.
25. Hot Springs
Another thing Montana is known for is its hot springs. Geothermal bodies of water "spring up" throughout the state, but especially in western Montana. Chico Hot Springs in southern Montana is one of the most popular destinations, especially given that it is only 30 miles from Yellowstone National Park.
26. Helena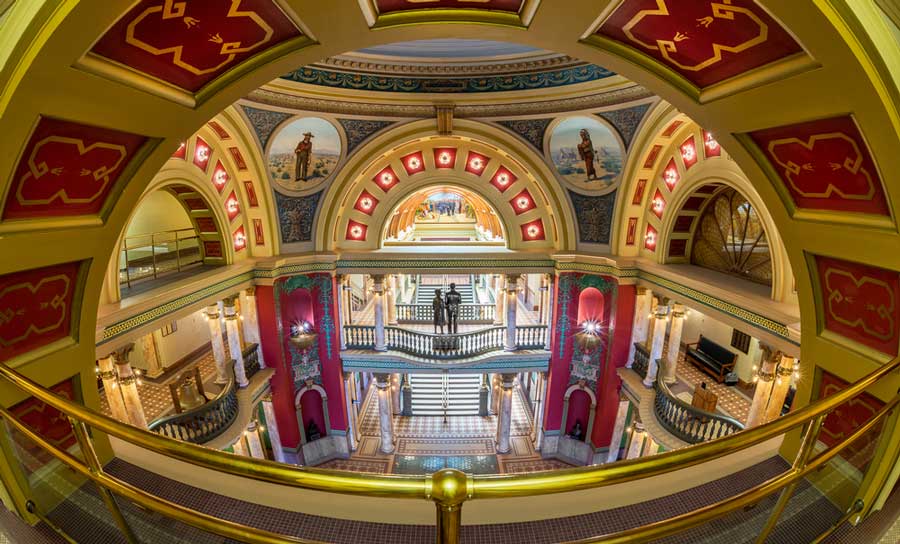 Who would have thought that what began in 1864 as a tiny mining encampment with the rather bleak name of "Last Chance Gulch" would go on to be the state capital? Helena has a fascinating history, to say the least. The discovery of gold prompted a boom in the local population, and, as the linked article relates, by 1888, Helena was home to 50 millionaires!
While the gold rush days may have come and gone, Helena remains a wealthy place in its own right. Looking at the massive Cathedral of St. Helena, you'd think you were in Europe instead of the American west.
The interior of the impressive Montana State Capitol Building resembles a cathedral in certain areas. One can also find a number of eateries, ranging from authentic Montana steakhouses to a number of ethnic restaurants reflecting Helena's diverse population.
27. Kalispell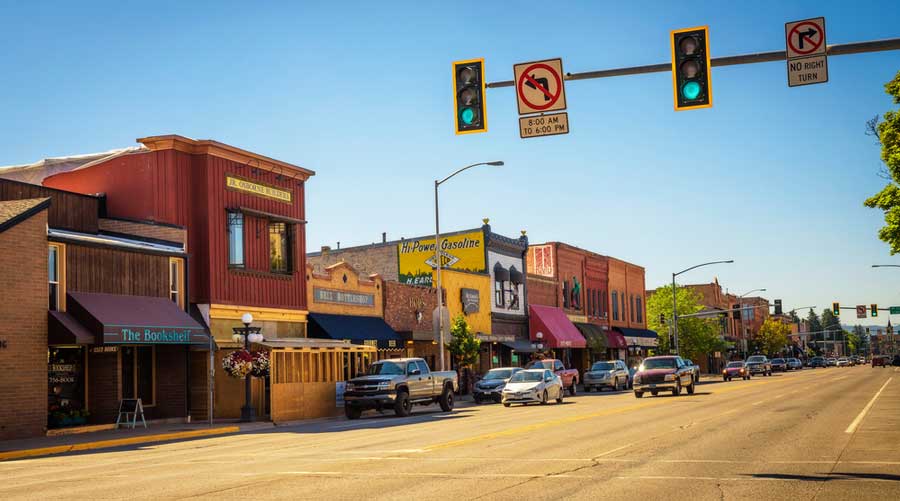 The city of Kalispell, named for the Native American Kalispel tribe, is another gem of the Treasure State. It is one of the best hubs for visiting Glacier National Park and is just north of Flathead Lake.
Even though the population of Kalispell is under 25,000 there's plenty to do and see in the town itself. A number of museums, restaurants, craft breweries, and distilleries line the streets of this town, making for a great way to unwind after a day of adventuring.
28. Largest Snowflake Ever Recorded
It seems appropriate that the Big Sky Country should hold the world record for something to come out of the sky. Montana holds the world record for the largest snowflake.
One day in 1887, a rancher in Fort Keogh, Montana discovered a massive flake measuring over 15" across!
29. Contributions to World War II
Although far from the front and having a low population, Montana played an important role in World War II. The state's vast mineral wealth proved very useful for raw materials. A camp near Helena also contributed to the effort by serving as a training ground for military dogs.
30. Paradise Valley
This valley in southern Montana will easily live up to its name for anyone interested in the outdoors. Located just north of Yellowstone National Park, this valley abounds with hiking trails, horseback riding trails, fishing holes, and more!
The closest city is Bozeman and the valley itself has several lodges for visitors to stay in overnight.
👉 Read Next: What is Each of the 50 US States Famous For?
FAQs About Famous Montana Things
What is Montana's state abbreviation?
Is Montana the least populated state?
Wyoming is the least populated state. If the District of Columbia is included, Montana ranks ninth for the lowest population in the United States.
***
Now you don't have to wonder "what is Montana known for" anymore!
As you can see, there is a ton to love about the Big Sky Country. Whatever your tastes are, you'll find something to love about the Treasure State!