What States Does Route 66 Go Through?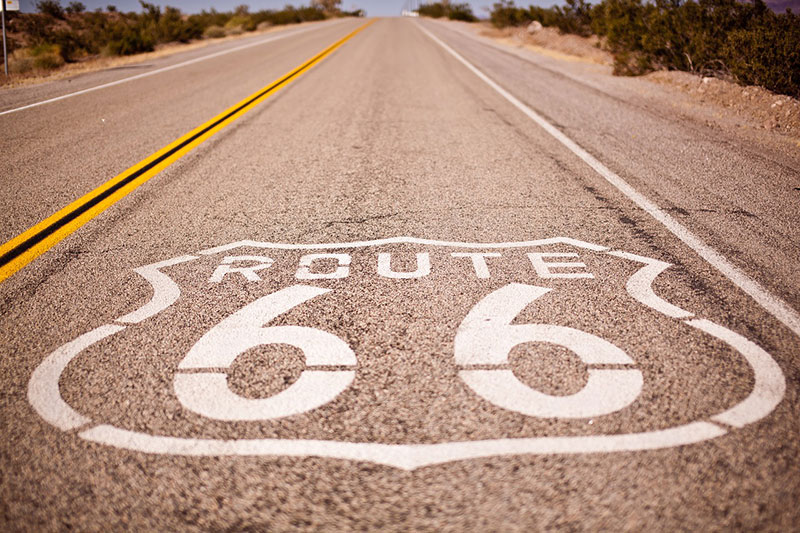 Route 66 ran through 8 states before it was officially decommissioned. It started in Illinois, then also ran through Missouri, Kansas, Oklahoma, Texas, New Mexico, Arizona, and California.
In its hey day, Route 66 was almost 2450 miles long! The U.S. Government decommissioned it officially in 1985, but you can still drive on most of it today.
Read on to learn more history and facts about Route 66 – including why Route 66 is famous and how it got decommissioned.
Advertising Disclosure: What States is a for profit reference website, supported by advertisements. Thank you for supporting our mission to make geography fun for all!
History of Route 66
Can you imagine an America without highways? Before 1910, that was the reality. People relied on railroads instead of cars. It wasn't until the Ford Model T. made cars popular that people started seeing the need for paved roads. Before then, most roads were dirt roads. People constantly got stuck in the mud. Local governments built them. There were no reliable ways to travel between states in an automobile. It was hard to get anywhere on a rainy day.
What is Route 66 Famous?
If you're just reading about Route 66 for the first time, you might be a little confused about what the big deal is. Why is Route 66 famous in the first place? Well, a few reasons…
What Made Route 66 Unique
Route 66 was not the first transcontinental highway in the US, nor was it the longest. In 1915 the Lincoln Highway spanned almost 3,400 miles – all the way from New York to California.
Route 66 was unique because it used existing roads to make a highway. It connected the main streets of small towns and even used old covered wagon trails. Travelers had plenty of comfortable places to stay in small towns along the way.
❓ Trivia Time: What states make up the Midwest?
But Route 66 Was An American tradition
People traveling on Route 66 experienced rural America from Tornado Alley in the Midwest to the state of California.
Those small towns benefitted from the business the highway brought to them. This is how it got its nickname: "The Main Street of America". When the road opened in 1926, it aimed to help rural farmers transport crops, but it did much more than that.
❓ Trivia Time: Can you legally own a monkey in California?
Bobby Troupe Route 66 Song
Perhaps the most famous thing about Route 66 is the song by Bobby Troupe, "Come get your kicks on Route 66". He wrote it in 1946. Dozens of artists have covered that song from Nat King Cole to the Rolling Stones. The tune is recognizable to this day.
Famous Nicknames for Route 66
Over the ages, Route 66 become a pop culture icon and earned several nicknames:
The Beginning
The first of its famous nicknames came from its direction. Most highways at the time went straight: either North and South or East and West. Route 66, on the other hand, ran Northeast to Southwest earning it the nickname: "The Great Diagonal Way".
The Great Depression
Several of Route 66's famous nicknames came during The Great Depression. Hundreds of thousands of farmers migrated to California to escape the Dust Bowl. Those migrants knew Route 66 as "The Road to Opportunity". In John Steinbeck's novel The Grapes of Wrath, he coined the popular nickname: "The Mother Road".
The Beatniks
In the 1940s, beatniks like Jack Kerouac used Route 66 to hitchhike from New York to California. Books like On the Road made Route 66 synonymous with a journey to find one's self, God, or adventure. Some were looking for opportunity. Some were looking for the cure to an existential crisis.
No matter what, Route 66 was famous for delivering. It was known to help people find what they were looking for out of America.
❓ Trivia Time: What states border the Great Lakes?
Famous Travelers
In 1952 the U.S. Highway 66 Association nicknamed the road: "The Will Rogers Highway". Will Rogers was a famous actor in the early 1900s. He was a vaudeville star turned serious stage actor turned full-blown movie star.
He took a cattle trail that was later used in Route 66 to travel from his home in Oklahoma to the pictures! There is a memorial at the very end of Route 66 dedicated to him. It reads: "Will Rogers Highway was the first road he traveled in a career that led him straight to the hearts of his countrymen".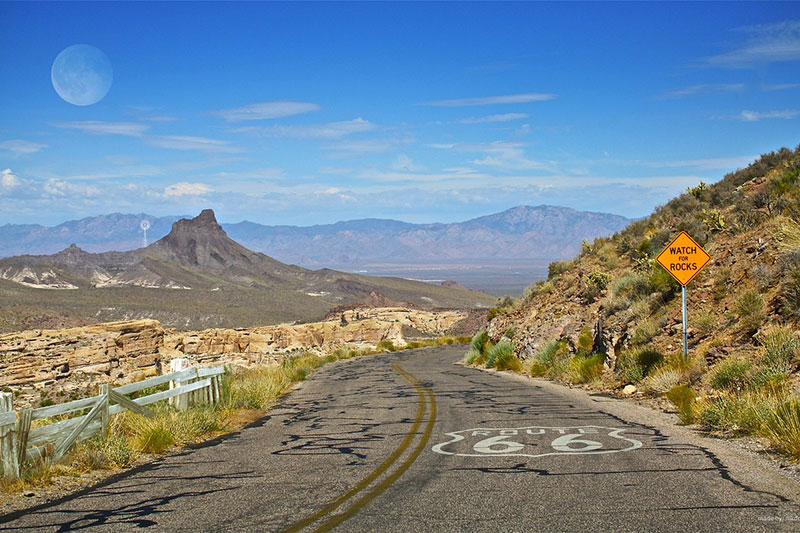 Why was Route 66 decommissioned?
Route 66 was decommissioned in 1985 because, as the years went on, Route 66 couldn't handle modern traffic. Roads needed to take on heavier loads as trucks were able to ship larger carrying capacities. Bridges became outdated and unsafe, and so it was decided to decommission Route 66.
The Interstate System
The end came with President Eisenhower's Federal-Aid Highway Act of 1956. It funded the modern Interstate system. Unlike highways, interstates had more than two lanes. They ran in a grid making them less random than older highways. Instead of running through small towns, interstates ran around them to avoid traffic. It was a much quicker way to travel.
👉 Read Next: What is Arizona Famous For?
The End of an Era
The modern interstate system took almost 30 years to finish. Though it was a safer road system, interstates took business away from small towns. With fewer people traveling the main streets of America, they experienced less tourism. What began as a way to help America move forward was ended by the same need to push into the future.
❓ Trivia Time: Which states are considered New England?
Fun Facts and Trivia
Route 66 crossed three time zones.
Creators of the road could only pave one-third of it at the start. It took until 1937 to pave the rest.
91% of the original route is still used to this day in Texas.
There is a Texaco Station in Tucumcari, NM on a stretch of Route 66 that has been open since the Route 66 Era.
In 1928 there was a foot race that ran the length of Route 66.
Route 66 was made by connecting many historic roads and trails.
It was initially named Route 60.
Route 66 ran just south of the Grand Canyon, and visiting the canyon is a popular detour when following Route 66.
Famous funnyman Will Rogers used the highway to make his big break in Hollywood.
There are abandoned parts of the road adventurers are still rediscovering to this day.
Because of a mix up, there is a part where Route 66 crosses itself. You can stand at the corner of Route 66 and Route 66 in Albuquerque, NM.
📚 Read Next: What states have grizzly bears?