What is Oklahoma Known For? (25 Famous Things, People & Places)
What is Oklahoma known for?
Oklahoma is known as the Sooner State, a reference to the land runs where frontiersmen rushed to secure property out west.
There are popular sports teams like the Oklahoma City Thunder and a surprising number of country music stars were born and raised in the Sooner State.
The state dish is chicken fried steak and fried okra, and Oklahoma's history is rife with old-west lore and culture.
Read on to learn 25 more fun & interesting things that Oklahoma brings to the table!
Advertising Disclosure: What States is a for profit reference website, supported by advertisements. Thank you for supporting our mission to make geography fun for all!
What is Oklahoma Known For? 25 Fun & Interesting Things
1. Native American Heritage
Oklahoma has the third-largest number of federally-recognized Native American tribes (behind Alaska and California), with 67 in total. The largest tribes by population in Oklahoma include the Cherokee Nation, the Choctaw Nation of Oklahoma, the Muscogee (Creek) Nation, the Citizen Potawatomi Nation, the Seminole Nation of Oklahoma, and the Comanche Nation.
Oklahoma's strong Native American culture and heritage are reflected in its town names (like Broken Arrow) and in its attractions. There's the First Americans Museum in Oklahoma City, the Choctaw Cultural Center in Durant, the Chickasaw Cultural Center in Sulphur, and Sequoyah's Cabin (a famous Chocktaw silversmith) in Sallisaw.
2. The Trail of Tears
The large Native American population in Oklahoma is unfortunately partially attributable to an atrocity known as the Trail of Tears, or the forced displacement of over 60,000 people.
Between 1830 and 1850 and in reaction to the Georgia Gold Rush, members of the Cherokee, Muscogee, Seminole, Chickasaw, and Choctaw Nations were forced to relocate to a newly-created Indian reservation in Oklahoma.
While traveling this "trail of tears," many people died of starvation and exposure.
3. The Sooner State
Did you know that Oklahoma is nicknamed the Sooner State? In 1889, the U.S. government opened nearly 2 million acres of land in Oklahoma for settlement. There was a designated start time for this land rush: noon on April 22, 1889. The race to claim land was marked by starting pistols. However, many people attempted to claim land before the official start of the land rush: they were known as "Sooners."
4. Cross Timbers
The term "Cross Timbers" describes a strip of land in the U.S. from southeastern Kansas to central Texas, crossing central Oklahoma. It is characterized by a distinctive ecology: a mix of prairie, savanna, and woodland. No city lies singularly in the Cross Timbers but cities like Oklahoma City fall partially within this ecoregion. Author Washington Irving described the Cross Timbers as "forests of cast iron."
5. Cattle Drives
In the 1840s and 50s, Texas ranchers realized they could get a better price for their cattle around St. Louis, Missouri (and later Dodge City, Kansas), prompting them to drive their cattle across Oklahoma.
Cowboys used the Shawnee Trail, Chisholm Trail, and Great Western Trail to cross Indian Territory. These cattle drives contributed strongly to the rise of American Cowboy culture and our association with frontier living.
6. Woody Guthrie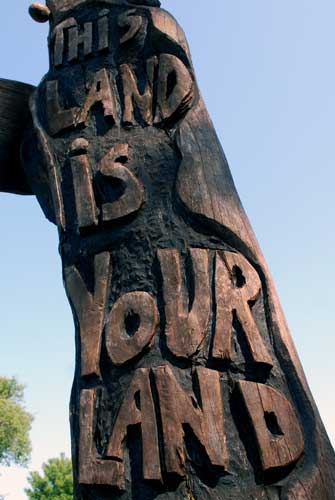 Woody Guthrie, one of America's most influential folk singers, was born in Okemah, Oklahoma in 1912. Although he grew up in Oklahoma, he relocated to California during the Dust Bowl. His songs were strongly influenced by working-class America and his upbringing in Oklahoma. His most famous song was "This Land is Your Land." The Woody Guthrie Folk Festival ("WoodyFest") is held in his hometown annually on the weekend closest to Guthrie's birthday.
7. Interior Highlands
The U.S. Interior Highlands is a region of the central south United States encompassing parts of Oklahoma, Arkansas, and Missouri. It is one of the few mountainous regions between the Rockies and the Appalachians and includes the Ouachita and Ozark ranges. Ouachita National Forest in Oklahoma falls in this ecoregion.
8. Land Runs
The original "Boomers" were the pro-settlement groups pushing to infiltrate and settle the lands around Kansas, Arkansas, Oklahoma, and parts of Texas in the late 1800s. The first Oklahoma land run occurred in 1889 and led to the development of tent cities in places such as Oklahoma City. Land runs also occurred in 1891, 1893, and 1895. In 1901, instead of a land run, there was a land lottery. Oklahoma didn't officially become a state until 1907.
9. Dust Bowl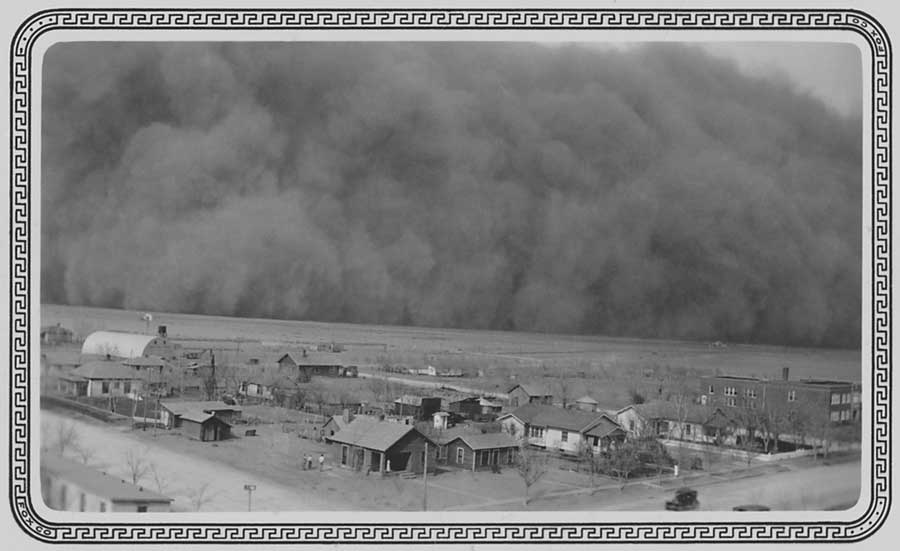 The Dust Bowl was a series of severe dust storms in the American prairie in the 1930s caused by a bad drought and wind erosion of topsoil. The Dust Bowl had a significant impact on Oklahoma's economy and the quality of life of its citizens, even leading to a mass exodus.
People in Oklahoma and Kansas fell ill from dust pneumonia or died of starvation due to the impact on crops. The term "Okie" became a slang term for someone who had lost everything.
❗ Trivia Time: Find out the abbreviation for Oklahoma and the other states.
10. Oil Capital of the World
Although Houston is the current center of the oil industry, Tulsa has long been known as the "Oil Capital of the World." Many oil companies have been headquartered in Tulsa since the turn of the 20th century, including Texaco, BP-Amoco, and Sinclair Oil and Gas.
11. Tulsa Race Massacre
The Tulsa Race Riot occurred in the area known as the "Black Wall Street" (the Greenwood District) of Tulsa in 1921. It is considered one of the worst incidents of racial violence and terrorism in American history. When a 19-year-old black shoeshiner was accused of assaulting a 17-year-old white elevator operator, it incited large-scale riots, arson, murder, and looting. After the riots, over 10,000 black people were left homeless.
12. Oklahoma City Bombing
The Oklahoma City Bombing was the domestic terrorist attack against the Alfred P. Murrah federal building in 1995. The attack was perpetrated by two anti-government extremists and executed with a truck bomb. At least 168 people were killed. Today, there is a national memorial in Oklahoma City that includes a reflecting pool and two large gates.
13. Black Mesa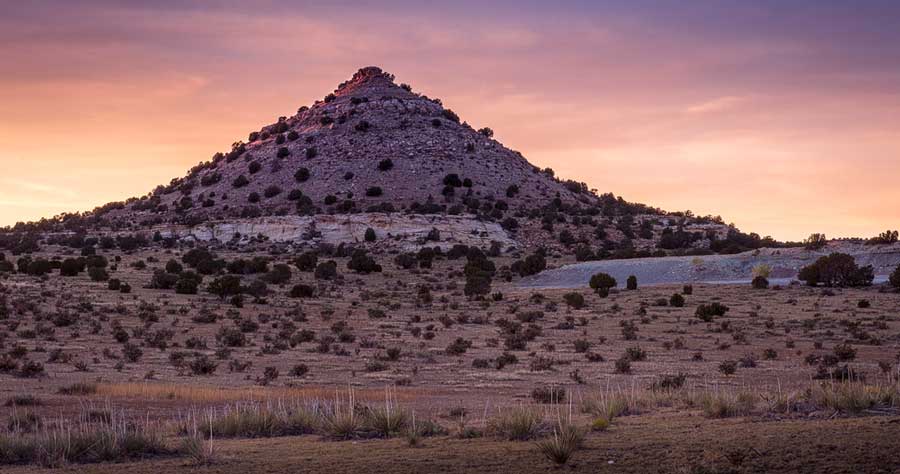 Black Mesa is a mesa (a flattened mountain) that falls within Colorado, New Mexico, and the Oklahoma panhandle. The plateau was home to Plains Indians and later became a hideout for outlaws like Black Jack Ketchum. It is considered a geologic wonder and includes landmarks like Old Maid Rock and the Devil's Tombstone.
👉 Read Next: What is South Carolina Known For?
14. Fort Smith
Fort Smith National Historic Site is located on the Oklahoma/Arkansas state border. It was an early trading post where early fur trappers would travel the Arkansas River to trade with Native Americans. A fort was constructed at the site in the 1800s, and later, a small settlement formed around the fort. Fort Smith represented life on the edge of the frontier and a battle between the lawless and the lawful. Over 86 men were hanged at Fort Smith between 1873 and 1896.
15. Santa Fe Historic Trail
The Santa Fe Trail was a 19th-century wagon route spanning from Missouri to New Mexico. It served as a conduit for the western expansion of the United States, but travelers faced harsh conditions like the elements and Native American attacks. In 1880, the trail was replaced by a railroad.
❗ Trivia Time: Oklahoma is the Sooner State! Do you know which state is the Volunteer State?
16. Chickasaw National Recreation Area
The Chickasaw National Recreation Area is land in the foothills of the Arbuckle Mountains of Oklahoma. Due to the Chickasaw Tribe's arrangement with the U.S. government, park admission has remained free to visitors. There are opportunities for hiking, boating, fishing, and camping. The land is also known for its mineral springs.
17. Tornado Alley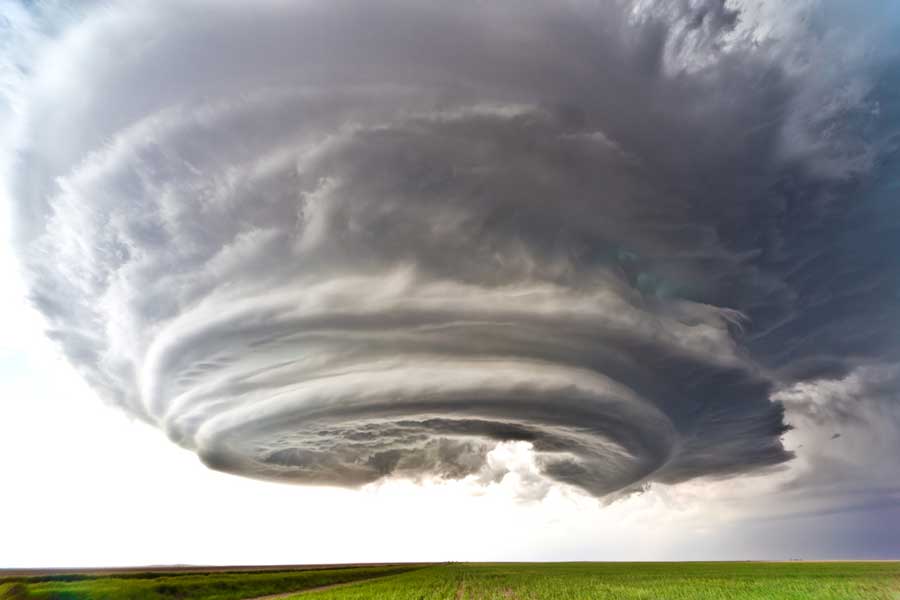 Tornado Alley is a strip of the United States prone to severe weather and tornadoes. It is sometimes called the Great Plains Tornado Belt. Oklahoma ranks second in the number of tornadoes in the United States, following only Kansas.
❗ Trivia Time: Learn more about the belt regions of the U.S.!
18. Grand River Dam Authority
The Grand River Dam Authority is a state agency in Oklahoma that operates three hydroelectric plants and is designed to be self-funding through electricity revenue, similar to the Tennessee Valley Authority. They maintain Grand Lake o' the Cherokees, often just called Grand Lake.
19. National Cowboy and Western Heritage Museum
The National Cowboy and Western Heritage Museum in Oklahoma City celebrates the culture, history, and art of the American West. It opened in 1955 as the Cowboy Hall of Fame, and currently contains the world's biggest collection of rodeo photos, barbed wire, and saddlery. Part of the museum acreage is a turn-of-the-century prairie town.
20. The Parallel Forest
The Parallel Forest in the Wichita Mountains in Lawton was a government experiment to attempt to counteract the effects of the Dust Bowl. Over 20,000 red cedar trees were planted in rows, equally spaced on all sides. Deep in the forest is a circle of stones, rumored by some to be some kind of altar.
21. Factory Obscura Mix-Tape
Mix-Tape is a hyper-modern, immersive art experience in Oklahoma City. The exhibits are interactive and designed to spark wonder and play. A large part of the organization's mission surrounds community-building and collaboration between artists.
👉 Read Next: What is Ohio Known For?
22. Route 66
432 miles of Route 66 pass through Oklahoma, with some stretches even designated as scenic and historic. Route 66, which was constructed in 1926, is sometimes nicknamed the "Main Street of America." Elk City, Oklahoma is home to the National Route 66 and Transportation Museum. Clinton, Oklahoma has a separate Route 66 Museum. There's even a Route 66 Historical Village in Tulsa with a visitor center modeled after a 1920s/1930s gas station.
23. Washita Battlefield National Historic Site
The Washita Battlefield National Historic Site, operated by the National Park Service, is the location where George Custer led an attack against a Cheyenne village. Custer surrounded the village while they slept and killed 150 men, women, and children. This attack prompted retaliatory raids by the Cheyenne, Arapaho, and Lakota tribes.
24. Country Music
Not only is country music popular in Oklahoma, but several famous artists were born in the state. They include Carrie Underwood, Reba McEntire, Blake Shelton, Garth Brooks, Toby Keith, and Vince Gill.
There are also plenty of songs about Oklahoma, including "Oklahoma Sky" (Miranda Lambert), "I ain't in Checotah Anymore" (Carrie Underwood, about her hometown, "Does the Wind Still Blow in Oklahoma" (Reba McEntire and Ronnie Dunn), and "Oklahoma Sunshine" (Waylon Jennings)–among countless others.
25. Sports
The University of Oklahoma college sports teams are known as the Oklahoma Sooners (after the nickname given out during the Oklahoma land rush). The professional baseball team is the Oklahoma City Dodgers, and the National Basketball Association team is the Oklahoma City Thunder. The Oklahoma Thunder is a professional football team based out of Tulsa.
👉 Read Next: What is Each State Known For?
FAQs About Famous Oklahoma Things
What famous people are from Oklahoma?
Several famous country singers are from Oklahoma, including Carrie Underwood, Reba McEntire, Blake Shelton, Garth Brooks, Toby Keith, and Vince Gill.
In the realm of sports, Bill Goldberg (wrestler and former football player), Blake Griffin (basketball player), Matt Kemp (baseball player), and Mickey Mantle (baseball player) are from Oklahoma.
In cinema and television, Brad Pitt, Phil McGraw ("Dr. Phil"), Chuck Norris, Kristin Chenoweth, and Ron Howard are associated with the state.
What are some famous Oklahoma foods?
Although Oklahoma is not necessarily known for its food, it brings a lot to the table. Many people claim that Oklahoma barbecue rivals what you can get in Texas. The town of El Reno is known for having the world's largest fried onion burger. Chicken fried steak is the main dish in the Oklahoma state meal and is served alongside fried okra.
Dessert is often a fried hand pie, which was invented in the 1800s in the Arbuckle Mountains. Rocky Mountain Oysters (fried bull or pig testicles) are popular but are generally known as "calf fries." 
And since Oklahoma is known for its cattle ranching, steaks butchered in-state are often known as Sooner Steaks. For breakfast, common Southern staples like grits, biscuits and gravy, and cornbread are often served.
**
In conclusion, the Sooner State is culturally a mix of wild west frontier culture and deep south charm.
It is famous for its extremely strong Native American culture, partially a result of the tragic forced migration called the Trail of Tears.
The state also experienced tragedy during the Oklahoma City Bombing of a federal government building and often faces destruction due to its location within tornado alley.
But the natural environment of Oklahoma draws outdoor enthusiasts to the banks of the Mississippi River, to the trails of Chickasaw National Recreation Area, or to the shores of one of its several manmade lakes.
Now you don't have to wonder "what is Oklahoma known for" anymore! I hope that someday, you get to see all the things Oklahoma is famous for with your own eyes!