What is Idaho Known For? (21 Famous Things, People & Places)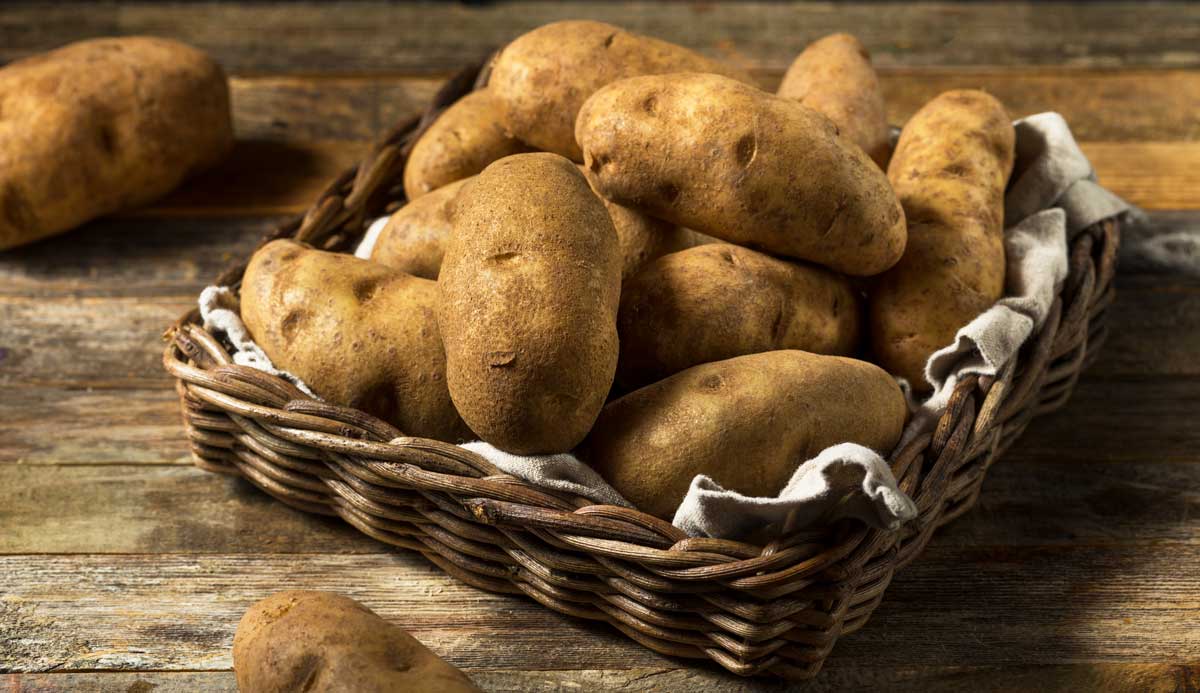 What is Idaho known for?
Idaho is known for its stunning natural beauty, cozy small cities, and frontier history. Idaho is famous for its potatoes, having the deepest gorge in North America, and for spanning two time zones.
Have you ever wanted to get away from the hustle and bustle of city life and well-worn tourist attractions? Do you love the great outdoors and American frontier history? Do you want to take a walk through a lunar landscape here on earth?
If you answered yes to any or all of those questions, read on to learn 21 interesting things, people & places that Idaho is famous for:
Advertising Disclosure: What States is a for profit reference website, supported by advertisements. Thank you for supporting our mission to make geography fun for all!
21 Things Idaho is Known For
1. Natural Beauty
Idaho is known by outdoors enthusiasts of all stripes as a best-kept secret. One can find many scenic mountain landscapes throughout the state, especially in the Rocky Mountains in the northeastern region of the state. Most people may not immediately think of Idaho as one of the states the Rockies run through, but several of the state's smaller mountain ranges are considered extensions of the Rockies.
Much of northern Idaho is covered in forests where evergreens and deciduous trees grew together and southern Idaho and eastern Idaho give way to rolling hills and plains. Throughout the state, there are numerous national conservation areas, state parks, and more, all waiting to be explored.
2. Famous Potatoes
More than any other state, Idaho is known for potatoes. The rich soil, high elevation, and clean air and water make for ideal growing conditions for potatoes. The term "Idaho potato" refers to any spud grown in the state of Idaho, but what comes to most people's minds upon hearing this term is the classic Russet Burbank potato.
❓ Trivia Time: The Russet Burbank got its name from the famous American botanist Luther Burbank. Although more famous for his gardens in Santa Rosa, California, he cultivated this particular strand of potato while living in Massachusetts in the 1870s.
3. Hells Canyon
Don't let the name fool you, this river gorge is a remarkably beautiful place! Hells Canyon is the deepest river gorge in North America. The record-setting depth of this deepest gorge is found in the Seven Devils Mountains, the highest point of which stands 8000' above the bottom of the canyon below!
Hells Canyon also includes much of the surrounding area, known collectively as the Hells Canyon National Recreation Area.
4. Outdoor Recreation
Few states can boast as wide a variety of opportunities for outdoor recreation as Idaho. An abundance of rivers offers spectacular fishing and white-water rafting tours.
Hunters will find equally plentiful game, such as deer, elk, and even moose, throughout the state. Numberless hiking trails, whether at a stunning state park or a local trail outside a town can be hiked with ease.
5. Ski Resorts
Idaho also has plenty to offer in terms of wintry outdoor recreation. 18 ski resorts span the length and breadth of Idaho.
The Sun Valley resort may be the most famous, but each resort has something unique to offer skiers. For those looking for something off the beaten path (or slopes, in this case), Idaho easily surpasses the more prestigious, world-famous slopes of Colorado.
6. Boise, Idaho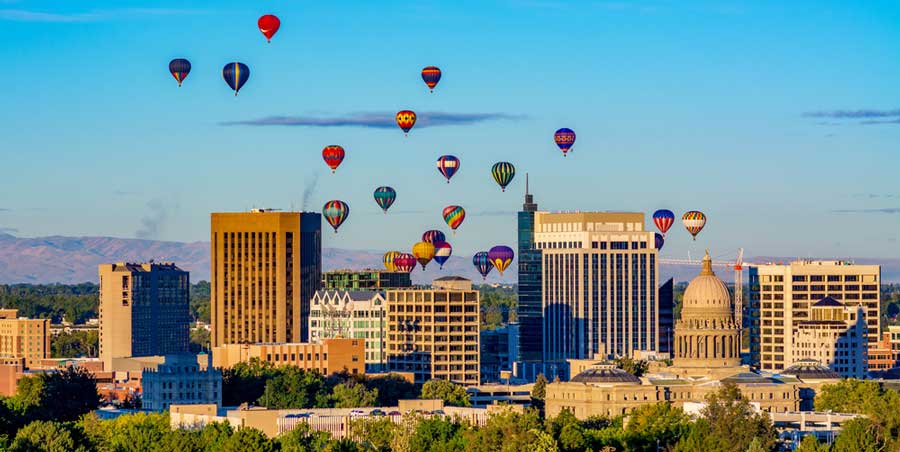 The state's capital, and also its largest city Boise, combines modern developments and Idaho's wilderness spirit. A short drive north from the capital city will bring visitors to the pristine beauty of the Boise National Forest. The Boise Mountains, as well as the Sawtooth Mountains, tower above the city, beckoning hikers, mountain bikers, and nature lovers to explore their slopes.
The Boise River (noticing a pattern?), which winds through the city of the same name, offers swimming, fishing, and boating to locals and visitors alike.
In downtown Boise, one can take in galleries, museums, and the impressive capital building, and hit up local shops in order to gear up for outdoor adventures.
7. Yellowstone National Park
Most of this first and most famous of America's national parks is in Wyoming, but Idaho is one of the three states that Yellowstone is in because a small portion of the territory extends into Idaho.
Visitors can enter Yellowstone through Idaho's West Entrance, which is the closest entrance to Old Faithful and other famous geothermal attractions.
8. Coeur D'Alene, Idaho
It's rumored that various celebrities purchased homes near this city in western Idaho, and it's easy to see why. Sitting on the shores of Lake Coeur D'Alene, the city is surrounded by beauty on all sides. The lake offers boating, fishing, and more aquatic activities, and the nearby forests and mountains abound with hiking trails.
With a population of just over 50,000, it still retains a small-town feel, but is home to many sophisticated restaurants, shops, and more. Celebrity or not, it's a great place to get away from it all.
9. Craters of the Moon National Monument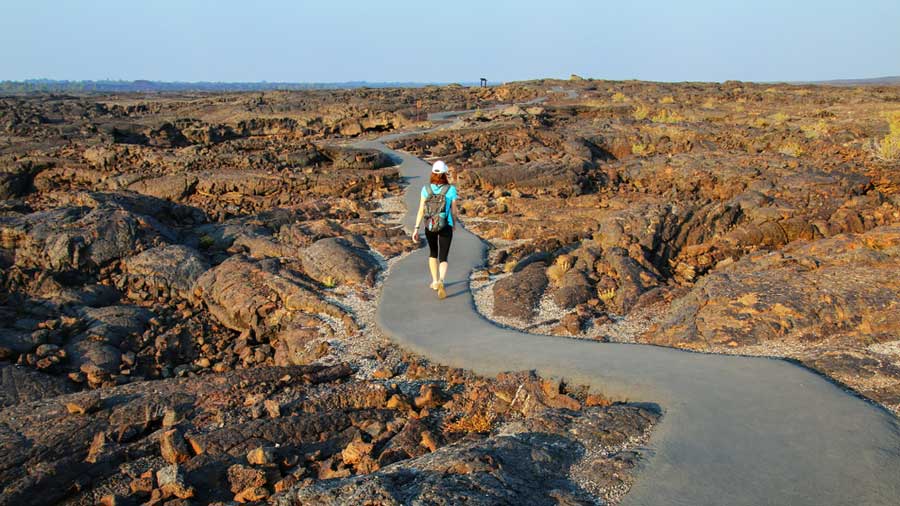 Along with its northwestern natural beauty, Idaho has a more otherworldly landscape worth visiting. The cinder cones, caves, and other rock formations of the Craters of the Moon National Monument were formed from lava flows long ago.
The boundaries of the Monument also include sagebrush steppe grasslands, offsetting the bleakness of the gnarled, dark-hued volcanic rocks.
10. Salmon River
This river in central Idaho is named for the salmon which swim far upstream out of the Pacific Ocean to spawn in its waters. It also bears the more ominous name "The River of No Return."
The name comes from the early days of river navigation when frontiersmen could easily go downstream, but the many rocks and rapids made a return journey near impossible.
11. Salmon-Challis National Forest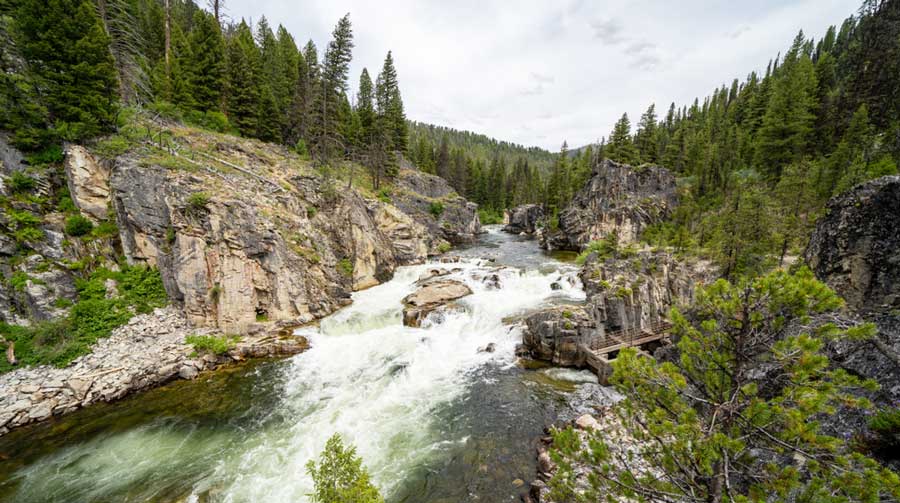 Spanning over 4.3 million acres, the Salmon-Challis National Forest is second only to the mighty Tongass National Forest in Alaska (16.7 million acres). It derives its name from the above-mentioned river, and A.P. Challis, an early surveyor and frontiersman of Idaho.
The many streams, lakes, mountains, and trails here present a wealth of outdoor recreation areas and activities.
Visitors are advised to check in with the United States Forest Service, which maintains the forest. In addition to the forest's natural wonders, several former mining towns within the forest keep the memory of Idaho's frontier days
12. Sandpoint, Idaho
This scenic small town in Northern Idaho has grown in popularity in recent years. Situated between forested hills and the shores of Lake Pend Oreille, the town is surrounded by natural beauty. In some ways, it's a smaller, cozier version of Coeur D'Alene.
An hour's drive to the north will bring you to the Canadian border. From there, you can cross into the Canadian province of British Columbia, which has much in common with Idaho in terms of natural beauty.
However, there are few places in Canada or America so snugly situated as Sandpoint.
13. Snake River
Despite its name, this river does not have an especially high snake population. The name derives from the local Shoshone Indians, whom other tribes to the east referred to as the Snakes.
The exact reason for this is not known, but some speculate that it was because the Shoshone painted images of snakeheads on their weapons to intimidate their rivals.
14. Lewis and Clark
America's most famous explorers traveled through Idaho on their quest to survey the American northwest. Today, travelers can retrace their journey along the Lewis and Clark National Historic Trail, which follows the path of their expedition.
This path cuts through north central Idaho and several sites all along the way preserve the memory of their travels through the future 43rd state.
15. The Gem State
Idaho's nickname, as well as its actual name, has an interesting history. When the US Congress was originally considering a name for the territory that would later become the state of Idaho, mining lobbyist George M. Willing proposed the name "Idaho." He claimed it was a Native American word meaning "Gem of the Mountain."
It turned out later that Willing made this word up and no such word existed in any Native American language.
The name stuck though, and proved to be quite appropriate. Idaho proved to be abundant in semi-precious stones, especially the star garnet, found only in Idaho. The title "Gem State," Idahoans rightfully claim, testifies to its natural beauty as well as its precious minerals.
❗ Fun Fact: At the Emerald Creek Garnet Area in northern Idaho, visitors can dig for Idaho's iconic star garnets!
16. Niagara Falls of the West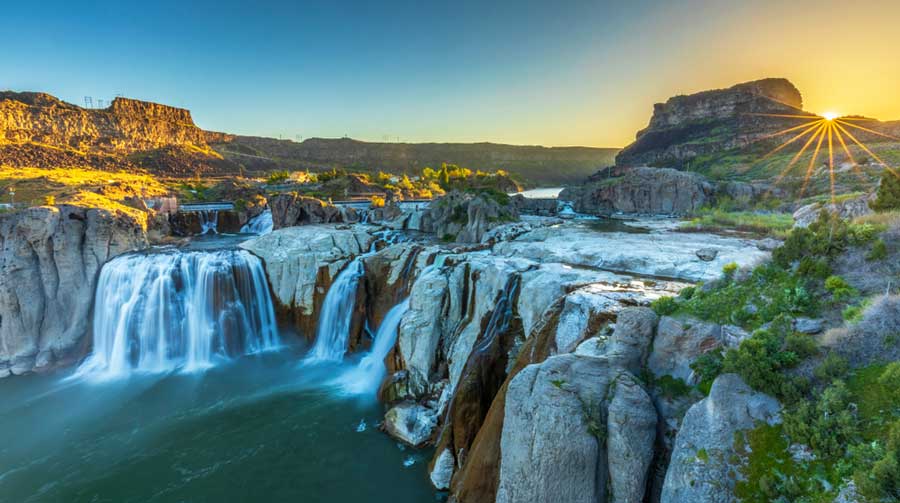 "Niagara Falls of the West" is another name for the famous Shoshone Falls, near the town of Twin Falls, Idaho. Shoshone Falls stands 45' higher than the real Niagara Falls, but the original falls are wider than their western counterparts. Nonetheless, both waterfall systems are breathtaking to behold and certainly worth a visit.
17. Twin Falls, Idaho
Besides Shoshone Falls, Twin Falls Idaho has several noteworthy attractions. The town sits atop the Snake River Canyon, which American daredevil Evel Knievel jumped his motorcycle over in 1974. A monument to his feat stands near the edge of the precipice.
The town also has hot springs, shops, and cafes to visit. One can go base jumping from the famous Perrine Bridge that spans the Snake River Canyon. Kayak tours of the Snake River can also be booked in Twin Falls.
18. Ghost Towns
One normally associates ghost towns with the American southwest, but Idaho has its own share of these desolate memorials. Many of them started out as mining towns but did not stand the test of time. Some of these abandoned towns reputedly take the "ghost" factor to another level, with claims of haunted buildings.
19. Atomic City, Idaho
An even more eerie experience can be had in Atomic City, Idaho. This distinctive name came from the nearby laboratory where the nuclear reactor partially melted down in the mid-1950s. In 1961, an explosion took place, killing three men and driving many residents away in fear.
While it may not have been on the grand scale of more famous nuclear explosions, it did saturate the area with radiation. Today, the radiation has largely subsided, but has left an empty shell of a town, haunted by the specter of nuclear fallout.
👉 Read Next: What is Each State Known For?
20. Idaho Has Two Time Zones
On a somewhat less gloomy note, Idaho is one of the few states to span more than one time zone.
Northern Idaho (also known as the Panhandle) observes the Pacific Time zone, while southern Idaho is in the Mountain time zone. Travelers passing through the state will also find that a small bubble of Mountain time extends into the easternmost counties of Oregon.
🌲 Read Next: What is Montana Famous For?
21. National Wildlife Refuges
Several of these wildlife sanctuary zones can be found across the state. In the northwestern region of the state, evergreen-clad mountains border winding river plains. To the south, the land is flatter, and generally less heavily forested, but no less beautiful. These areas also have their share of rivers teeming with fish.
🌲 Read Next: What States Contains the Most US National Parks?
FAQs About What Makes Idaho Famous
What is the state abbreviation for Idaho?
🗺️ Read Next: What is Arkansas Known For?, What is Connecticut Known For?
***
Now you no longer have to wonder "what is Idaho known for?"
As you can see, there is a ton to love about Idaho. With such natural beauty, cozy small towns, and opportunities for adventure, it's not surprising that many people are moving to the Gem State.