What is Minnesota Known For? (29 Famous Things, People & Places)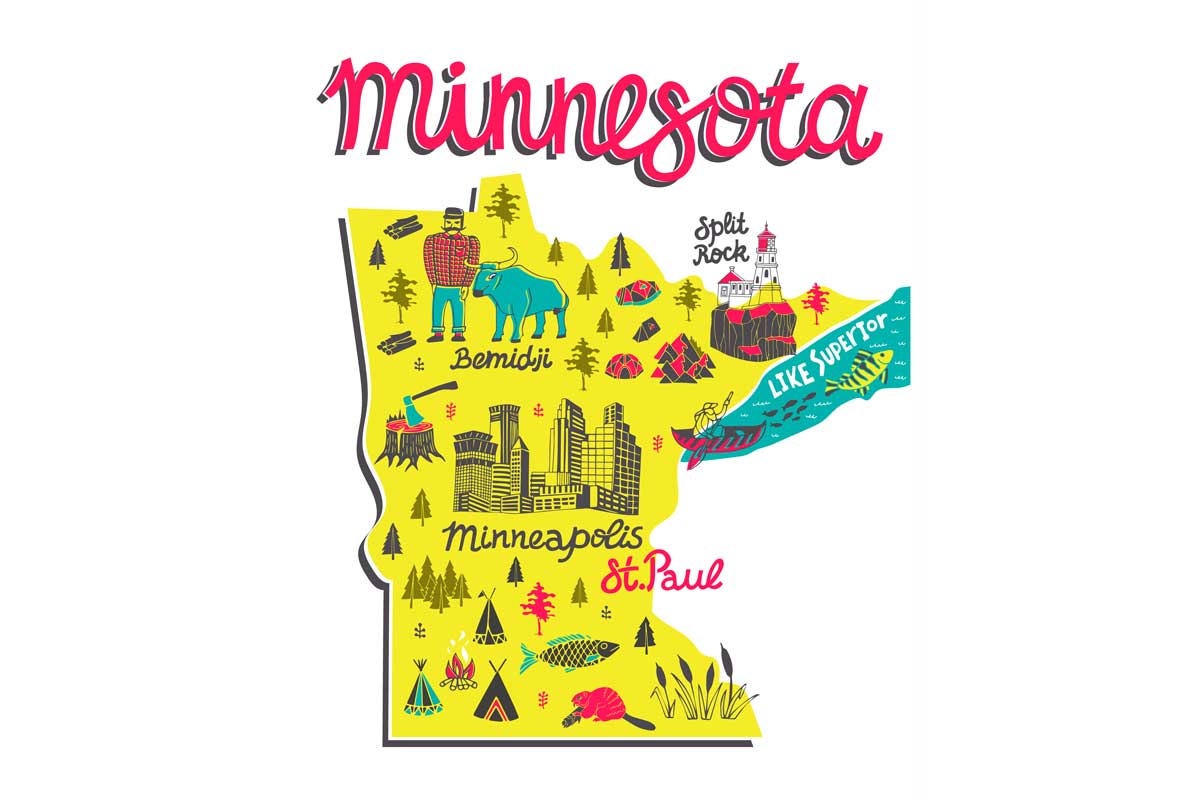 Do you know what the state of Minnesota is known for? Minnesota is nicknamed the North Star State, which is in part a nod to the fact that it is the northernmost state in the continental U.S.
Minnesota has some remarkable cities like the Twin Cities of Minneapolis and St. Paul. It also has some wonderful nature–like Lake Itasca, where the Mississippi River originates, Lake Superior, and its many state parks.
Read on to learn some more fun facts, like how often Lake Superior freezes over completely and how many lakes the "land of 10,000 lakes" really has!
Advertising Disclosure: What States is a for profit reference website, supported by advertisements. Thank you for supporting our mission to make geography fun for all!
29 Things Minnesota is Famous For
1. Hotdish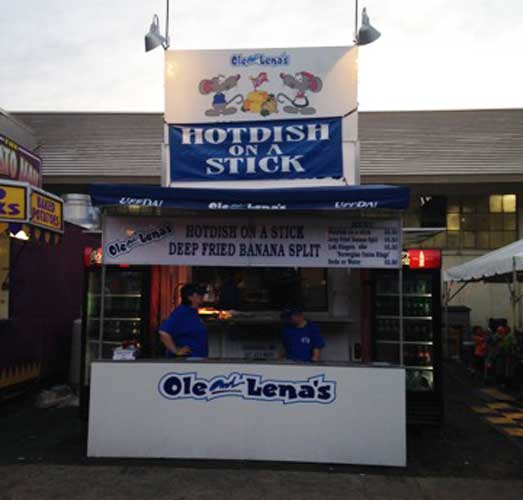 Hotdish is a quintessentially Minnesotan dinner, potluck, and church supper food. It is a casserole generally consisting of starch (often tater tots), meat (frequently ground beef), frozen veggies, and canned soup (generally Cream of Mushroom). The dish was originally created for frugal farm wives to feed their families.
❗ Trivia Time: Do you think Minnesota is part of the midwest region?
2. Minnesota State Fair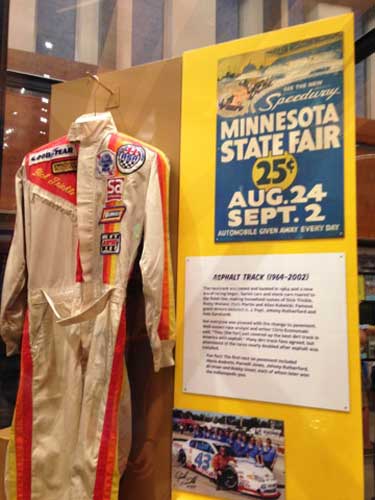 The Minnesota State Fair is held annually in a suburb of St. Paul and is the largest state fair in the country by daily attendance. The fair was first held in 1859, and the official mascots are two anthropomorphized gophers.
The fair features several permanent rides like the "gyro tower" and a haunted house. The Minnesota State Fair is also famous for its plethora of fried foods, many of which are served on a stick. One notable example is deep-fried candy bars on a stick.
3. "Minnesota Nice"
"Minnesota Nice" is the name for the stereotypical Minnesotan tendency to be overly polite–sometimes passive-aggressively. The phrase also hints at the Minnesotan desire to avoid confrontation and to maintain reserved mannerisms. Some of these cultural ideals may have their roots in Scandinavian culture.
4. Cheese Curds
Cheese curds are pieces of curdled milk commonly found in the northern United States and Canada. They have a tendency to squeak when bitten into and are sometimes even called "squeaky cheese." In Minnesota, they are often eaten deep-fried or served over fries and gravy in a dish called Poutine.
5. Prince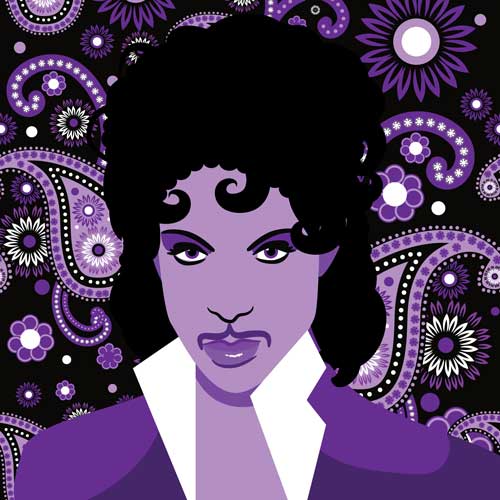 Prince Rogers Nelson (generally known just as Prince) was a singer-songwriter from Minneapolis, famous for songs like "Purple Rain" and "When Doves Cry." Prince got his start at Minneapolis nightclub First Avenue.
Prince opened a recording studio (Paisley Park) in Chanhassen, Minnesota outside Minneapolis. Prince's mansion is also on this property, and since his death, it has become a memorial and museum.
👉 Read Next: What is New Hampshire Known For?
6. Bob Dylan
Robert Zimmerman, more commonly known as Bob Dylan, was born in Duluth, Minnesota in 1941. Growing up, his family lived in Hibbing in western Minnesota. In 1959, Dylan began attending the University of Minnesota in Minneapolis. He lived in the Dinkytown neighborhood and joined the Dinkytown folk music circuit. He frequently performed at the Ten O'Clock Scholar, a coffee shop not far from campus.
7. Lake Superior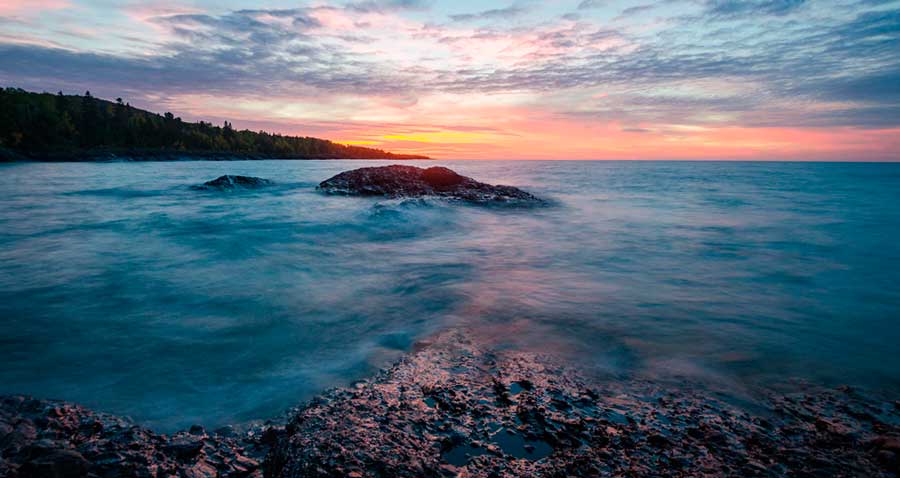 Lake Superior is one of the Great Lakes and the largest freshwater lake in the world by surface area. Duluth is one of the biggest ports on the lake. Over 80 fish species have been found in Lake Superior. It completely freezes over about once every twenty years, at which point ice caves become accessible by foot.
❗ Trivia Time: Can you name all the states with Great Lakes?
8. Grandma's Marathon
Grandma's Marathon is a well-known road race with a course along Lake Superior from Two Harbors to Duluth. Grandma's was first held as a small race in 1977. Today, the race has blossomed into an entire weekend of running events. The marathon is sponsored by Grandma's Restaurant in Duluth and frequently appears on lists of the best marathons in the country.
9. Lake Itasca
Lake Itasca, in north-central Minnesota, is the headwaters of the Mississippi River. The area around the lake became a state park back in 1891. The channel of the Mississippi that flows from the lake was bulldozed in the 1930s to make it more aesthetic for visitors. About 25% of Minnesota's old-growth forest is located in the park.
10. Sports
Minnesota has several major sports teams with large fan bases, including the Minnesota Vikings football team, the Minnesota Twins baseball team, the Minnesota Timberwolves basketball team, and the Minnesota Wild ice hockey team. The University of Minnesota's collegiate teams are known as the Golden Gophers.
👉 Read Next: What is Georgia Known For?
11. Duluth
The city of Duluth, Minnesota is named after a European explorer, Daniel Greysolon, Sieur du Lhut. Together with Superior, Wisconsin, the area is called the Twin Ports. Duluth has the nation's only all-freshwater aquarium and the world's longest freshwater bay mouth bar (called Minnesota Point). From 1869-1870, Duluth was the fastest-growing city in the nation due to iron ore mining and a new railroad line connecting St. Paul and Duluth.
12. General Mills
General Mills is a consumer foods company founded on the banks of the Mississippi in Minneapolis. Although today it markets a wide variety of foods, it is most famous for its cereals like Cheerios and Lucky Charms. The company's roots can be traced to the Minneapolis Milling Company, founded in 1856. General Mills itself was created in 1928.
13. Ice Fishing
Minnesota is well known to anglers for its great ice fishing. Some common fish caught are bluegill, crappies, perch, walleye, and northern pike. As an apex predator, the northern pike is especially known as a challenge to wrestle through the ice. Two famous lakes for ice fishing are Lake of the Woods (which borders Canada) and Mille Lacs Lake near Garrison.
14. St. Anthony Falls
Located in Minneapolis, St. Anthony Falls is the only natural major waterfall on the Mississippi River. Today, there is a lock and dam on the falls, located upstream of the St. Anthony Falls Bridge.
In the 19th century, the falls served as an important source of power for the industries along the river, including textile mills and sawmills. The falls were named by Father Louis Hennepin, an explorer, Catholic priest, and missionary.
❗ Trivia Time: Find out what states the Mississippi River runs through!
15. Paul Bunyan
Paul Bunyan, a giant lumberjack, is an American and Canadian folk hero. Paul Bunyan stories were frequently told in lumber camp bunkhouses. A 120-mile paved bike path in Minnesota bears Paul Bunyan's name, and giant statues of Paul Bunyan and his blue ox, Babe, can be found in Bemidji, Minnesota.
16. The Mall of America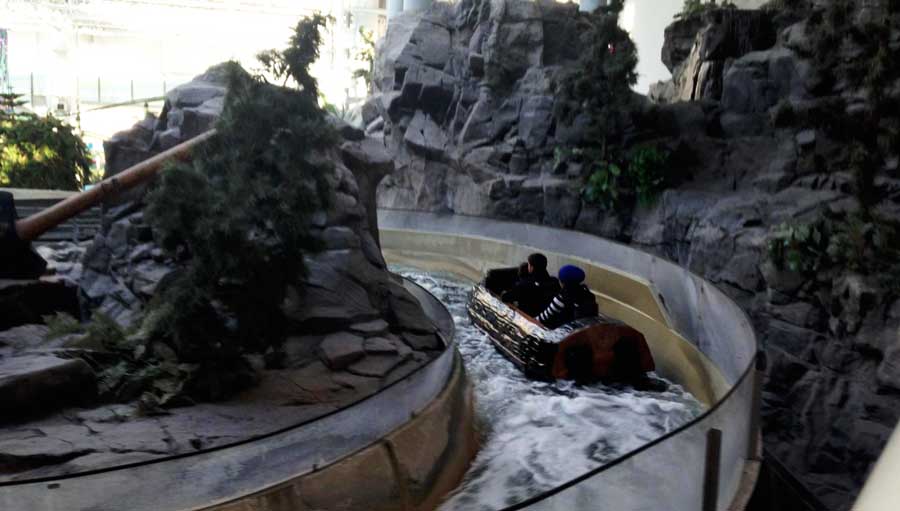 The Mall of America in Bloomington is the largest shopping mall in North America and the western hemisphere, and the ninth-largest mall in the world. The four-floor mall opened in 1992 and occupies over 96 acres of land. It contains the largest indoor amusement park in the United States, an aquarium, and a movie theater.
17. Saint Paul Winter Carnival
The Saint Paul Winter Carnival began in 1886 and has been held annually since, with events like ice horse racing and bobsledding. Often, a palace made of ice is erected in downtown St. Paul. There is also a city-wide treasure hunt known as the Medallion Hunt, where the winner earns up to $10,000 and a place of honor in the festival's parade.
18. State Parks
Following New York, Minnesota has the second-oldest state park system in the United States and lays claim to 67 state parks.
U.S. News and World Report ranked Minneapolis and St. Paul as numbers 3 and 2 respectively for best parks in any city, following only Washington, D.C. Some notable state parks include Fort Snelling State Park (with a historic fort) and Split Rock Lighthouse (with one of the most-photographed lighthouses in the United States).
19. High Quality of Life
Minnesota regularly ranks as one of the top five states to live in for high quality of life. Minnesota excels in health, air quality, and inclusion. It also has strong schools, infrastructure, and an eye toward innovation and technology.
20. F. Scott Fitzgerald
Author F. Scott Fitzgerald, most famous for The Great Gatsby, was born in Saint Paul in 1896. Although he spent most of his childhood in New York, he returned to Saint Paul as a struggling young writer and lived in a Romanesque Revival brownstone on Summit Avenue. It was here that he rewrote This Side of Paradise.
21. James J. Hill
James Jerome Hill was a wealthy railroad tycoon known to some as the "Empire Builder." Although he was born in Canada, he relocated to Saint Paul at the age of 18. During an economic depression in 1870s, Hill and several associates bought and expanded the St. Paul and Pacific Railroad. By the end of his life, Hill committed himself to philanthropy.
22. Juicy Lucy
A Juicy Lucy (or Jucy Lucy) is a stuffed hamburger that two different bars in Minneapolis claim to have invented (Matt's Bar and the 5-8 Club). The 5-8 Club was a speakeasy in the 1920s. Other well-known establishments that serve the Juicy Lucy are the Blue Door and the Nook.
23. The Minnesota Accent
Minnesota accents are often the butt of jokes outside the state. Words like "leg" or "beg" sound like "lay-g" or "bay-g," and "milk" is pronounced like "melk." And then there are some unique turns of phrases, such as calling the game "duck duck goose" duck duck grey duck.
24. Logging Industry
Minnesota's logging industry has long been facilitated by both river transport and milling railroads. Logging camps were located on the Mississippi, Minnesota, and St. Croix Rivers. When the forests adjacent to these rivers were depleted, rail lines carried wood from further inland. The remnants of these railroads can still be found today.
25. A Prairie Home Companion
A Prairie Home Companion is a weekly radio show originally created by Garrison Keillor. The show was hosted by Keillor until 2017 when Minnesota Public Radio cut ties with him due to allegations of inappropriate behavior. A variety show, A Prairie Home Companion included segments such as "News from Lake Wobegon" about a fictional Minnesotan town.
26. Mississippi River Bridge Collapse
In 2007, the I-35W Mississippi River bridge in Minneapolis experienced catastrophic failure, killing 13 people and injuring 145. Several cars remained stranded on collapsed sections of the bridge. A school bus carrying 63 children rested precariously against a guard rail. Today, there is a memorial garden dedicated to the victims that contains pieces of the original bridge.
27. Superior Hiking Trail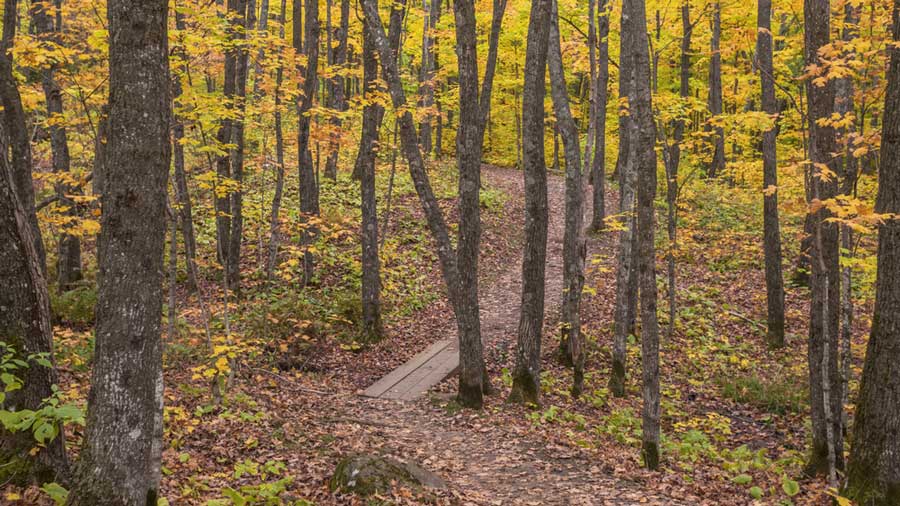 The Superior Hiking Trail follows Lake Superior in Northern Minnesota for 310 miles. Like the Appalachian Trail and Pacific Coast Trail, the Superior Hiking Trail is often used for long-distance hiking and backpacking. There are 94 backcountry campsites along the trail. A 100-mile ultramarathon takes place on the trail annually.
👉 Read Next: What to Know About Each State
Minnesota is home to the largest number of Norwegians and Swedes outside of Scandinavia, and the Nordic culture has spilled over. Foods like lutefisk (white fish) are common, and Scandinavian crafts are often sold in gift shops. There are multiple museums dedicated to Scandinavian culture and heritage.
29. 10,000 Lakes
Minnesota is known as the "Land of 10,000 Lakes," though it actually has 11,842 lakes. Not counting the Great Lakes, Minnesota's lake area takes up 2.6 million acres. The largest lake in its entire area in Minnesota is Red Lake, followed by Mille Lacs Lake.
❗ Trivia Time: Despite all its lakes, Minnesota does not have the greatest lake shoreline of any U.S. state. Find out which state has the most lake shoreline!
FAQs About Famous Minnesota Things
What is Minnesota famous for?
Minnesota, or the North Star State, is known for the Twin Cities of Minneapolis and St. Paul. It is also known for its natural and cultural beauty as the "land of 10,000 lakes." It has the largest shopping mall in North America (the Mall of America) and the world's largest freshwater port (Duluth). Minnesota is known as a popular destination for fishing trips and is full of hiking trails and fishing lodges. 
Who are the most famous people from Minnesota?
Famous people from Minnesota include artists Bob Dylan and Prince, author F. Scott Fitzgerald, actors Vince Vaughn, Jessica Biel, and Judy Garland, and writer/director pair the Coen brothers (Joel and Ethan Coen).
**
As you've learned, Minnesota is one of the most unique states in our nation: not only is it furthest north, but it also has vibrant winter celebrations and impressive fishing culture. It's had some famous residents like Bob Dylan and Prince and is known for cold-climate comfort foods like hotdish and deep-fried cheese curds.
To truly appreciate what Minnesota has to offer, you might have to see it yourself!